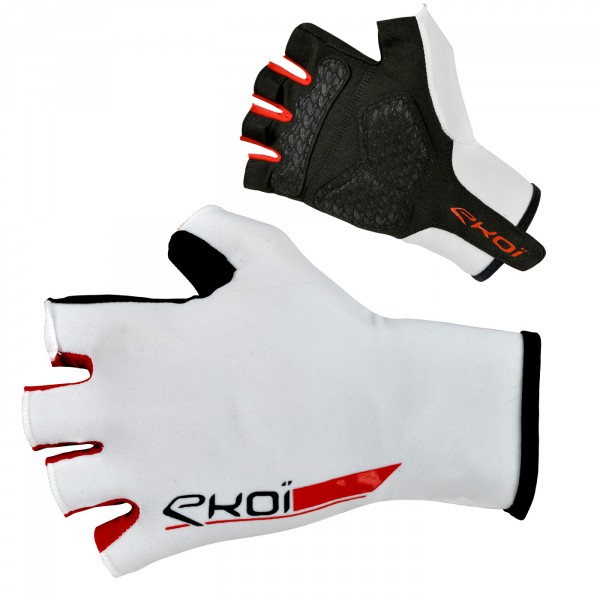 EKOI ROAD White short-fingered cycling gloves with gel inserts
We welcome your feedback !
Shipping and returns
Free returns Except during official French sales periods : Returns policy
Shipping information to : France

Delivered between 10/04 and 13/04
For any order placed before 12.00, delivery in 1 to 3 days.
Free delivery starting from £61.81 purchase
Price :
£7.06
Product info
A pair of short-fingered cycling gloves with gel inserts for added comfort, the perfect bar hold, soft stylish and breathable too.
Product features
- 2 gel inserts in the palms for absorbing road buzz.
- NO velcro.
Use
For use:
Road cycling / Racing or training
Technical features
- Tabs in the area of the ring and major fingers for easier removal of the glove.
- Cuff tab for easier pulling on of the glove.

UPPER:
- Stretchable and breathable lycra.

PALM:
- Non-slip GEL inserts for optimal bar hold.
-Carpian channel protection.
- Grip in Amara (synthetic and washable) for optimal breathability (and excellent wicking).
Material
- 80% Polyester
- 20% Elastane
Washing instructions
- Machine wash at 30°C, turned Inside out (Do not tumble dry)
| | |
| --- | --- |
| S |  < 8 cm |
| M | 8 - 9 cm |
| L | 9 - 10 cm |
| XL | 10 - 11 cm |
| XXL |  > 11 cm |
| | |
Très bon gant coupe parfaite. Et suite à l'intervention du SAV (pour un petit défaut) je suis heureux de savoir que la clientèle n'est pas que considéré comme un numéro avec un porte monnaie. Ils sont vraiment très sérieux.Merci

PERFETTI CLZATAN OTTIMA MA NACORA DA PROVARE BENE. OK.

świetne, idealnie dopasowane na moją rękę, tylko trzeba wziąć pod uwagę że są elastyczne, i warto sprawdzić rozmiar. Ja mam normalnie M (rozm, 7-8 przy rękawiczkach nitrylowych/lateksowych) przy rękawiczkach EKOI - doskonale sprawdziły się L

Gants facile à mettre/enlever, très agréable à porter et surtout protégent bien les poignets en cas de chute.


Bonne tenue sur la main pas de plis et agréable à porter.
Nickel, j'ai une autre paire en rouge.

look sympa, bien taillés mais inserts gel vraiment minimalistes, le confort et la protection en cas de chute s'en ressentent

gants légers et bonne protection de la pomme de la main. Très bien. Je recommande

gants légers et bonne protection de la pomme de la main. Très bien. Je recommande

gants légers et bonne protection de la pomme de la main. Très bien. Je recommande

Agréable à porté et bon matien ,ne bouge pas

Agréable à porté et bon matien ,ne bouge pas

Gutes preis - leistungs verhältnis

lieferung könnte besser sein

Gant facile à enfiler,confortable. Néanmoins,ce produit mérite un meilleur garnissage au niveau des paumes, ce qui est bénéfique pour les personnes qui pratiquent le vélo sur les routes en mauvais état ou chemins.

Ils sont très confortables, beaux, de qualité et taillent bien

Koko taulukon mukaan juuri oikea. Mukavan tuntuiset, laadukkaan oloiset hanskat. Sopivasti pehmustettu ja pitävä kämmen.

Conforme à la description.

Très bien. Manque comme sur certain modèle une surface éponge pour s'essuyer

Bien ajustés, confortables.

Könnten an den Handgelenken etwas kürzer sein!

Agréable à porter mais difficile à retirer

Pour des gants d'été je ne vois pas l'utilité de couvrir toute l'articulation du poignet ??????? En plus c'est assez inesthétique je trouve, par conséquent j'ai donné un coup de ciseau sur chaque gant de 3 cm. Le grip est très bon et l'amorti juste ce qu'il faut. La taille indiquée est correcte.

très bon et joli produit très satisfait de cette commande

Déçu par l'épaisseur de gel dommage car le look est séduisant trop cher

super passform angenehm zu tragen

bonne qualité et agréable à porter

Gants vélo gel ekoi road blanc

Très bon amorti et toutefois un peu trop long au niveau des poignets.(Avis perso).

Rukavice gel ekoi road, bílá

Velikost v pořádku, sedí krásně, tenké, lehké, vycpávky přesně tam kde mají být. Velká výhoda, že jsou bez zapínání, po natažení jsou ještě kousek nad zápěstí. Vzdušné, na rukou vypadají pěkně. Natahovat opatrně a pomocí ouška, pro stahování by mohli být stahovací proužky pod prostředními prsty trochu větší/širší.
Jinak rukavice vřele doporučuji, splňují vše, pohodlí, kvalitu i estetiku.

Très bon produit.je recommande

Supers gants , très confortables .
Tout est cool chez Ekoï, sauf les lunettes qui ne tiennent pas sur mes oreilles !

reçu ce jour, gant me vont parfaitement a essayer maintenant en situation sur la route

bien ,même très bien agréables confortables visibles des usagés de la route