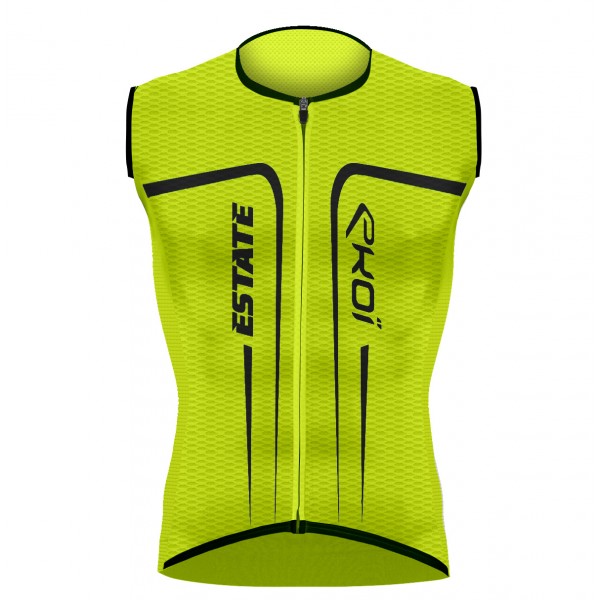 EKOI ESTATE Yellow fluo sleeveless jersey
We welcome your feedback !
Shipping and returns
Free returns Except during official French sales periods : Returns policy
Shipping information to : France

Delivered between 11/08 and 13/08
For any order placed before 12.00, delivery in 1 to 3 days.
Free delivery starting from £90.37 purchase
Price :
£9.03
Delivered between 10/08 and 12/08
Retrait en magasin dans la journée

Delivered between 12/08 and 14/08
For any order placed before 12.00, delivery in 1 to 3 days.
Free delivery starting from £81.33 purchase
Price :
£6.32

Delivered between 14/08 and 17/08
Delivery in a pick-up point of your choice in 4 days.
Free delivery starting from £81.33 purchase
Price :
£6.32
Product info
Designed specifically for wearing in the very hot summer months. Extremely light and well ventilated it quickly wicks moisture to leave the torso dry.
Product features
2 different fabrics all very light and perforated to ward off the effects of very hot weather.
- Very fast drying.
Use
- Extremely light jersey for use during the hottest summer months, does not require the wearing of a base layer
Technical features
- Micro-perforated side panels.
- Mesh front and back panels.
- Low scoop neckline.
- YKK zip.
- Flatlock seams.
- 3 back pockets.
Material
- 100% polyester.
Washing instructions
- Machine washable at 30°C.
- Do not tumble dry, do not iron.
- Wash preferably in a white mesh bag to stop colour run and to avoid rubbing with other products used in the manufacture of cycling apparel that might damage the material, such as Velcro.
| | | |
| --- | --- | --- |
| S | < 65 kg | <1.70 m |
| M | 65-71 kg | 1.78 m |
| L | 72-77 kg | 1.83 m |
| XL | 78-84 kg | 1.88 m |
| 2XL | 85-92 kg | 1.93 m |
Jean Luc D.

Niveau : Débutant

Age : 55-64

07/30/20

Super agréable à porter par forte chaleur.

ottimo prodotto, mi piace usare maglie smanicate in estate e questa e davvero ben fatta, complimenti sicuramente a breve ne prenderò altre di diverso colore, vestibilità e traspirazione al top, anche le tasche posteriori sono della grandezza giusta

Buona maglia smanicata estiva.

Buona maglia smanicata estiva, per le altissime temperature. I materiali utilizzati, di prima scelta, sono molto traspiranti. La taglia non corrisponde del tutto. La misura tende ad abbondare.

Satisfait du produit comme toujours

Ce maillot est un modèle que j'attendais particulièrement et je n'ai pas été déçu. Il est "jaune"... sans manches, très bien taillé et ultra respirant... que demander de mieux? (J'espère qu'ils sera solide mais on ne peut pas avoir du super fin et du super solide....)

Ottimo smanicato estivo per le giornate con temperature sopra i 30 gradi, molto traforato e traspirante asciga in fretta il sudore che non ristagna addosso

Tessuto molto traspirante.

Etwas durchsichtig sonst super für heiße Tage. Qualität ist wie immer super.

Produit parfait, bien aéré et poches arrière facile à attraper.
Taille normalement pour ceux qui doutent d'une taille trop petite.
Couleur identique est identique à celle du catalogue

parfait super agréable pas déçu

merci

déçu par cet article trop fin et cher

c'est un maillot été trés fin pour lutter contre la chaleur ...si il ne vous convient pas merci de nous le renvoyer pour remboursement .
JC ekoi

Tissus différent des autres Tshirt, construit en 2 couches, très leger mais pas trop: bien conçu.


Super light, confortable, vraiment agréable par forte chaleur... Seul petit bémol (en tous cas pour moi) malgré la taille S, les ouvertures au niveau des épaules sont un peu grandes et flottent... Maintenant, je ne suis pas spécialement baraqué ;-)

bonjour Steve ,
un conseiller va vous rappeler pour vérifier .
JC EKOI

Idéal par temps chaud et ensoleillé!

Léger, aéré, idéalement taillé, j'attendais depuis longtemps un jersey pour les journées de plein soleil et de température élevée. La coupe débardeur plutôt rare dans les jerseys de route (généralement plutôt les skinsuits de triathlètes) est parfaite par temps lourd & chaud et évite les marques de bronzages sur les biceps, pas négligeable. La matière aéré, type jersey de grimpeurs, est parfaite pour évacué la sueur par évaporation. Voilà un maillot d'été des plus agréables à porter, reste à EKOI d'élargir cette gamme à des nouveaux designs, couleurs & pourquoi pas à la créativité de jeunes artistes & designers.

Ekoi estate sans manches jaune fluo

Super produit par ces chaleurs

Buena calidad / transpirabilidad

muy transpirable.

Calidad/precio muy buena si compras con descuento

Molto leggera
La consiglio anche se la vestibilità è stretta quindi consiglio di acquistare una taglia in più

Ne pas tenir compte de mon message précédent, j'ai bien recu le colis. Désolé


Jean Francois D.

06/28/19

Excellent produit je recommande vivement

Je conseil vivement ( pour les roule toujours ). 2 sorties effectuées à 35 degré j'ai pu constater une très bonnes ventilation (meilleur que des mavic à 90e). Donc cela n'est pas du marketing . Vous pouvez acheter les yeux fermés .

Je ne regrette absolument pas cet achat, textile fluide et bien aéré. Aucune gêne pour les épaules même après 5 heures. Aucune irritation super je recommande par temps chaud. (Crème solaire obligatoire -:)

Bien ventilé.
Choisi pour la couleur. Les cyclistes doivent être vus. Le noir ou les couleurs trop sombres doivent faire place au jaune, vert ou orange fluo.