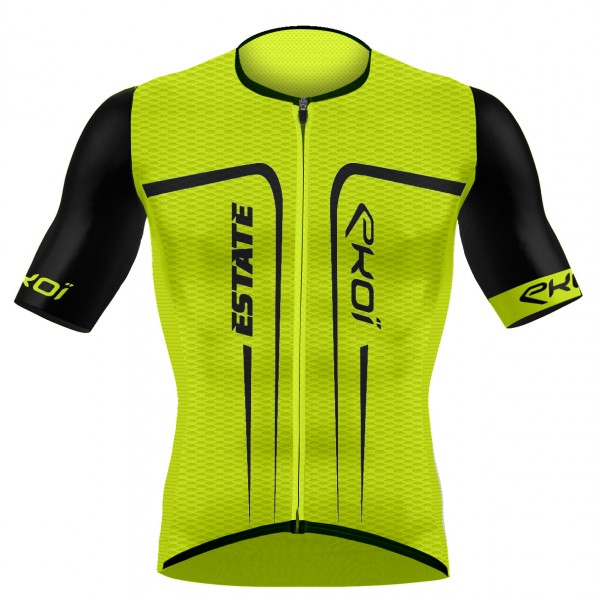 EKOI ESTATE Yellow fluo short sleeve jersey
We welcome your feedback !
Shipping and returns
Free returns Except during official French sales periods : Returns policy
Shipping information to : France

Delivered between 10/04 and 13/04
For any order placed before 12.00, delivery in 1 to 3 days.
Free delivery starting from £61.81 purchase
Price :
£7.06
Product info
Designed specifically for wearing in the very hot summer months. Extremely light and well ventilated it quickly wicks moisture to leave the torso dry. It is this type of jersey that is worn by the pro riders during the extremely hot stages of the Tour de France.
Product features
- Laser-cut hemless sleeves.
- 3 different fabrics all very light and perforated to ward off the effects of very hot weather.
- Very fast drying.
Use
- Extremely light jersey for use during the hottest summer months, does not require the wearing of a base layer
Technical features
- Micro-perforated side panels.
- Mesh front and back panels.
- Low scoop neckline.
- YKK zip.
- Flatlock seams.
- 3 back pockets.
Material
- 100% polyester.
Washing instructions
- Machine washable at 30°C.
- Do not tumble dry, do not iron.
- Wash preferably in a white mesh bag to stop colour run and to avoid rubbing with other products used in the manufacture of cycling apparel that might damage the material, such as Velcro.
| | | |
| --- | --- | --- |
| S | < 65 kg | <1.70 m |
| M | 65-71 kg | 1.78 m |
| L | 72-77 kg | 1.83 m |
| XL | 78-84 kg | 1.88 m |
| 2XL | 85-92 kg | 1.93 m |
Very lightweight cycling jersey from Ekoi for very hot days. I ordered XL for 82kg 178cm normal leg/body length and it fits fine.

So light, so cool, so sleek!

Really like this jersey - for me, the medium is a perfect fit: body, neck, sleeves. Very nice in hot weather. Beautifully made. I like the pockets - not as deep as others, but easier to reach into, so it's an ideal jersey for any time trial long enough to want snack.

Maybe two remarks: 1, could be an inch shorter in the front (but the back is perfect); 2, I suppose I'd like to see some styles that don't scream "Ekoi"; very cool brand name, but let's go for subtle...

Výborný dres, velikost bych asi příště zkusil XL, jelikož je trochu kratší pro mě (183 cm, 91 kg).

Très léger pour l'été, ce maillot taille XL est trop petit.

Buena calidad , buen precio en oferta pero muy ajustado para personas con más de 85 kilos

Buena calidad , buen precio en oferta pero muy ajustado para personas con más de 85 kilos

r.a.s couleur voyante pour la securite parfais.

Come sempre i prodotti ekoi sono ottimi, vestibilità ottima, tessuti ottimi! Belle grafiche e bei colori. Consigliatissimi.

Trikots fallen sehr klein aus und zwischen den Größen sind die Unterschiede zu groß

Das Trikot trägt sich sehr angenehm, auch am Hals! Der Stoff kühlt, durch den Fahrtwind, den Oberkörper perfekt
Das Trikot könnte vor allem am Rücken etwas länger sein!

Parfait super agréable à porter par forte chaleur

Maillot ekoi estate manches courtes jaune fluo

Pas encore d'avis :-(
Produit retourner pour un petit défaut.
Echange en cours d'expédition :-)


Arrivata nei tempi previsti. Bella ben fatta e dopo una pedalata lunga con temperature da inferno posso dire che è ottima, comodissima e leggerissima.Nelle successive uscite la prima impressione si è confermata. la consiglio ne comprerò altre





Maillot ekoi estate manche courtes fluo

très très bon produit super léger et esthétique

tolle Passform und sehr geringes Gewicht!

Super maillot très léger bien coupé poche a revoir

le tissu est super, hyper respirant super léger la coupe génial pas de plis coupe bien moulante manches parfaite,
mais le bémol c'est les poches droite et gauche, ça part d'une bonne intention cette coupe en biais mais on perds les chose que l'on met dedans (portable tombé) seul la poche centrale et serviable, les deux poches droite et gauche a rallonger en coupe droite et se sera parfait.

TRES BELLE COUPE TRES BONS COMPOSANTS EFFICACE SOUS LA CHALEUR TESTE A 35 DEGRES

Maillot ekoi estate manches courtes jaune fluo - taille : xl

Bonjour ce maillot est très bien aéré essai lors d'une sortie par 35 degres dommage que la taille XL serait plutôt du L
Je conseille de prendre une taille de plus que d'habitude

Tout est dans le titre : beau maillot, super respirant par grosse chaleur, visible pour la sécurité ... bref très bon produit.

Super. Très content du produit

Koszulka na upały rewelacyjna. Stosunek jakości do ceny -najwyższy poziom. Kazdemu polecam!

Calzini belli esteticamente

Maillot idéal pour temps chaud

Excellent maillot pour rouler lors des fortes chaleurs . hyper agréable à porter
En plus avec cette couleur jaune , les automobilistes n'ont aucunes excuses de ne pas
nous voir .

LO MAS PROBLABLE COMPRE MAS

LO MAS PROBLABLE COMPRE MAS