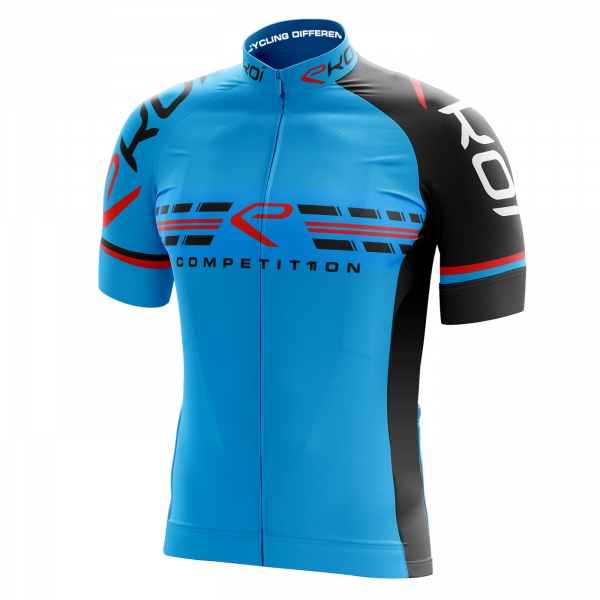 EKOI COMP11 Blue and Black Jersey
We welcome your feedback !
Shipping and returns
Free returns Except during official French sales periods : Returns policy
Shipping information to : France

Delivered between 07/08 and 10/08
For any order placed before 12.00, delivery in 1 to 3 days.
Free delivery starting from £89.91 purchase
Price :
£8.98

Delivered between 10/08 and 12/08
For any order placed before 12.00, delivery in 1 to 3 days.
Free delivery starting from £80.92 purchase
Price :
£6.29

Delivered between 10/08 and 12/08
Delivery in a pick-up point of your choice in 4 days.
Free delivery starting from £80.92 purchase
Price :
£6.29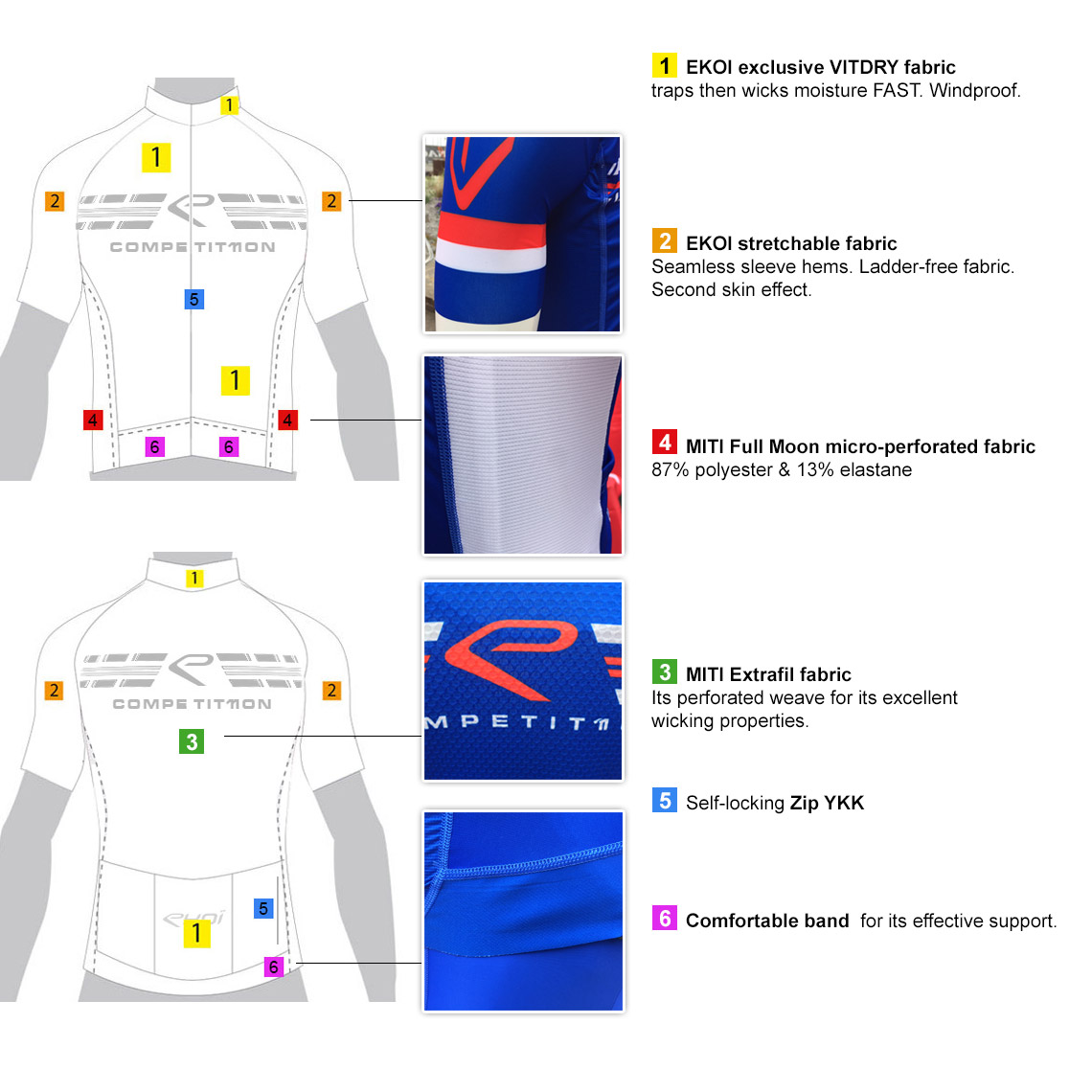 Product info
The model takes care of the measurements.

EKOI Competition 11 clothing is designed for competition and for serious cyclists. We've selected the highest-quality fabrics made in Italy specifically for use in competitive cycling.
The jersey is made of four different fabrics: wind-breaking in front, very light at the back, elastic on the sides and a second-skin effect on the shoulders and sleeves.

It has a fitted cut, and the back of the jersey is lengthened for better protection of the lumbar region when riding in the drops. The sleeves are longer than usual (like the pros) and laser-cut (no hem). The jersey is meticulously designed, allowing you to practice your favorite sport under the best possible conditions while looking great.
Product features
4 different complementary high-tech fabrics make this technologically-advanced product unique:

Exclusive EKOI VITDRY [1] fabric
- Captures and wicks sweat quicky to keep your torso dry
- Wind-proof
- Strong
- Soft
- Elastic
- Made in Italy

Ekoi elastic [2]
- Snag-proof fabric
- Second-skin effect
- Breathable
- Light
- Elastic
- Hem-free finish on sleeves
- Made in Italy

MITI Extrafil [3] fabric
- Its airy design draws away sweat
- Highly breathable and well-ventilated
- Made in Italy

MITI Full Moon fabric
- 87% polyester + 13% spandex
- Micro-perforated
- Highly elastic
- Made in Italy

Technical features
Zippers:
- Auto-locking YKK.
- Guaranteed strong and easy to open and close.
- Zipper garage (to keep the jersey zipper from rubbing against your bib shorts).
- Zippered back pocket for your SOS card.

SEAMS:
- Thread made in Italy (CUCIRINI TRE STELLE)
- Guaranteed strong.
- Flatlock triple-thread seams.

ELASTIC SUPPORT BAND:
- Wide band at the front of the jersey (5 cm).
- Tapered cut for optimal comfort.
- Silicone band on the back and sides of the jersey supports the lumbar region.

BACK POCKETS:
- 3 standard pockets.
- 1 zippered pocket for your SOS card.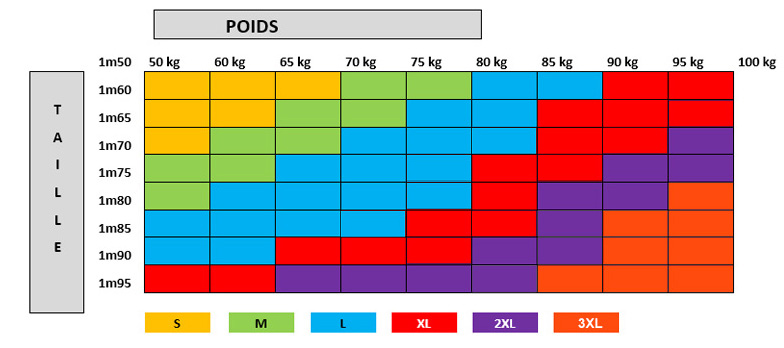 Nice shirt, bad stitching

but the stitching on both sides of the zip ripped. I sent mine back, got sent another, and the same thing happened. Odd, as all my other Ekoi jerseys don't have this problem. Nice design.

Jean-philippe D.

04/09/19

taille trop petite pas de taille supérieure

plisse un peu au niveau des pectoraux et le haut de la fermeture éclair aurait mérité une protection au niveau du cou.
sinon, rien à redire, maillot très agréable à porter

agréable produit de qualité il faut que cela dure

Très confortable. La poche fermée est très bien.

LÉGER ET CONFORTABLE.
XL POUR 1.83M ET 80 KGS

MAILLOT MUY COMODO , BUENA TRANSPIRACIÓN Y GRAN CALIDAD, QUEDA AJUSTADO COMO UN GUANTE

super qualité. par contre je mesure 1M 75 et 71 KG j'ai pris L il va bien mais l'idéal aurai été entre m et l . si vous êtes assez menu du haut prenez M . bravo ekoi pour vos super produits

Facile à enfiler.
Convient en cette saison.
Nombreuses poches dont une pratique avec fermeture éclair verticale coté droit.

Schönes trikot und richtige größe

Endlich ein passenden Trikot!
Größe 1,73 / 97 kg
Rückenlänge erfreulich kürz; nichts labbert


Problème échauffements fessier

bonjour,
cela fait plusieurs fois que j'utilise ce cuissard et je rencontre

Maglia di buona fattura e qualità

Curioso per i prodotti in promozione ed in particolare per testare la marca Ekoï, premetto che acquisto molti prodotti abbigliamento ciclismo di prestigiose marche, ho voluto provare l'offerta cosciali e maglietta linea professional al 50%, quindi il completo a 101 euro circa; arrivato dopo quattro giorni, quindi normali tempistiche di consegna; devo dire che la maglietta è di buona qualità; purtroppo per il cosciale quindi la salopette ho riscontrato difetti, in particolare difetto di tintura sulla coscia interna(macchia bianca) peggio ancora all'interno coscia accanto al fondello risulta danneggiato con una parte del tessuto graffiato. In sostanza deluso per il primo acquisto.

Habe heute das Trikot, die passende Hose und Handschuhe bekommen und es sitzt perfekt! Sauber verarbeitet, Lieferung innerhalb 2 Tage geliefert zu einem wahnsinns Preis! Bitte weiter so!

comme d'hab, pris taille M et aucune surprise,me va comme un gant.Rapidité de livraison au top sauf que Chronopost n'est pas au top!

Bon produit, gel de bonne qualité.

Très beau maillot, confortable et de bonne qualité. Très respirant et léger. Manche assez longue.

J'ai d'abord commandé un XL (pour 1,80m 73kg) qui était un peu trop grand, j'ai demandé un echange pour un L qui va impeccable.Merci au service Ekoi pour la facilité d'échange.

Ottima maglia. Materiale di qualità e ottime rifiniture.