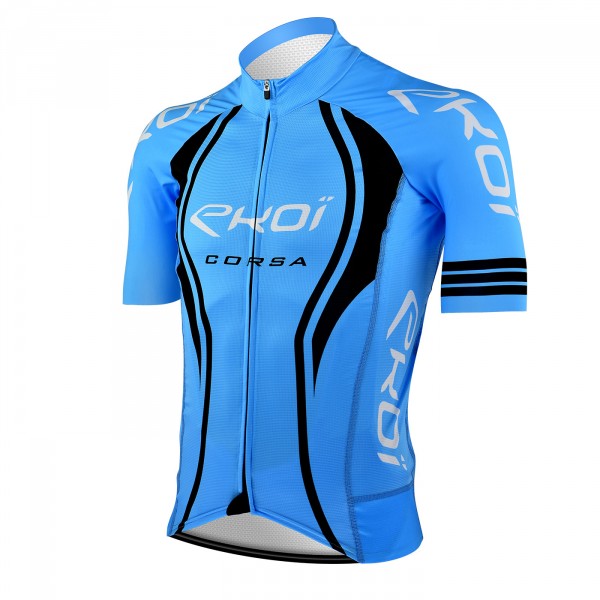 We welcome your feedback !
Shipping and returns
Free returns Except during official French sales periods : Returns policy
Shipping information to : France

Delivered between 17/07 and 20/07
For any order placed before 12.00, delivery in 1 to 3 days.
Free delivery starting from £90.76 purchase
Price :
£9.07

Delivered between 20/07 and 22/07
For any order placed before 12.00, delivery in 1 to 3 days.
Free delivery starting from £81.68 purchase
Price :
£6.34

Delivered between 20/07 and 22/07
Delivery in a pick-up point of your choice in 4 days.
Free delivery starting from £81.68 purchase
Price :
£6.34
Product info
Technical, light, breathable & very comfortable jersey.
It is ideal for training or sport cycling
Its design & bright colors will allow youto stand out on the road and in the peloton !
Product features
- 3 different fabrics : Micro perforated on the front and on the sides, light & more breathable on the back, shoulders &sleeves with second skin effect
- Laser cut sleeves for optimal comfort (silicone & hemless)
- Design & bright colors to be seen better !
- Made in Europe
Use
Road or XC
Technical features
- Officer neck 4cm.

- Closing :
Self-locking YKK torso zip (guarantee of solidity & ease of opening/closing)
Zipper cover at the bottom of the jersey to avoid friction on the shorts

- Elastic support band with silicone inserts on the back of the jersey & on the sides for perfect support

- Back pockets :
3 classic pockets with elastic at the top for perfect support
Material
100 % polyester
Washing instructions
Hand washing or machine wash 30°C
Wash in a mesh bag to avoid scrubbing with other articles ( like velcro ..)
No tumble dry
No softenrer
No dryer
No ironing
|   | Poids | Taille conseillée |
| --- | --- | --- |
| S | < 65 kg | < 1.70 m |
| M | 65-69 kg | 1.78 m |
| L | 70-74 kg | 1.83 m |
| XL | 75-80 kg | 1.88 m |
| 2XL | 81-86 kg | 1.93 m |
| 3XL | 87-92 kg | > 1.93 m |
Guter Sitz alles bestens rnBei der Größe dran denken das es italienische Angaben sind , fallen also klein aus

Bon maillot il me va comme une seconde peaux. Très bien réalisé

Jean Francois D.

07/11/20

Super produit l'éther et agréable à porter je recommande fortement pour les grosses chaleurs. Merci pour la qualité de vos produits. JFD

enfin trouvé la bonne taille

Le maillot en taille L était vraiment trop "juste" ; j'ai commandé le même modèle en taille XL pour pouvoir comparer.
J'ai reçu le maillot dans cette taille très rapidement et je l'ai utilisé pour la 1ère fois ce jour (09/07/2020) pour ma 1ère sortie dans le Lubéron.
Ensemble très agréable à porter. Je suis tout à fait satisfait de mon achat. (J'ai retourné le modèle en taille L pour être remboursé).

Maillot très agréable, super léger et qui se fait oublier. Coupe impeccable. Bonus : couleur super sympa :-)
Une vraie réussite.

Matière agréable à porter, les manches sont un peu longue a mon goût, taille un peu petit. Sinon la finition est très belle.

Confortable, esthétique, bien coupé. Attention, taille légèrement petit.

Ich trage schon lange Ekoi-Produkte und war immer zufrieden, aber Ekoi Corsa schlägt alles.
Perfekt wie eine zweite Haut, super Passform, trockene Haut - einfach perfekt. Das BESTE, dass derzeit am Markt ist - so lautet mein Fazit. 100% Zufriedenheit !!

J'ai pris du M pour le maillot. Je suis une femme d'1m73 et 65kg et le maillot me va parfaitement. Le maillot est très moulant aux bras mais la matière est élastique. Il est très bien aux hanches et ne remonte pas grâce à la bande en silicone. Les finitions du produits sont vraiment très biens. Qualité de la fermeture et le petit revers à la base du maillot très sympa. Les poches à l'arrière sont supers. Il manque juste une petite poche à fermeture éclaire pour mettre les clefs, c'est tellement pratique.