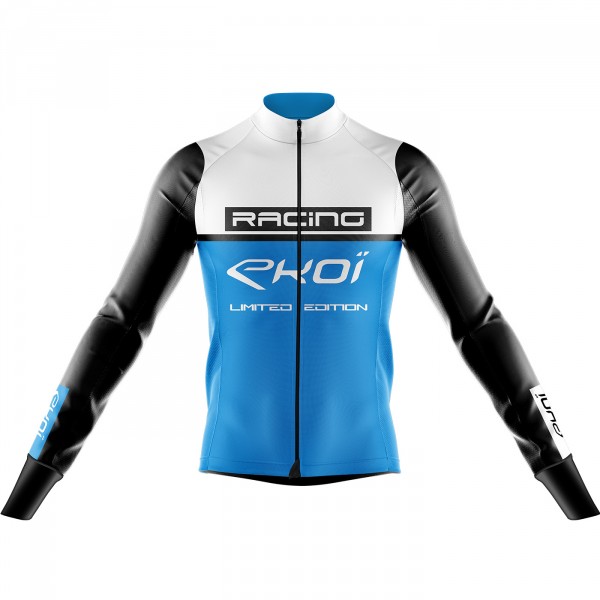 Jersey EKOI RACING 7°C White/Blue
We welcome your feedback !
Shipping and returns
Free returns Except during official French sales periods : Returns policy
Shipping information to : France

Delivered between 29/09 and 01/10
For any order placed before 12.00, delivery in 1 to 3 days.
Free delivery starting from 99,99 € purchase
Price :
9,99 €

Delivered between 28/09 and 30/09
Retrait en magasin dans la journée

Delivered between 30/09 and 02/10
Delivery in a pick-up point of your choice in 4 days.
Free delivery starting from 69,99 € purchase
Price :
4,99 €

Delivered between 30/09 and 02/10
For any order placed before 12.00, delivery in 1 to 3 days.
Free delivery starting from 89,99 € purchase
Price :
6,99 €
Product features
- Breathable fleece lined fiber made in Italy 180 gr
- COLD STOP cuffs (developed by EKOI which avoids the wind and cold in)
- Elastic bands (front 5 cm & back) for a perfect fit
Use
- Road or MTB
- Competition or training (to wear with our technical base layer EKOI 1st layer)
- You can wear almost all year long
- Efficient down to 7°C
Technical features
- Made in Italy fleece lined micro perforated fiber
- YKK self-locking zip (efficiency & longevity)
- Flat seams
- 3 back pockets

- Sizes S to 3XL
Material
100% polyester fleece lined fiber 180 gr
Washing instructions
Machine wash 30°C
No tumble dry
No softener
No dryer
No Ironing
|   | Weight | Max Sizes |
| --- | --- | --- |
| S | < 66 kg | 1.75 m |
| M | 67-73 kg | 1.80 m |
| L | 74-81 kg | 1.85 m |
| XL | 82-88 kg | 1.90 m |
| 2XL | 89-95 kg | 1.95 m |
| 3XL | 96-105 kg | > 1.95 m |
The EKOI RACING 7° C long sleeve jersey is worn for a large part of the year, under a thermal jacket in cold weather or simply with a technical base layer in spring or autumn.

It is efficient down to 7° C with a technical base layer
Colour

: Blanc Bleu

Temperatures

: 7°
Took longer to come than my helmet which was free del.said it would be despached on payement day ,tracking says it wasnt

passt perfekt sehr angenehm zum tragen ideal bei etwas kühlerem Wetter

Très beau maillot avec des couleurs bien vives. Un poil large à mon goût mais j aime être bien serré dans mes maillots. Pas encore eu l occasion de porter vu la météo printanière

Si te gusta que vaya ajustada, coge una talla menos!

Trui ekoi racing wit blauw

Joli et confortable pull pour la mi-saison. La qualité du prix est le meilleur choix

Tal y como esperaba, es un maillot que ajusta muy bien y con unos buenos acabados. La estética personalmente me encanta. En caso de duda, es recomendable pedir una talla menos.

joli maillot. Taille bien. M pour 179cm et 74kg.

Très bon maillot efficace Jusqu A 7 degrés, tiens bien près du corps, Je vous la conseille, si vous avez froid, portez une veste pare vent ekoi et un sous vêtement ekoi thermique
Patrick

Très beau maillot, superbe couleur et excellente qualité prix. Taille M parfaite pour l'hiver et entre saison, pour l'été j'aurais pris S.
Livraison rapide.

Super agréable a porter asse chaude pars des températures douce a 13 degré

Premier essaie avec 13 degrés et un top ekoi dessous nickel

Très joli maillot de mi saison. À porter avec sous couché technique à partir de 7 ou 8° et seul vers les 15°.
Taille bien et même avec 2 couches fines avec manches longues dessous ça passe sous les manches resserrées de ce maillot et pourtant je n'ai pas de trop petits bras.
Très content de cet achat d'autant plus en solde.

Beau maillot. J'ai pris une taille L pour 1.84 kg et 79 kg. Le M aurait suffit.

commandé en L comme d'habitude, il est trop large, ne colle pas a la peau large dans le dos et le cou , je l'ai recommandé en M

Bon produit.
Le bleu tire plus sur le ciel que le roy...

Beau maillot. Dommage que la coupe ne soit pas équilibrée, le maillot n'est pas ajusté au corps par contre les manches sont très serrées et pas simple de mettre un maillot technique avec manches longues en dessous. Taille M pour 1m71 et 64kg


Pierre-michel P.

12/17/19

Bonjour,
Le maillot pour la saison automne est top mais par contre je le trouve légèrement trop grand par rapport aux autres modèles dans la même taille !
Dommage qu'il n'y ait pas une uniformité dans tous les modèles !

Cordialement

Las tallas son un poco raras. El tejido esta bien

J'ai été surpris par la taille du XL. J'ai recommandé un L dont j'attend la livraison ces jours-ci .