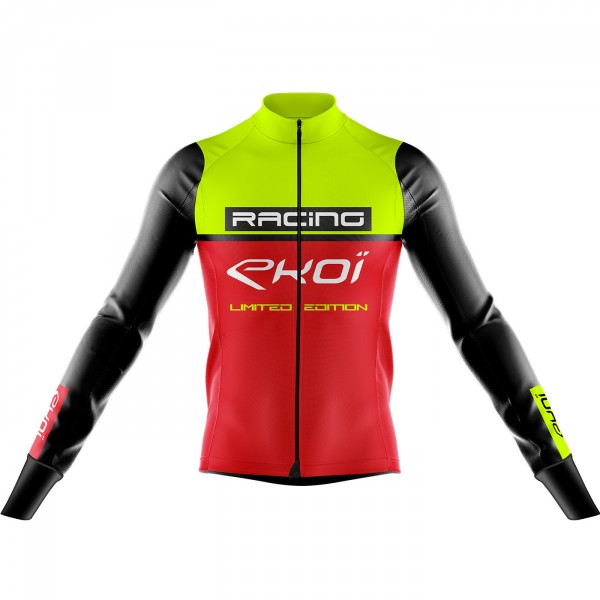 Jersey EKOI RACING 7°C Yellow/Red
We welcome your feedback !
Shipping and returns
Free returns Except during official French sales periods : Returns policy
Shipping information to : France

Delivered between 29/09 and 01/10
For any order placed before 12.00, delivery in 1 to 3 days.
Free delivery starting from 99,99 € purchase
Price :
9,99 €

Delivered between 28/09 and 30/09
Retrait en magasin dans la journée

Delivered between 30/09 and 02/10
Delivery in a pick-up point of your choice in 4 days.
Free delivery starting from 69,99 € purchase
Price :
4,99 €

Delivered between 30/09 and 02/10
For any order placed before 12.00, delivery in 1 to 3 days.
Free delivery starting from 89,99 € purchase
Price :
6,99 €
Product features
- Breathable fleece lined fiber made in Italy 180 gr
- COLD STOP cuffs ( developed by EKOI which avoids the wind & cold in)
- Elastic bands (front 5 cm & back) for a perfect fit
Use
- Road or MTB
- Competition or training (to wear with our technical base layer EKOI 1st layer)
- You can wear almost all year long
- Efficient down to 7°C
Technical features
- Made in Italy fleece lined micro perforated fiber
- YKK self-locking zip (efficiency & longevity)
- Flat seams
- 3 back pockets

- Sizes S to 3XL
Material
100% polyester fleece lined fiber 180 gr
Washing instructions
Machine wash 30°C
No tumble dry
No softener
No dryer
No Ironing
|   | Weight | Max Sizes |
| --- | --- | --- |
| S | < 66 kg | 1.75 m |
| M | 67-73 kg | 1.80 m |
| L | 74-81 kg | 1.85 m |
| XL | 82-88 kg | 1.90 m |
| 2XL | 89-95 kg | 1.95 m |
| 3XL | 96-105 kg | > 1.95 m |
The EKOI RACING 7°C long sleeve jersey is worn for a large part of the year, under a thermal jacket in cold weather or simply with a technical base layer in spring or autumn.

It is efficient down to 7° C with a technical base layer
Colour

: Jaune rouge

Range

: Limted edition

Temperatures

: 7°
Niemann M.

Level : Learner

Age : 45-54

09/25/20

9429 trikot ekoi racing 7 gelb rot - groe : l

Hello, just wanted to give feedback on my last return article. Unfortunately it was just the neck which was way too wide. Everything else was impressive from the quality and size was also matching. I am very sad that I have to return the article and hope other items will fit next time, as I like your quality, service, website etc etc... very very much.

Have a nice weekend
Marko Niemann

Pierre B.

Level : Amateur

Age : 55-64

09/25/20

Mis 1 fois et sous coupe vent. Donc pas d'avis , si ce n'est qu'il est à bonne taille bras, corps, taille, et descend en protection bas du dosrnTextile agréable et chaud.

Christian G.

Level : Amateur

Age : 45-54

09/17/20

Acheté taille L pour 186cm, 78kg, le produit est d'une qualité Extra, longueur de manche parfaite alors que j'ai toujours le souci d'avoir des bras trop long, veste légère avec doublure intérieure douce au toucher je pense qu'elle sera efficace jusqu'à 5 degrés avec un sous vêtements.

Den sidder godt men nogle hidsige farver så hvis man ikke er den type skal man nok kikke efter andre farver. Men lækker at have på når man køre

Nutze die Jacke in der Übergangszeit. Optimal zwischen 0 und 10 Grad.
183cm 90kg passt perfekt.

De stof zit lekker en houdt warm. De trui past mooi aan. Echt een product waarvan ik meer dan 100% van tevreden ben. Een uitstekende prijs/kwaliteitsaankoop.

Superbe produit, design et de qualité

Si te gusta ajustado, coge una talla menos de lo normal!

Pas encore testé mais conforme au descriptif vu sur le site...produit arrivé dans les delais.

Commandé en L pour 1,81m et 87kg. Taille parfaitement (pour ceux qui aime près du corps), j'ai tenu compte des commentaires et j'ai bien fait. Par contre, impossible de le tester actuellement avec le confinement, donc je ne donnerais pas d'avis technique mais cela a l'air très bien. Bonne qualité et les couleurs sont superbes. Juste déçu de devoir le laisser dans la penderie jusqu'à .....

Tour de cou un peu large mais la coupe est parfaite 1,73 m pour 73 kg

porté pour la première fois ce matin 10 Mars . Très agréable , tissu super . Etant entre deux tailles échange rapide auprès de EKOI . Changer de L en M .

Essayé mais pas encore porté ,taille bien

Maillot agréable à porter et efficace lors des sorties aux alentours de 5°C

Volgens de maattabel heb ik L. Maar deze is te groot, zowel in breedte als in lengte. Jammer.

A mon avis , la veste n'est pas assez cintrée , une coupe slim serait idéale. sinon bon produit nickel .

Maillot ekoi racing 7°jaune rouge taille s

Produit agréable au touché , belles couleurs visibles pour être vu pour sa sécurité par les automobilistes .
Taille correctement . Qualité prix rien à redire

bon maillot taille ok xxxl pour 1.85 et 100kg

Super maillot, idéal pour les sorties légèrement fraiches de printemps. Coupe prés du corps, tissus agréable au touché. Taille normale, prendre un peu serré car il y a un effet légèrement élastique. Je recommande.

Très agréable à porter, évacue bien la transpiration. Coupecet look très sympa.

Ropa de gran calidad a un precio espectacular. A parte nos hace muy visibles a los demás vehículos.

La tabla de tallas está muy bien conseguida

Je n avais pas de maillot manches longues c est top avec la veste thermique sortie à 0 degré et pas du tout froid

Es muy cómodo y de tacto cálido y agradable pero la goma de cintura es muy débil y se sube constantemente

Muy buena prenda , cumple perfectamente su cometido, pero talla más grande de la cuenta.

Sehr schön gestaltetes langarmtrikot

Sieht gut aus und man wird damit gesehen, nicht so eine Tarnfarbe wie bei vielen Trikots/Jacken die derzeit über die winterlichen Straßen gefahren werden!

Maglia molto comoda e molto ben curata e con belle colorazioni..

Très bon produit,je trouve la marque Ekoi ,très bien.Continuez

Qualité bonne , jamais rencontrée de problème de fermeture.