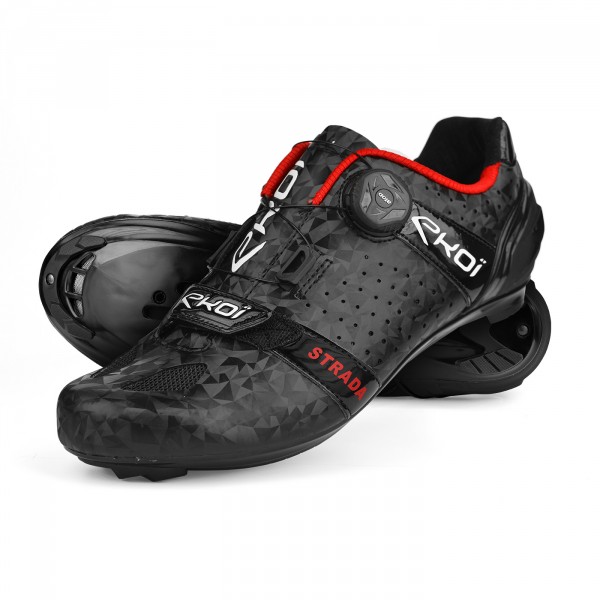 Road Shoes EKOI STRADA Cristal Evo2 Black
Your opinion interests us !
Delivery options and returns

Delivery between 04/12 and 07/12
For any order placed before 12 noon, home delivery within 1-2 working days.
Free Delivery from 99,99 €
Retail price :
9,99 €

Delivery between 03/12 and 07/12
Retrait en magasin dans la journée

Delivery between 07/12 and 09/12
For all orders placed before 12.00 pm, delivery in 24-48 at a UPS collection point. All collection points can change due to the current situation.
Free Delivery from 89,99 €
Retail price :
6,99 €
Products benefits
- DIAMOND-appearance finish to shoe upper (water beads and slides off the shoe).
- Unbeatable value for money.
- Excellent heel support.
- Well ventilated shoe (both uppers and sole are perforated to prevent hot foot).
Use
For use: Road cycling
Features
- ATOP® wire dial closure-system + 1 velcro strap
- Perforated (8 perforations) sole
- Fully-perforated shoe tongue
- SHIMANO SPD -type 3-hole compatible cleat system

- Shoe weight 271 g. (1 shoe in EU size 40)
Material
Polyamide and fibre glass sole.
Upper : Synthetitic Loryca leather for easy shoe care



FOOT LENGHT

(see above)

EKOI Size

You're using SIDI shoes:

Choose a smaller size
EKOI 

You're using SPECIALIZED shoes:

Choose a smaller size
EKOI 

in cm

Size

Size

Size

24,5

39 Ekoi

40 SIDI

40 SPE

25,1

40 Ekoi

41 SIDI

41 SPE

25,7

41 Ekoi

42 SIDI

42 SPE

26,4

42 Ekoi

43 SIDI

43 SPE

27,1

43 Ekoi

44 SIDI

44 SPE

27,7

44 Ekoi

45 SIDI

45 SPE

28,4

45 Ekoi

46 SIDI

46 SPE

29,1

46 Ekoi

47 SIDI

47 SPE

29,8

47 Ekoi

48 SIDI

48 SPE

30,3

48 Ekoi

49 SIDI

49 SPE
Philippe V.

Level : Advanced

Age : 45-54

12/02/20