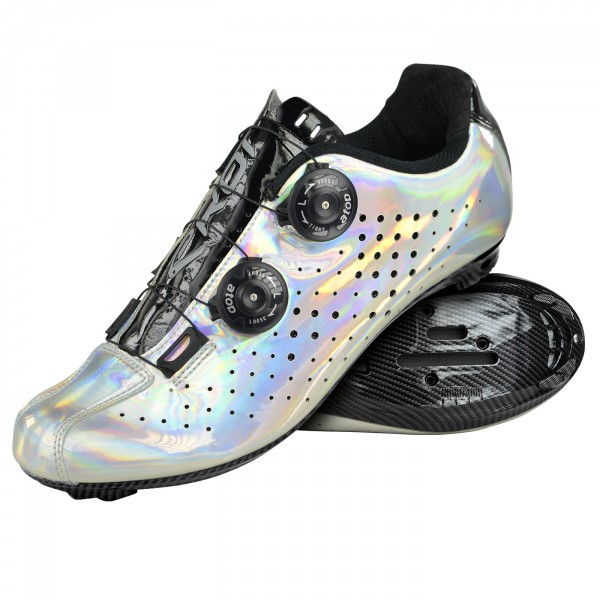 Road Shoes EKOI R4 EVO Flash
We welcome your feedback !
Shipping and returns
Free returns Except during official French sales periods : Returns policy
Shipping information to : France

Delivered between 09/04 and 13/04
For any order placed before 12.00, delivery in 1 to 3 days.
Free delivery starting from £61.81 purchase
Price :
£7.06
Special gift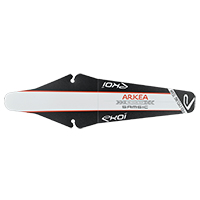 For every order over 69€, EKOI will include one free limited edition EKOI COFIDIS mudguard.
Offer valid while supplies last, based on the total amount before shipping costs.
Product info
This new model of road shoe provides excellent power transfer to the pedals, yet they are extremely comfortable even for use on long distance rides or events. The foot is well supported within the shoe and the twin-dial lacing system offers precision closing.
Product features
- 3K Carbon TECH 6mm-thick ultra-light sole.
- 9/10 stiffness index
- 2 ATOP® lacing system dials
- Compatible standard 3-bolt Look / Shimano pedals
Use
For use:
Road racing
Technical features
- Carbon sole with 8 vents.
- Excellent support of the heel.
- Perforated tongue for improved wicking.

- Shoe weight: 285g (in EU size 42)
Material
Sole:
- 3K ultra-light composite carbon sole with excellent venting system.
- Standard 3-bolt Look + Shimano pedal compatbility.

Upper:
- Upper in perforated (optimal wicking) synthetic leather (easy care).
- Lined inner anti-bacteria treated.
- Quilted, perforated tongue.

Heel:
- Heel cup in lined Spandex Grip for an optimal support of the heel throughout the pedal stroke.



FOOT LENGHT

(see above)

EKOI Size

in cm

Size

24,5

39 Ekoi

25,1

40 Ekoi

25,7

41 Ekoi

26,4

42 Ekoi

27,1

43 Ekoi

27,7

44 Ekoi

28,4

45 Ekoi

29,1

46 Ekoi

29,8

47 Ekoi

30,3

48 Ekoi
Sale type

: new

Technology

: Carbon
Buongiorno, mi complimento con voi per la velocità con cui avete effettuato il reso, con il nuovo numero di scarpe. Purtroppo il pacco è arrivato al centro ups (a 10 km da casa mia) e senza nessun preavviso o motivo, è stato rimandato al mittente. Potete verificare il motivo? Se ups mi avesse informato, sarei andato di persona a ritirare il pacco reso. Grazie

Buongiorno, mi complimento con voi per la velocità con cui avete effettuato il reso, con il nuovo numero di scarpe. Purtroppo il pacco è arrivato al centro ups (a 10 km da casa mia) e senza nessun preavviso o motivo, è stato rimandato al mittente. Potete verificare il motivo? Se ups mi avesse informato, sarei andato di persona a ritirare il pacco reso. Grazie

Rennradschuh r4 evo flash

Sehr gute Passform und sehr bequem. Hervorragendes Verschlusssystem. Sehr empfehlenswert.

Elles déchirent leur race

Pas de soucis pas de soucis dit la populace

Bonjour,

ces chaussures sont très confortables;
seul petit bémol , la dureté des molettes au desserrage, mais bon avec le temps vont-elles s'adoucir !
merci


Elle sont magnifiques avec une bonne tenue au pieds bon serrage avec les 2 molettes

Material de primera a un precio expectacular

Finalement look sympa mais pas encore essayées

J'avais peur de l'aspect "tape à l'oeil" du brillant mais ça va finalement. J'ai surtout acheté un produit selon moi haut de gamme à un prix incomparable avec la remise. Vivement l'essai ce week-end

Chaussures r4 evo flash taille 43

J'ai commandé mes chaussures en taille 42 , ma taille de chaussures de ville . Mais quand je les ai reçu je
Les essaye et là les chaussures me serrait . Retour colis pour les mêmes chaussures en taille 43 et là elles me vont mais une grande différence entre 42 et 43. Pour bien faire il faudrait presque des tailles par 1/3 . Sinon chaussure avec un design incroyable , elles sont magnifiques , la semelle est bien rigide et elles sont très confortables. Elles sont légères. Au final très bonne chaussures . Produit conforme à mes attentes juste ce bémol de taille. Merci ekoi.

Produit à la hauteur de mes espérances. Bonne qualité, confortable et la pointure impeccable. Je mets la note 4 car j'ai trouvé la livraison longue, un peu plus de 2 semaines.
Je recommande.

Après plusieurs déconvenues avec des Mavic, j'ai enfin trouvé une paire de chaussures à ma taille . Elles taillent juste en plus elles sont jolies. Petit problème, le système doit être difficile à manœuvrer pour desserrer le chausson en roulant. Sinon top modèle

Confortable et très belle. Surtout à la lumière du jour. On pourrait faire des défilés de mode....
La taille est juste.

perfectas, a ver con el uso, de momento bonitas y buena pinta tienen

Chaussures superbes, suivant la luminosité des reflets arc en ciel apparaissent
Trés confortable et rigide avec une bonne tenue aux pieds. Magnifique


Chaussures route ekoi r4 evo flash

Mon fils est super heureux de ses nouvelles chaussures. Légères et jolies à son goût. Elles lui donnent des ailes sur la route!!!!

Ekoi r4 evo flash - pointure : 44

tres bien, confortable, taille un peu grand : je fais du 43, le site me conseille le 44 qui est un poil grand

sono fatte bene e sono esteticamente belle.

Leicht, guter Sitz und Kraftübertragung

Calzan más grandes que otras marcas, en mi caso mi pie mide 27,5 y me he cogido un 45 y me van 1 y medio cm grandes.

Chaussures route ekoi r 4 evo flash t/ 44

après quelques sorties de 50/60 klm pour l instant ras je dirais parfait
cependant j attends que la météo soit plus clémente pour augmenter les distances et voir si avec la chaleur les pieds ne bougent pas dans les chaussures
sinon pour le moment parfait
en chaussures de ville je fais du 44

Très belles chaussures, le système de fixation est super, plus facile à serrer qu'à desserrer en roulant. Le tableau des tailles est parfait mais il ne faut pas avoir le pied large.

Ottima scarpa molto reattiva la consiglio a tutti!! Marchio molto valido.

Zapatillas ekoi r4 evo flash

No traen caja, vienen en una bolsa, cualquier marca la trae, el obsequio que me han hecho (un calendario) me parece ridiculo, por un valor inferior a este, me han hecho mejores regalos

No estoy contento con esta zapatilla

Para empezar la zapatilla es muy bonita, pero el material es plástico muy malo, la suela dicen que es carbono, no se lo creen ni locos, carbono dice jeje, parece una sobreimpresion imitando el carbono. Más cosas... tallan muy grande me pedí un 43 y parecía un 45, medí mi suela de sidi y mide 27cm y según la tabla de medidas de Ekoï equivale a un 43 como en sidi. En definitiva no me gustaron nada. Espero ayudar a futuros compradores.

J ai déjà deS chaussures Ekoi pour route en 45 ...mais la j ai pris pareil elle taille grande. J attend suite échange du 44

Encore plus belles en vrai, confortables et réactives pour le peu de kilomètres que j'ai fait avec. Mais malheureusement trop grandes pour moi bien que j'ai suivi vos instructions pour choisir ma pointure ☹

Chaussures route ekoi r4 evo flash 3 avis

Très bonnes chaussures, confortables,j ai hésité de choisir ce modèle flash qui n est pas du tout courant et je ne regrette pas mon choix, elles sont hyper belles ,pour info je chausse du 44 en chaussure de tout les jours, mais anciennes chaussures de velo northwave était du 44 ,j ai donc choisi du 44 pour celle ci et la pointure est impeccable,la petite remarque que je peux faire c est les marques de repaire pour les cales qui n est que d un côté cela aurait été judicieux de les avoir de chaque côté pour faciliter l'emplacement mais bon ce n'est pas très grave .

Super chaussures très belle chaussure l , un vrai 43 rien avoir avec la marque sidi ...la au moins je n'ai pas mal au pied bon rendement rien à dire ...encore une fois bravo ekoi pour ce beau produit...merci

Netjes afgewerkt, zelf heb ik een brede voet, maar deze schoen zit perfect, hiel sluit goed aan.
Op de weg heb ik de de schoen nog niet getest.

Chaussure eko r4 evo flash

Le colis est arrivé rapidement et dans les temps.
Pour ma part coloris flash qui peut aller avec toute les couleurs dans la pointure choisi. La taille correspond avec la table de mesure pour trouver la bonne taille. La chaussure est très agréable après 3/4 sortie,la chaussure commence à ce faire. La semelle Carbonne est très rigides et permet un transfert de puissances Optimale. Le système de serrage est très efficace, néanmoins une fois sur le vélo il est plus facile d'augmenter le serrage que de le diminué

Très bon produit
Très satisfait