EKOI CORSA LIGHT BLACK & RED HELMET
We welcome your feedback !
Shipping and returns
Free returns Except during official French sales periods : Returns policy
Shipping information to : France

Delivered between 25/01 and 27/01
48/72h to your door or at the post office
Price :
£5.09

Delivered between 24/01 and 27/01
For any order placed before 12.00, delivery in 1 to 3 days.
Price :
£7.64

Delivered between 27/01 and 29/01
Delivery in a pick-up point of your choice in 4 days.
Free delivery starting from £33.97 purchase
Price :
£4.24

Delivered between 27/01 and 29/01
For any order placed before 12.00, delivery in 1 to 3 days.
Free delivery starting from £84.93 purchase
Price :
£5.94
Product info
The official road helmet of the UCI World Tour team AG2R La Mondiale and mountain bike helmet of the BH team (2nd World MTB Team)
Product features
- Weight: 185 grams in size S / M 54-58 cm (one of the lightest helmets on the market)
- Vents: 24 (moisture wicking)
- Adjustable Fit system from bottom to top of the occiput (for the perfect height & lateral fit)
- Ventilated straps
- Magnetic buckle.
Use
- Competition road or mountain bike cycling
Technical features
- Full In Mold shell & liner
- 24 vents
- 10 exhaust vents
- Cool Max foam padding
- Adjustable straps
- Fit system with perforated notch by notch adjustment wheel
- Adjustable height fit system
- Weight S / M 185 g
- Weight L / XL 220 g
- Approved EU norms

Available in 2 Sizes:
- S / M (54 / 58cm)
- L / XL (59 / 62cm)


La norme CE (NF EN ISO 12312-1:2013 + ISO 12312-1 2013) est conforme aux lois en vigueur dans les pays de l'Union europeenne.
Cette norme CE 1078 n'est pas valable aux USA ( norme CPSC obligatoire) ou en Australie. Nous vous conseillons (si vous vivez hors de l'Union européenne )de vous informer sur la norme en vigueur conforme aux lois de votre pays ou de contacter notre service information produit Ekoi qui vous renseignera.
Material
- EPS ultra-lightweight high density
S/M (54/58cm)

L/XL (59/62cm)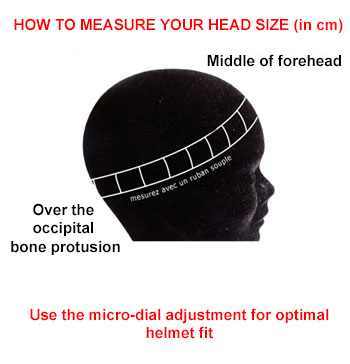 Great fit and very confortable

Delivery was quick and so, so pleased with both the lightweight fit and the ventilation. Having very little hair it was important for me that the helmet fitted well, I am not at all disappointed. Are there any downsides, with the helmet no; perhaps the traps could sit a little flatter (rather like my older, heavier Speciaized Propero 2 however this might be a worthwhile trade-off for the lighter weight. Would I recommend the Ekoi Corsa Light? Absolutely. Well done Ekoi. rnrn

Just love this helmet. Great air flow. Light weight. Great value for money. Great design.

The helmet looks incredible.rnIt is also very comfortable and suits very well to me.rnIt is the best helmet which I ever had. I used one swedish brand helmet before, but this Ekoi helmet is really better to me. rnGreat product for reasonable price

Well constructed, loads of ventilation, looks great especially with the black shell. Great helmet and a great price especially in the flash sale!

Just ordered my second corsa light. A brilliant helmet, lightweight and looks good. I was involved in a 50mph crash in the alps and if it wasn't for my corsa light, i probably wouldn't be here.