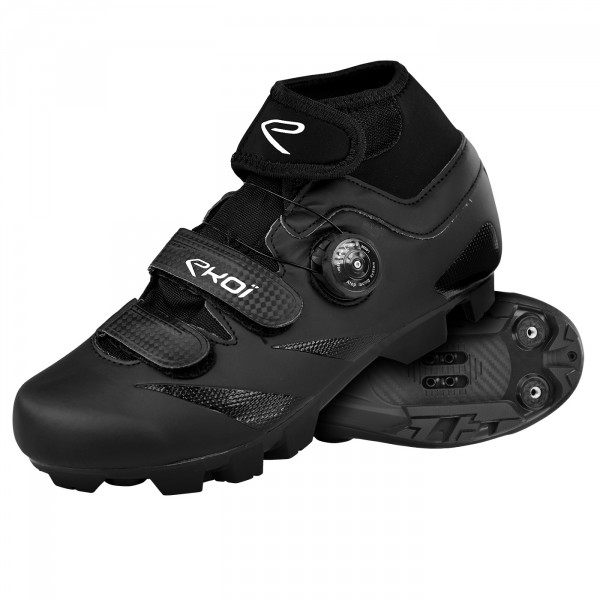 Shoes MTB EKOI WINTER Carbon Evo
We welcome your feedback !
Shipping and returns
Free returns Except during official French sales periods : Returns policy
Shipping information to : France

Delivered between 18/08 and 20/08
For any order placed before 12.00, delivery in 1 to 3 days.
Free delivery starting from £90.40 purchase
Price :
£9.03
Delivered between 17/08 and 19/08
Retrait en magasin dans la journée

Delivered between 19/08 and 21/08
For any order placed before 12.00, delivery in 1 to 3 days.
Free delivery starting from £81.36 purchase
Price :
£6.32

Delivered between 21/08 and 24/08
Delivery in a pick-up point of your choice in 4 days.
Free delivery starting from £81.36 purchase
Price :
£6.32
Special gift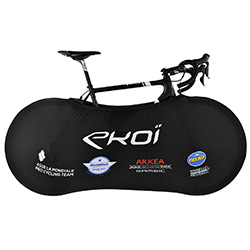 1 bike travel bag Bike Protect Pro Team EKoi Special Gift
 with every order over €149*
Valid on the total amount of purchase orders, excluding shipping costs, while stocks last
Product info
The new WINTER EKOI MTB WINTER EVO shoe is designed for mountain biking, gravel or cyclo-cross in difficult conditions such as cold or rain.
You will no longer be cold feet during the winter season ...
Extremely comfortable because made in a single seamless piece with an ERGONOMIC buttress for perfect support of the rear of the foot they are rigid thanks to their reinforced sole.
Product features
- Warm (membrane) and breathable.
- Comfortable (without seams)
- Waterproof (without seams + waterproof membrane)
- Rigid sole.
- Effective foot support.
- Model designed in one piece
- Breathable and effective membrane against rain
Use
Efficient down to 0° to wear with a pair of winter socks EKOI THERMOLITE CARBON
Technical features
- Upper with membrane to keep the foot warm and dry
- Lined shoe with membrane (top of the shoe) allowing perfect evacuation of moisture & sweat
- Interior treated with anti-bacterial for optimal hygiene and to avoid unpleasant odors
- High closure with Velcro
- Designed from a single piece that maximizes the waterproofness of the shoe
- Efficient and fast tightening with 1 micrometric ATOP loop and 2 velcro.
- 3-point type drilling compatible with all major brands of pedals
(SHIMANO, LOOK…)

- Weight: 310 gr. in size 41
Material
- Sole composition: HIGHT PU
- Upper Synthetic leather for easy maintenance against mud projections



FOOT LENGHT

(see above)

EKOI Size

in cm

Size

24,5

39 Ekoi

25,1

40 Ekoi

25,7

41 Ekoi

26,4

42 Ekoi

27,1

43 Ekoi

27,7

44 Ekoi

28,4

45 Ekoi

29,1

46 Ekoi

29,8

47 Ekoi

30,3

48 Ekoi
Elles sont vraiment au top niveau confort juste portée 5min mais pas plus car il fait trop chaud. La qualité est au rendez-vous. Le scratch du dessus est à un mauvais angle ce qu'il fait qu'il faut tirer assez fort pour le faire tenir. A voir sur la durée si le scratch tiendra une seule pièce sans ce scratch aurai été bien mieux (comme pour les chaussures de plongée par ex). Sinon elles sont super légère, j'ai les pieds assez large donc en général je me sent a l'étroit dans les chaussures. Ici ras elles sont vraiment bien taillée, j'ai pris une pointure de plus que ma pointure de basket (41 alors que je chose du 40). Je les recommandes

Prese in offerta è le proverò solamente tra qualche mese ma come sottolineato da molti la chiusura in velcro è proprio studiata e realizzata male ,sarà difficile che rimanga chiusa durante l attività perché è veramente corta .
Peccato perché per il resto sembrano molto ben fatte

Chaussures de bonne facture comme à l'habitude chez Ekoi. Confortable, le reproche que l'on peut faire est la languette velcro du dessus qui est beaucoup trop petite. Je suis loin d'avoir de grosses chevilles, bien au contraire et j'ai pourtant dû mal à attacher ces bandes velcro, l'accroche n'étant pas parfaite. Il peut arriver que celles-ci se décrochent lors de passages difficiles. Je vois que je ne suis pas le seul à faire cette remarque/ Il serait bien qu'Ekoi qui nous demande notre avis sur les produits reçus en tienne compte car il me semble que c'est à cela que sert nos avis, à améliorer les petites imperfections sur un produit. Je reste néanmoins fidèle à la marque Ekoi pour sa qualité de fabrication Sportivement Daniel

Merci pour votre commentaire constructif.
Nous remontons l'information à nos chefs produits.
Sportivement,
L'équipe Ekoï.

Prese in estate, quindi le proverò tra qualche mese.rnProvate e sembrano comode.

Bin super zufrieden mit dem Schuh. Ab sofort habe ich keine kalten Füße mehr. Die Größe mit 44 ist perfekt bei meiner normalen Schuhgröße von 43.

Sitzen sehr gut und halten die Füße bis 0 Grad warm.

Keine kalten Füße mehr, Passform war etwas größer, aber für die sehr kalten Tage ist eh ein 2. Paar Socken Pflicht

Chaussures bon maintien protège bien du froid et de l'humidité
J'ai pris une taille plus grand impeccable

Boty vyzkoušeny při teplotě kolem 2 stupňů asi 2 hodiny výborné noha neprochladne. Velikost odpovídá běžné obuvi, jsou širší kolem nártu s tenčí ponozkou je noha volná. Zapínání je dobré je kolem kotníku velmi krátké zapínání na suchý zip, mohlo být delší. Celkově spokojen za cenu ve slevě dobrá koupě.

Je l'ai testé entre 1 et 5 degré sur des sorties De 3 heures pas de problème pas froid au pieds.
Même sur routes sales et humides se nettoyé facilement.
Je recommande

Chaussures mtb ekoi winter evo

Très belles chaussures, confortables, mais après 3 essaies que la languette avec velcro est un peu juste, la molette de serrage de la patte (lacet) ne serre pas assez. Donc je doute de la durée d'usage de ces chaussures.

Parfait! Confortable et surtout, je n'ai plus froid au pieds...

Bogusław Gęca K.

02/04/20

Good quality to price ratio. Neoprene insulation inside. Warm enough for me in 5-10 centigrades. More comforatble in use than summer shoes with neoprene cover. Not tested in rain. I use 42 size for summer shoes and ordered 43 to have more space for warm sockets and it works fine. Upper top strap could be longer. If you have thick under ancle diameter then you may have a problem to zip.

Tester ce matin pour la première fois et ça va.

Le top du top super confortable ekoi c'est le top

Super chaussure, aprés 3h de VTT par -2 degrés je n'avais pas froid aux pieds.

Excellent produit, juste une petite suggestion pour qu'il soit parfait

Je suis très satisfait de ces chaussures de VTT d'hiver.
J'ai cependant une petite suggestion : malgré le fait que les chaussures soient neuves, il arrive fréquemment que le scratch du haut se détache, ce qui est plutôt ennuyeux.
Pourtant je n'ai pas les chevilles qui enflent ;-)
Je vous suggère simplement de modifier la languette scratch pour qu'elle soit un peu plus longue, et les chaussures seront parfaites !


Reçu ds les délais. Pointure parfaitement ajustée par rapport à la procédure proposée. Petit bémol, la languette velcro de maintien autour de la cheville un peu courte...
Le rapport qualité prix me paraît correct !