Road Shoes EKOI WINTER Carbon Evo
We welcome your feedback !
Shipping and returns
Free returns Except during official French sales periods : Returns policy
Shipping information to : France

Delivered between 01/04 and 03/04
For any order placed before 12.00, delivery in 1 to 3 days.
Free delivery starting from £62.76 purchase
Price :
£7.16
Special gift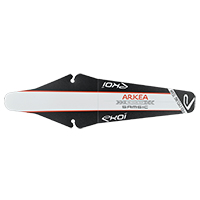 For every order over 69€, EKOI will include one free limited edition EKOI LOTTO SOUDAL mudguard.
Offer valid while supplies last, based on the total amount before shipping costs.
Product info
With the EKOI Road WINTER EVO winter road shoes, you will no longer be cold on your feet and you will preserve your summer shoes during the winter season ...

Extremely comfortable because made in a single piece without seams with an ERGONOMIC buttress for a perfect support of the rear of the foot they are rigid thanks to their CARBON TECH sole & designed for a high level practice short or long distances.
Product features
Warm (membrane) & breathable
- Comfortable (without seams)
- Waterproof (without seams + waterproof membrane)
- Carbon sole
- Effective foot support
Use
- Effective up to 0 ° - To wear with a pair of EKOI THERMOLITE CARBON winter socks
Technical features
- Upper with membrane to keep the foot warm & dry
- Lined shoe with membrane (top of the shoe) allowing perfect evacuation of moisture & sweat
- Interior treated with anti-bacterial for optimal hygiene & to avoid unpleasant odors
- High closure with Velcro
- Designed from a single piece that maximizes the waterproofness of the shoe
- Efficient & fast tightening with 1 micrometric ATOP loop & 2 velcro
- 3-point type drilling compatible with all major brands of pedals
(SHIMANO, LOOK…)

- Weight: 310 gr. in size 41
Material
- Sole composition: CARBON TECH HIGHT PU & fiberglass
- Upper Synthetic leather for easy maintenance against mud projections



FOOT LENGHT

(see above)

EKOI Size

in cm

Size

24,5

39 Ekoi

25,1

40 Ekoi

25,7

41 Ekoi

26,4

42 Ekoi

27,1

43 Ekoi

27,7

44 Ekoi

28,4

45 Ekoi

29,1

46 Ekoi

29,8

47 Ekoi

30,3

48 Ekoi
Technology

: Carbon

Temperatures

: 0°