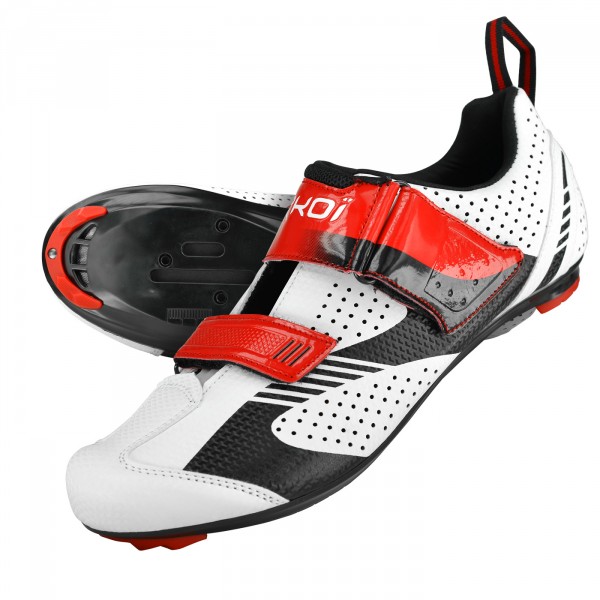 EKOI TRI ONE Evo Triathlon shoes
We welcome your feedback !
Shipping and returns
Free returns Except during official French sales periods : Returns policy
Shipping information to : France

Delivered between 10/04 and 13/04
For any order placed before 12.00, delivery in 1 to 3 days.
Free delivery starting from £61.80 purchase
Price :
£7.05
Product info
Latest edition of our speecially-designed tri shoes for all distances
Product features
. Ventilated sole with 8 vents
. Reinforced toe box
. Perforated tongue
. Excellent value for money
Use
For use:
All distances triathlons, for training or in competition
Technical features
. Nylon sole compatible with all standrad 3-bolt cletas (Shimano/Look etc)
If in doubt contact our product service department (phone or mail address as on the web site)
. 2 velcro straps
. Heel box to stop any heel movement
. Excellent ventilation (both shoe upper and sole)
. Lorica carbon-look for easy care (wipe clean)
. Shoe sizes (EU) from 39 to 46
Material
Sole: polyamide and glass fibre
Upper: carbon-look Lorica making water slide off the shoe



FOOT LENGHT

(see above)

EKOI Size

in cm

Size

24,5

39 Ekoi

25,1

40 Ekoi

25,7

41 Ekoi

26,4

42 Ekoi

27,1

43 Ekoi

27,7

44 Ekoi

28,4

45 Ekoi

29,1

46 Ekoi

29,8

47 Ekoi

30,3

48 Ekoi
La chaussure est jolie mais je n aime pas sans la languette et j ai respecté le guide des tailles mais elles sont trop petites... Dommage

Bonjour,
Merci pour votre commentaire.
Concernant la languette, les chaussures de triathlon pour les courtes distances sont conçues dans cet esprit.
Si la taille ne vous convient pas, vous pouvez faire un retour produit sans aucun problème.
Cordialement,
L'équipe Ekoï.


Très bon rapport qualité-prix. Ne pas prendre une taille au dessus, elles taillent déjà grand.

Closure system bad for tri

When you start tri cycling with shoes mounted on the pedal after T1 this could be a spect for you. The closing system is not well designed for pulling on the shoes during cycling (after T1) The cheap Shimano shoes are better to use. Stability of the shoes is good. Comfort as well wo socks.

Les chaussures répondent à mes attentes

Scarpe triathlon ekoi tri one evo - numero : 39

TOP

Chaussures triathlon ekoi tri

Bon rapport qualité prix. Taille grand par rapport au guide de taille.

Zapatillas de buena calidad a un precio extraordinario.

Chaussures triathlon ekoi tri one evo

j'attends l'été pour donner un avis

Tallas pequeñas y gestión de devoluciones pésima

Pedí una talla 42 según la guía de tallas y vienen mas pequeñas que otras marcas, aconsejo comprar 1 o 2 tallas mas grandes. En cuanto a las devoluciones o cambios es pésimo. En épocas de rebajas te tienes que encargar tu de todo, pagando los portes de envío, por lo que el descuento de rebajas desaparece. Aparte la comunicación con ellos no ha sido la deseada por mi parte.

He comprado unas zapatillas de triatlon y la numeración no se corresponde con los cm que indican en las tablas. Seguí las numeraciones que indican las tablas en mi caso mi pie mide 29 cm por lo cual el tallaje seria un n°46. Pruebo estas zapatillas y me quedan enormes. Intento devolverlas y me cobran los gastos de devolución que cuestan más que las zapatillas. Segun atención telefonica de ekoi está todo informatizado y ellos no pueden hacer nada para que no me cobren gastos de envío para devolver el producto, cuando el error lo cometen ellos en sus tallas. Un auténtico desastre. No volveré a comprar nunca más!

Witam, proszę o przesłanie paczki na adres domowy
Robert Wrzochalski
Witosławy 12 kl I/5
81-572 Gdynia

Chaussures triathlon ekoi tri

Commande en erreur de taillernSurtout l'ouverture sur le dessus qui ne convient pas pour du triathlon.rnEn effet , elles seront inconfortables en cas de froid ou de pluie à cause de cette ouverture . rnElles ne conviennent pas au final a un triathlète qui ne mets pas de chaussette sur la partie vélo .rnOu alors il faut fermer le dessus de cette chaussure

les chaussures de tri pour le courte distance sont toujours conçues dans cet esprit .
JC EKOI

numeracja trochę zawyżona 45 ma długosc wkładki ponad 30 cm a powinien według numeracji europejskiej max 29 cm ?
jakosc butów bez zarzutu, dostawa też

Attention le guide pointure est erroné, le 42 fait 25.7 cm !
Prendre une taille de plus, pour pieds fins
Finition correcte, languette arrière un peu étroite
Acheté car en promo

La taille "parfaite" chez ekoi

Je viens de recevoir mes chaussures Ekoi tri taille 45

J'avais déjà commandé des R3 chez ekoi en 45. Donc, je me suis dit, 45 pour les Tri One Evo, ça devrait aller. Et là, surprise, qd je regarde, le 45 chez les Tri One correspond au 10,5 US alors qu'il correspond au 11 chez les R3. Et pire, la taille en cm du pied chez les tri One est de 27,7. Panique pour moi car je prends du 29,5. Je n'avaiS pas respecté ça pour les R3 car j'avais déjà fait un retour de commande des R3 en 46 qui pour 29,5 étaient bcp trop grandes. Mais bon, là, avec 27,7, c'était impensable qu'elles me conviennent.
Et bien que n'est ni, elles sont parfaites. Donc, soit j'ai vraiment rétréci des pieds, soit, Ekoi, n'est pas encore au point au niveau des tailles.
Mais bon,comme sur ce coup, ça joue en ma faveur, je mets un superbe 5 étoiles....

Excellent rapport qualité - prix, la chaussure est très ouverte donc prévoir des sur-chaussure avant même de l'acheter. Je regrette pas du tout mon achat au contraire!

Le scarpe sono carine e di buona qualità. Deludente la confezione. Prodotto arrivato in una scatola anonima e non nella sua confezione originale.

Pas encore essayé, mais conforme à mes attentes

Excellent délai entre la commande et la réception des produits

Bonjour.
Je pense que la taille 40 sera mieux pour moi. Puis je vous les renvoyer pour échange et à quelle adresse ?
Merci.

Bonne qualité
Pas encore utilisé

Rápido envió y zapatillas muy cómodas

joli produit pour un prix serré, attention, je ne suis pas sur que les pointures et longueurs conseillés soient justes, j'ai commandé un 41 pour presque 26 cm et elle me paraisse grande.Je possède le modèle vtt et je suis beaucoup plus juste !