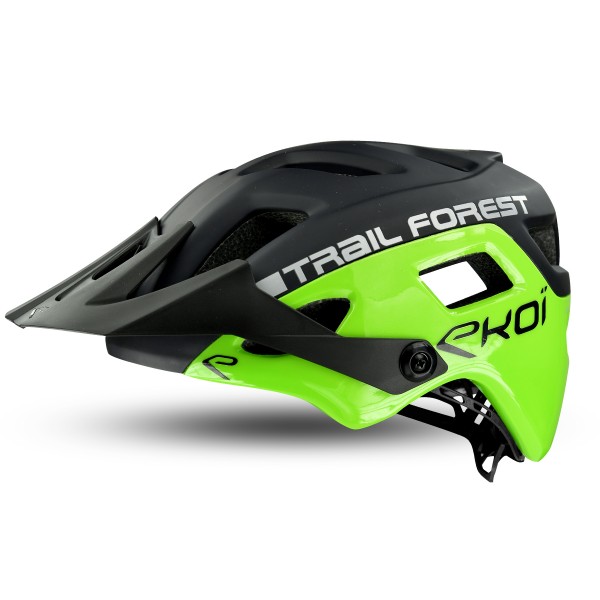 Green EKOI MTB TRAIL FOREST Helmet
We welcome your feedback !
Shipping and returns
Free returns Except during official French sales periods : Returns policy
Shipping information to : France

Delivered between 04/06 and 08/06
For any order placed before 12.00, delivery in 1 to 3 days.
Free delivery starting from £80.22 purchase
Price :
£8.91

Delivered between 05/06 and 08/06
For any order placed before 12.00, delivery in 1 to 3 days.
Free delivery starting from £62.39 purchase
Price :
£6.23
Product info
Aesthetic, light, and protective, this is without a doubt one of the most beautiful helmets made by EKOI...
Product features
- Weight S/M 298 gr
- Vents: 16 front + 6 back.
- Enveloping shape (safety)
- Space for glasses and adapted for wearing a VTT face mask.
Use
- Mountains, woods, trails, WHATEVER YOU PREFER...
Technical features
- Full in mold design
- Magnetic buckle
- Occipital support adjustable (from low to high) by knob
- Ventilated straps
- Adjustable visor
- 2 sizes, SM (54/57 cm) or XLX (58/61 cm)


La norme CE (NF EN ISO 12312-1:2013 + ISO 12312-1 2013) est conforme aux lois en vigueur dans les pays de l'Union europeenne.
Cette norme CE 1078 n'est pas valable aux USA ( norme CPSC obligatoire) ou en Australie. Nous vous conseillons (si vous vivez hors de l'Union européenne )de vous informer sur la norme en vigueur conforme aux lois de votre pays ou de contacter notre service information produit Ekoi qui vous renseignera.
Material
- High-density EPS
- Coolmax inner foam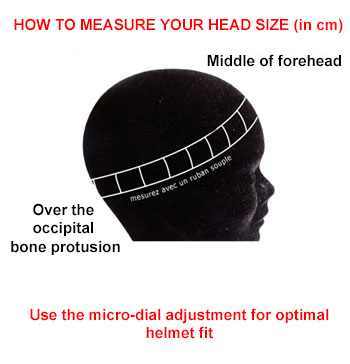 Mon fils de 10 ans est satisfait, utilisation vtt et bmx

Bello e fatto abbastanza bene

L'UNICA PECCA è CHE, ESSENDO MOLTO LUNGO NELLA PARTE POSTERIORE, PER GIUSTAMENTE OFFRIRE UN MIGLIORE PROTEZIONE, QUANDO SI STA CON LA TESTA ALZATA DURANTE LA DISCESA LA SUDDETTA SI APPOGGIA ALLA BASE DEL COLLO E FA RUOTARE IN AVANTI IL CASCO STESSO

Ottima vestibilità. Ha una buona copertura ed è leggero. Consigliato

Casque ekoï mtb trail forest vert/black

Super satisfait de mon choix.Super casque !
Un "chaussant" (coiffant ?) bien enveloppant. Des réglages multiples et précis. Un super look (ça c'est perso !). Un poids contenu. Une super promo dans la couleur et Zou !!!
Pris en taille S/M pour un tour de tête de 57 CM. Nickel.
On peut l'utiliser pour un tour de tête de 58 CM, au delà...méfiance.
Cela faisait un moment que je lorgnais dessus au travers des pubs dans la presse spécialisée!



Beau casque et ayant de bons réglages. Les mousses de différentes épaisseur qui permettent un meilleur confort sont un plus. Par contre, je ne suis pas sûr des tailles proposées (souvent chez Ekoï, hélas!). Je fais 57cm et l'on m'a conseillé L/XL et il me parait grand, même avec les mousses épaisses, il me tombe sur les yeux. De plus, il appuie sur les branches de lunettes, ce qui a été déjà signalé par d'autres utilisateurs. En résumé, c'est bof.....pas terrible le casque bien que les innovations soient là.

Merci pour votre commentaire.
Notre guide de taille recommande la taille S/M pour un tour de tête 54/57cm et L/XL pour 58/61cm.
D'après vos informations, il vous faut en effet un S/M qui solutionnera votre problème.
Sportivement,
L'équipe Ekoï.

Un casque confortable qui prend bien la tête, avec du style. Les mousses en plus font toujours plaisir comme la housse du casque. Parfait !

Très très bon produit je le recommande

Très très bon produit je le recommande

Délais de livraison conforme. Après deux sortie le casque semble de très bonne qualité, nombreux réglages. Le gros plus de ce produit sont les mousses de différentes épaisseurs qui sont livrées avec le casque. Pour le moment pas de point négatif.

Macht optisch und vom Sitzkomfort einen sehr guten Eindruck. Passt farblich zu meinem Cannondale.
Gut die mitgesendeten Ersatz Pads zum tauschen. Teilweise sitzen die Polster Pads schräg im Helm man muss sie korrigieren Man kann aber optimieren mit z.b. Fliegengitter Polster.
Sonst super stylisch. Noch nicht sturzgetestet.

superbe casque , tres belle coupe,leger ,tres agreable a porter,superbe look

Casque ekoi mtb trail forest vert - taille : l / xl

Tour de tète 58cm. Le casque descend trop sur les yeux pour ma part malgré qu'il soit de qualité.


Denis Lorenzo B.

11/07/19

Il casco è davvero bello leggero robusto! Preso con sconto del 50% sicuramente me lo fa piacere ancora di più :-)

Casque léger et confortable

Avec un tour de taille de 57.5 cm et au vu des différents commentaires, j'ai pris une taille L/XL. La taille est bonne et après avoir ajusté les sangles et réglé la molette, le casque tient très bien sur la tête. Par contre, il appuie légérèment au niveau des branches de lunette.

W opisie specyfikacji kasku jest pomyłka: " 2 rozmiary SM (54/74cm) lub LXL (58/61 cm)"
Niestety nie domyśliłem się, że w opisie jest pomyłka. Kask jest za mały. Do Francji nie opłaca się odsyłać za kuriera zapłaciłbym tyle co pół ceny kasku.

Ayant un tour de tête de 57, j'ai choisi une taille LXL en tenant compte des commentaires publiés. La taille est bonne grâce à la fourniture des différentes tailles de mousses.nMerci à EKOI d'avoir tenu compte des remarques. Par contre, le casque vient appuyer sur les branches des lunettes (même avec des EKOI).Je comprend que certains clients envisagent de découper les bords du casque. Comment est ce possible de ne pas avoir vu ce problème à la conception?

Casque légers et enveloppant

Tour de tête de 57 cm, j'ai pris la taille s/ m , le casque tient très bien sur la tête quand on serre la molette. Il tiendrait tout seul sans sangle. En revanche il s'enfonce très bas au point de ''reposer ''sur les lunettes , les coussinets qui sont au fond sont trop fins et j'ai mal à la tête. Merci de me dire si vous avez des coussinets plus épais à votre catalogue.

Ce casque s'ajuste très bien grace à la molette et ne bouge pas, quelque soit l'état de la piste.

Meine Bestellung ist an einen Hermes Paketshop geliefert worden. In der mobilen Bestellversion, habe ich das wohl fälschlicherweise ausgewählt - nicht bewusst. Der Shop ist etwa 25 km von meinem Wohnort entfernt und für mich innerhalb der Frist nicht erreichbar. Auf der Rechnung taucht auch die korrekte Lieferadresse auf!

Ich hatte daraufhin den Service angeschrieben und eine kurze und knappe Antwort erhalten. Auf weitere Nachfragen von meiner Seite wurde nicht reagiert. Nun wird das Paket wieder zurück gehen! Ich bin gespannt wie es dann weiter geht.

Mit freundlichen Grüßen
Grischa Neubert

würde den MTB Helm gerne zurückschicken

Casco bellissimo, linea ottima, regolazioni fatte bene, io ho 59cm di misura e la taglia L/XL calza molto bene.
Migliorerei le imbottiture interne.

Ottimo casco per MTB consegnato nei tempi previsti, buona aderenza e protezione. Consigliato!

Ottimo casco per MTB consegnato nei tempi previsti, buona aderenza e protezione. Consigliato!

Très jolie casque vtt belle finition maintien très bien la tete . Légère pression temporal a cause des coussinet qui je pense vont se détendre dans le temps. Dommage que certaines branches de lunette ne passent pas !

Casque ekoi mtb trail forest vert taille s/m

RAS produit correspond à mon attente, lanières et serrage facile à utiliser

Avis client nouveau modèle casque mtb

Avec un tour de tête de 57cm j'ai choisi la taille S/M correspondante.
Même taille que mes autres casques.
Malheureusement le casque est trop petit, même avec la molette desserrée au maximum et sans bonnet. Pression gênante et désagréable au niveau de l'os pariétal.
Le système d'attache des sangles manque de praticité.
Le look est sympa.
Nouvelle taille demandée.