Heating Cover Shoes EKOI HEAT CONCEPT
Your opinion interests us !
Special gift
---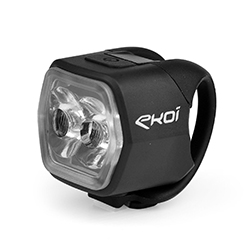 For each order >to 129€ EKOI offers you an EKOI LED Light
*Offer valid whilst stocks last
This is the latest generation of heated covershoes to fight against cold (down to -20 °). Designed especially by EKOI for the practice of winter cycling .

The temperature control switch allows you to regulate the degree of heat & a charge indicator to manage your battery life.

It is compatible with 100% of the road cycling shoes market.
Products benefits


- Efficient down to - 20 °.
- 3 temperature levels with adjustment switch :
- 1 pressure: RED LED 40 ° (autonomy of 1.5 hours maximum).
- 2 successive pressures LED ORANGE 35 ° (autonomy of 2.5 hours maximum).
- 3 successive GREEN LED 30 ° (autonomy of 4 hours maximum).

- Indicator for charge level of the battery
(4 red bars = 100%)
(3 red bars = 75%)
(2 red bars = 50%)
(1 red bar = 25%)

- 4 mm neoprene to effectively fight against cold & humidity.
- Closure at cuffs with 4 mm neoprene insert (to avoid cold & humidity in).
- Easy to put on or take off. (See video)
Use instructions :
- In case of rain we do not recommend using the heating system.
1) It is necessary to fully charge the batteries before the first use
- Plug in the charger (the charging LED lights GREEN)
- Then connect the 2 batteries to the charger, the charging starts automatically and the charging light stays on during charging. (The LED turns RED this indicates that your batteries need to be charged)
2) The charging time is approximately 2 to 4 hours depending on the charge level of the battery.
- When the battery is fully charged, the charging stops automatically and the LED of the charge indicator turns GREEN.
3) Disconnect the batteries from the charger & reconnect the batteries to the cover shoe connector, place each battery in the designated slots and close the pouch correctly.
4) Press + for 3 seconds to switch the heating system on or off.
- TURN on your cover shoes without putting them on for 3 minutes before going so that the cover shoes warm up & your feet are perfectly protected from the cold during your ride.
- We advise you to start your output in GREEN mode & switch to ORANGE then RED mode as you feel that the outside temperature drops.
----------------------------
IMPORTANT SAFETY INSTRUCTIONS:
- In case of rain we do not recommend using the heating system.
- DO NOT LOAD HEAT CONCEPT items with ANY OTHER charger than the one supplied.
- DO NOT INSERT metal or other objects into connectors or receptacles as this may damage HEAT CONCEPT articles.
- DO NOT BRING modifications to HEAT CONCEPT products (gloves or shoe covers).
- NEVER remove the protective film from the batteries
- you risk an explosion if the polymer batteries are not handled properly. We decline all responsibility in case of non-compliance with these rules.
- 4 mm neoprene effective against cold & humidity
- Velcro closing
- Reflective insert on the back
- Self-locking zipper for the battery compartment
- Velcro closure under the sole for easy slip of the shoe cover
- Fore foot reinforced .
- Openings for cleats and heel with reinforcement.
- Removable rechargeable batteries (Comes with main charger).

- 3 sizes: M (40/41/42) L (43/44/45) and XL (45/46/47)
- Removable rechargeable batteries (Supplied with main charger).

CAUTION: USE ONLY THE CHARGER supplied with the product to charge your batteries. We do not accept any liability for failure to comply with this rule.
- 2 year warranty on cover shoes & batteries.
Use
- Road model (not suitable for mountain biking).
- Effective down to - 20 °


We advise you to preheat your cover shoes in GREEN mode without putting them on for 3 minutes before going so that your feet are warm during your trip.

Press + 3 seconds to turn the heater on/off

In the middle of your trip switch to ORANGE mode (heating a little more intense than the GREEN mode) & at the end of the trip when you feel that the foot temperature is lower switch to RED mode to finish your training and keep your feet warm .

Upon your return, charge your batteries.

WARNING :
In case of heavy rain, we advise you not to use the heating system.

Tips
- To wear with a pair of sock EKOI winter THERMOLITE (fiber stores heat)

- Put the cover shoes on the foot before putting on the shoe, then put the shoe on and put the shoe cover on the shoe. (See video)
Material
92% polyester & 8% elastane.

CHARGER info:
- INPUT AC100 / 240V charger (50 / 60Hz-1.0A)
- OUTPUT DC8.4V / 1200 mA charger
BATTERY Info:
- 7.4 V lithium polymer batteries: LI -PO 2200 ah
- DCP: DC 8,4V 1200mA
- MAX output power 15W
Washing instructions
To ensure maximum battery life, the batteries must be fully charged & stored in a dry place at room temperature.

For the maintenance we advise you cleaning with a cloth & a wet sponge after removing the batteries.

Do not use a washing machine.
| | |
| --- | --- |
| M | 40/41/42 |
| L | 43/44 |
| XL | 45/46 |
on 71 reviews
of which 6 in your language
Anthony D.

07/03/2021

Age: 65+

Level: Expert

For the first time in years my toes didn't turn to solid blocks with 15 minutes of starting a ride in temperatures below 8c. After 15 minutes I turned to the lowest level of heat and remained warm until the end. Best thing I've bought for ages!

Ashley G.

12/02/2021

Age: 35-44

Level: Beginner

I use for outdoor ice skating and they are perfect for my unlined boot to keep my feet warm and not freezing. Everyone keeps asking where I got them.

Kenneth H.

19/12/2020

Age: 45-54

Level: Advanced

I have had a number of other overshoes covers and have always found that my feet get cold. I did my first 60 mile ride in 30 degree weather with 10mph wind and my feet were toasty warm for the vast majority of the ride (until the battery died, with 4 miles from home). The only complaint i have is that they are a little harder to get on and the European plug needs an adapter for US use. These make riding outside in the winter much more enjoyable.

Pierre-yves G.

17/11/2020

Age: 45-54

Level: Expert

Bonne taille, pieds chauds, electrique, mais faut quand meme pedaler.

chaussures: Specialized 41 route
les L taillent bien, pas de compression, et pas de plis.
pour info, les M passaient aussi, ils etaient plus etires en longeur, et ajoutaient un peu de compression (pas ideal pour moi).

les M marchent bien, sans plis ou compression avec des North Wave 39 route

le gros velcros sur l'arriere permet de bien ajuster autour de la cheville.

this is my 3rd different set of overshoes in 3 years,they are very warm and I can just use my summer cycling shoes with these on and my feet are very warm and I used to really suffer with cold feet, but this new version is a lot more difficult to get on than previous versions and i don't like the new Velcro closing at the back they don't close very well at all,,my 2017 version of overshoes with the zip are the best version of overshoe

While I love the idea of my feet being warm, I'm having a few problems with these. One battery has for the second time on the lowest setting for a 40 min ride gone dead when fully charged, not sure if it was the same battery, so may have a warranty issue. The major design flaw on these is the position on the velcro strap under the foot, 3/4ths of it wants to be over the top of my cleat.....maybe thats just my cleat position but I doubt it. Then it does up at the back with a long velcro strip, hate that, would much prefer a zip. Overall good but not perfect.