The Cycling Stars' road and MTB helmet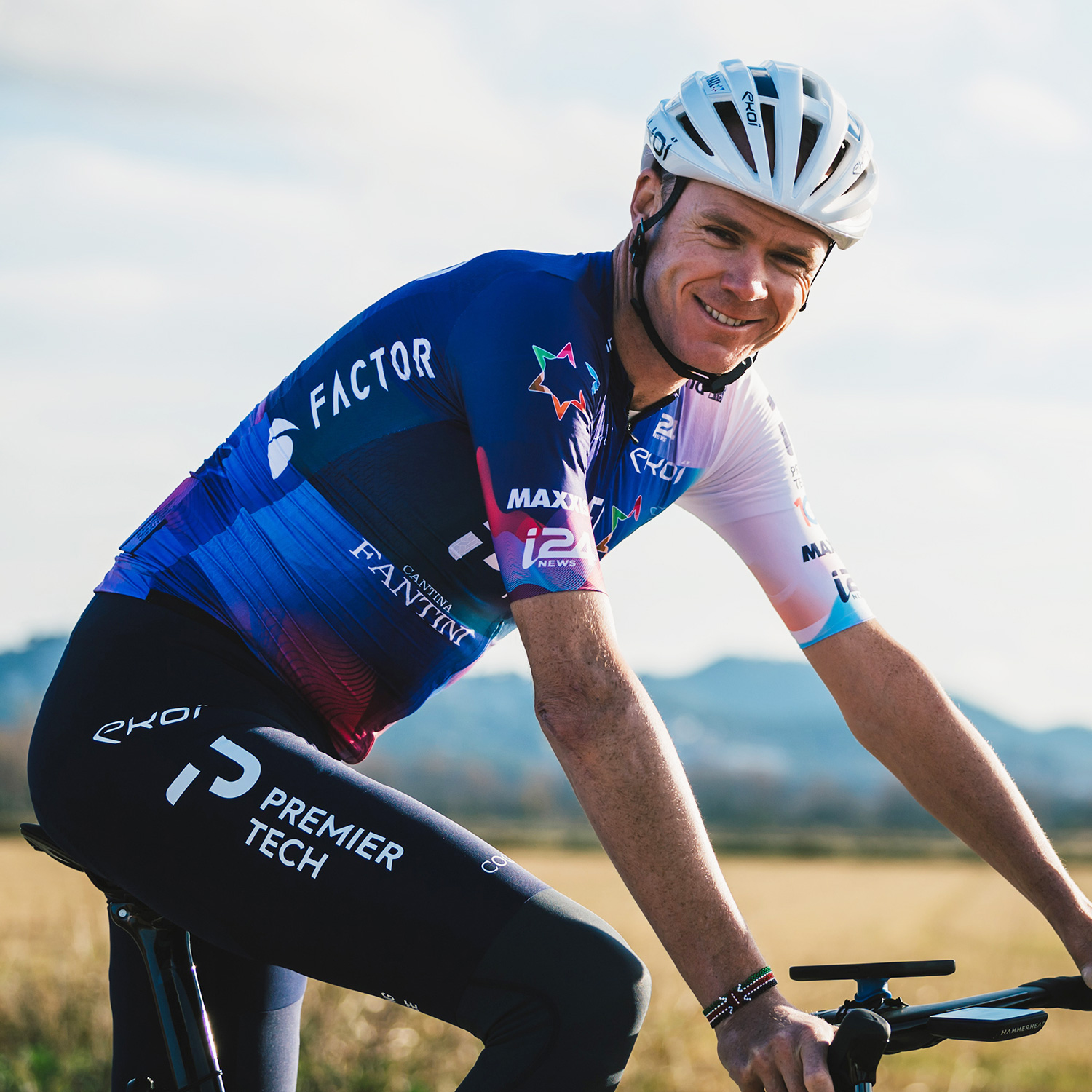 The new Ekoï Gara ultralight helmet was designed with 5 goals in mind: protection, comfort, weight, ventilation, design.
The protection remains the first priority of a helmet and the Ekoï Gara model must protect effectively in case of impact. We've strengthened the helmet for side impacts (the most dangerous), optimized the design with a shape that's tailored for better rock protection, and added the MIPS AIR® system.
The Ekoï Gara is the first helmet to be designed to protect against side impacts
The comfort is also paramount as our pro teams wear the helmet virtually every day whether racing or training, the model's 3 sizes allow for a helmet fit as close to the skull as possible.
The lightness is essential whether it's for the 293 Ekoï pro athletes wearing it in 2022 or for our customers. A good helmet should be forgettable.
The 20 ventilations in this helmet allow airflow even in the hottest temperatures.
It was designed in Italy in consultation with some of our pro team riders and our Ekoi designers.
It has been adopted by the pro teams ISRAEL PREMIER TECH / LOTTO SOUDAL / COFIDIS / ARKEA SAMSIC / EUSKALTEL EUSKADI / BURGOS BH,so we are sure to offer you one of the best helmets in the world.
Equipped with the MIPS AIR® system
MIPS AIR® is designed to reduce the rotational movement of the head during certain angular impacts.
MIPS AIR® was specifically developed and designed to be the lightest possible system to reduce the rotational energies transferred to the head during specific angular impacts.
MIPS AIR® replaces traditional Gara foams and allows 10-15 mm of relative movement between the helmet and the rider's head.
Ventilation optimal
With 20 vents, the Ekoi GARA helmet is ultra-ventilated. Wind tunnel tested, it guarantees to keep you cool without impacting aerodynamic performance.
The vents on the front of the helmet optimize the inflow of fresh air while the vents on the back allow heat and moisture to escape.
micrometric adjustment
The Atop knob allows for micrometric adjustment of the occipital support: precise and easy to use, it allows for one-handed adjustment of the helmet to the millimeter.
The occipital support is also adjustable from the bottom to the top of the occiput to optimize the helmet's fit.
Magnetic buckle
The magnetic buckle allows for intuitive opening and closing of the helmet, even with gloves, using one hand.
Adjustable straps
The straps are adjustable, with side adjustment buckles under the V ears.
#EKOIGARA
on 447 reviews
of which 15 in your language
Alan K.

21/10/2022

Age: 55-64

Level: Expert

Pratique: Gravel

I wanted a helmet to match my club kit so custom colours were perfect and graphics are a nice touch. The helmet itself is lovely, quality feel, nice compact shape and ventilation is very good. Most importantly it fits perfectly and looks good.

John C.

13/10/2022

Age: 45-54

Level: Expert

Pratique: MTB, Road

Great and very comfortable

Nice socks and very good quality as well as comfortable

Oren S.

20/09/2022

Age: 55-64

Level: Expert

Pratique: MTB, Road

Light, comfortable, easy clip, globally I am satisfied.

Duncan M.

13/08/2022

Age: 45-54

Level: Advanced

Pratique: MTB, Road

Light and good fit. Nice colours. Loved the personalisation option.

Tomaž M.

13/07/2022

Age: 45-54

Level: Advanced

Pratique: Road

The ekoi gara helmet fits the head perfectly, the fastening system is efficient and precise, everything is great, even the print with the name is remarkable.

Jason H.

14/05/2022

Age: 45-54

Level: Advanced

Pratique: Road, Running, Triathlon

Fantastic helmet, extremely comfortable, light weight & well vented.

Ryan R.

27/04/2022

Age: 35-44

Level: Advanced

Pratique: Gravel, Road

Fantastic and well fitting helmet

I ordered the Gara from France to the USA after seeing the helmet on many riders in the pro peloton and liking the fit and style. It was not available in the US although it has the CPSC and other required certifications. The fit of the helmet is very good in size small for me, who has always had trouble finding a helmet that doesn't like overly wide or tall on my tiny head. It sits where it should on my forehead and the adjustment knob tightens to hold in place easily. Does not interfere with my sunglasses, which are not overly large, but I have confidence I could fit a much bigger pair in the space. The vents will stow the glasses when not needed on the face. The magnetic buckle is a brilliant design, making it easy to remove and replace one handed if necessary. The straps lay flat and were easy to adjust, although I have a lot of excess strap I will need to cut and seal once I am 100% on fit. I added the additional accessory bug net padding set, which I think is a must, but appreciate the helmet being shipped with three different thickness sets of pads. The white version was sold out so I had to customize the white/gold helmet. This leaves a gold decal on the top center and a large gold "X" on the rear of the helmet, which I am not crazy about, but was aware would exist before purchase. My one complaint with this method of customization is I can still see some of the original gold peeking out from under the applied white cover decal over the side portions. Overall, I am very happy with this helmet, the look, fit, and feel.

Sean C.

12/03/2022

Age: 45-54

Level: Expert

Pratique: Road

Solid comfortable helmet… for me

Thought a M would be to tight for my 58cm measured head, but its a perfect fit with 2 to 3 clicks to snug the fit. Really happy with my fit. Lightweight & good ventilation which will be tested in these Greek summer months. Like the look from the pro peloton & goes well with the Sutro lite's. Also glasses are very secure when stored in the vents. A simple well made helmet with modern strap features. Really happy with my purchase and most importantly it's not going to break the bank. Highly recommend depending on fit as we are all different.

Ewerton E.

29/12/2021

Age: 35-44

Level: Expert

Pratique: MTB, Road

Garry P.

10/09/2021

Age: 55-64

Level: Advanced

Pratique: Road

Lovely helmet. Very light, looks good and the ability to customise it to your own colours and add a flag and name is brilliant.

David B.

02/09/2021

Age: 55-64

Level: Advanced

Pratique: Road

Very comfortable and well ventilated. Great fit with the different thickness pads

David B.

02/09/2021

Age: 55-64

Level: Advanced

Pratique: Road

Very comfortable and well ventilated. Great fit with the different thickness pads

Mike N.

01/09/2021

Age: 65+

Level: Amateur

Pratique: Gravel, Road, Running

A well made product with a great fastening system.

Ian P.

31/08/2021

Age: 45-54

Level: Amateur

Pratique: Road

I love this helmet it is the perfect match for my 2021 Scott Foil 10.

Chapeau

Ian

Ian P.

31/08/2021

Age: 45-54

Level: Amateur

Pratique: Road

I love this helmet it is the perfect match for my 2021 Scott Foil 10.

Chapeau

Ian