We would like your feedback! !
Delivery and return
Shipping information to :
United Kingdom

Free shipping
Delivery between 27/01 and 29/01
Delivery in 2 in 5 days at home.
Free returns (Except sale periods)

Parcels delivered to Europe in 1 to 3 days and 2 to 5 days to the rest of the world.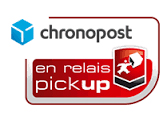 48/72 hours Europe wide delivery to your collection point.
the EKOI PRO GEL MEMORY is a revolutionary new concept in bib short design
choose the gel density that corresponds with your weight.
Current road bikes are becoming increasingly stiffer, saddles are becoming lighter, the country or mountain roads on which we ride are sometimes sketchy or worse. If you were to drive a car 2 or 3 days in a row, you would begin to feel sit bone discomfort by the the 2nd or 3rd day, 75 % of sportive riders training 2 or 3 times per week, complain of back problems.

It is partly for these reasons that we at EKOI created this wholly new (and exclusve to EKOI) concept :
The EKOI PRO GEL MEMORY bib short with shape-memory gel inserts.

The pad's gel inserts' density is different (choice of 3 different gel densities) based on the rider's weight.

Made-to-measure cushioning:
Shape-memory, weight-determined density cancel out road buzz and micro-trauma at the sit bones and perineum even over the long-term. The gel retains its density and shape.

- GEL MEMORY 65 BLUE : supported weight: max 70 kg
- GEL MEMORY 85 GREENÂ : supported weight 71 - 77 kg
- GEL MEMORY 120 YELLOWÂ : supported weight: 78 kg & over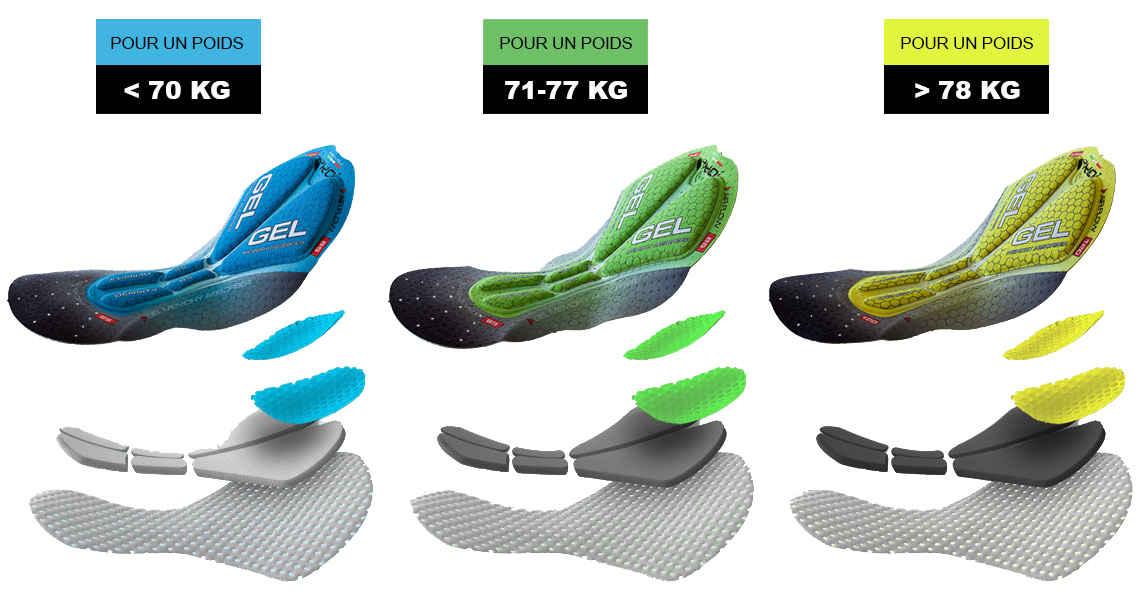 These bib shorts provide the perfect seat due to the anatomy-mapping shape-memory concept
You'll be sitting comfortably as from the first ride wearing these bib shorts because not only does the gel anatomy-map and adapt to your posterior and saddle but will also spread the rider's weight across the pressure points optimising blood flow.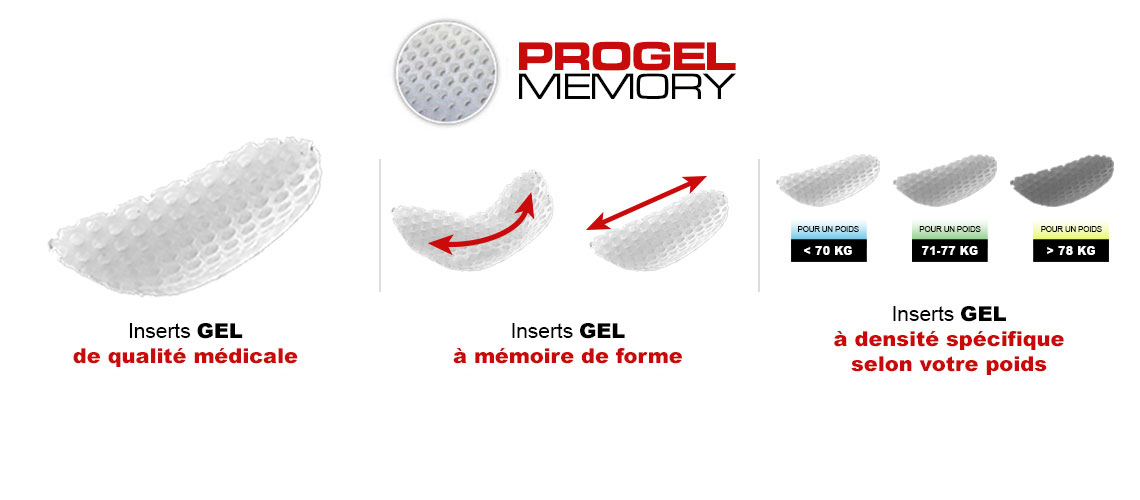 The GEL inserts are of surgical-quality:
Our gel inserts, by their exclusive to EKOI manufacture, neither crease, nor harden and retain their initial comfort characteristics over the long- term.
The pad remains supple irrespective of the gel density:
and adapts to the pedal stroke and saddle shape.

The surface of the GEL MEMORY pads have been treated with a bactericide
for optimal hygiene even after several hours in the plate.
Moisture transfer and temperature regulating are the key words to describe these pads:
The micro perforations and the ventilation channels across the whole pad surface provide air flow and moisture wicking.


MADE IN ITALY :
Our MEMORY GEL pads have been specifically developed with Italian designers and they are manufactured in Italy because we at EKOI (are not alone to) acknowledge the unsurpassed quality of Italian workmanship
The product +
- Choice of 3 Gel inserts of differing density based on rider weight
- Shape-memory and anatomy-mapping
- Highly comfortable, the gel inserts cut out road buzz
- A new more "ergonomic" cut
- 210 g "honeycomb" Lycra (durable and fashionable)
- 6 cm wide silicone thigh cuffs for extra comfort
Use
ROAD or MTB for optimal comfort
Product features:
Technical features
- New pre-shaped ergonomic cut,
- Shape-memory, anatomy-mapping GEL MEMORY pad,
- Straps in soft, breathable SYDER mesh leaving the shoulder blades completely free,
- Mesh front for easier comfort stops,
Material
- 210 g Lycra Sport
- 80% polyester and 20 % Lycra Xtra made in Italy.
Washing instructions
- Machine washable at 30°C
- DO NOT TUMBLE DRY DO NOT IRON.
- Wash preferably in an EKOI mesh bag to avoid friction with other more abrasive materials, such as velcro
EKOI PRO GEL MEMORY Bib Short
| | | |
| --- | --- | --- |
| S | 40kg - 60kg | 1.00m - 2.50m |
| M | 61kg - 70kg | 1.00m - 2.50m |
| L | 71kg - 77kg | 1.00m - 2.50m |
| XL | 78kg - 85kg | 1.00m - 2.50m |
| XXL | 86kg - 200kg | 1.00m - 2.50m |
Pad

: Gel Memory

Sale type

: best selling