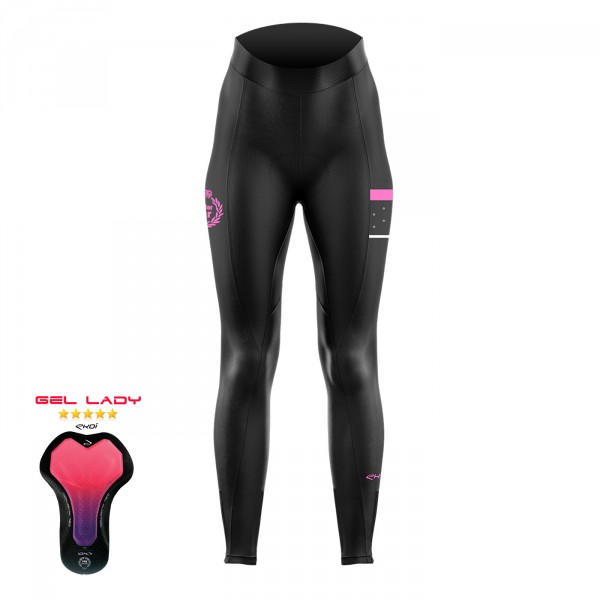 WINTER TIGHTS EKOI GEL JUST FOR HER Colors Pink
We welcome your feedback !
Shipping and returns
Free returns Except during official French sales periods : Returns policy
Shipping information to : France

Delivered between 03/06 and 05/06
For any order placed before 12.00, delivery in 1 to 3 days.
Free delivery starting from £81.02 purchase
Price :
£8.99

Delivered between 04/06 and 08/06
For any order placed before 12.00, delivery in 1 to 3 days.
Free delivery starting from £63.02 purchase
Price :
£6.29
EKOI pays back up to 15€ for each Pack Winter Lady sold*
*The amount of money collected for the association will be reported each month on EKOI FB Catchword :
Sport to win !
Equip yourself to face winter and support CASIOPEEA association which fights the disease through sport
Discover CASIOPEEA and the purpose :
Show that Cancer must not hinder life and to push the limits Our goal :
Get more oxygen !
Propose to sick women to practise regularly an outdoor activity alone or in groups Allow women and their entourage to take a "breath of fresh air" and exchange with others. Regain self-confidence,and reclaim one's body. Achieve individual challenges for a collective goal.
Product info
The new JUST FOR HER COLORS collection created by a woman for you ladies !

The EKOI Lady tights have been designed to bring warmth, softness & comfort during winter season.
The materials and cut, allow pedaling without constraints. The new Italian made GEL padding is specifically designed for women.
Product features
- Warm, & effective down to 0 ° C.
- New GEL padding specific for woman.
- Super Roubaix fiber for optimal support of body heat.
Use
Road or MTB
Use : from 0°C to 20°C
Technical features
- Cut adapted to feminine shapes.
- Zip & silicone bands at the ankles.
- Flat seams.

PADDING EKOI LADY GEL :
- Italian manufacture.
- Shaped for women.
- High density gel inserts for more comfort.
- Soft and flexible padding.
- Micros perforations for rapid perspiration wicking
- Anti-bacterial treatment.
Material
- SUPER ROUBAIX fiber
- 100% fleece lined polyester.
Washing instructions
- Machine washable at 40 ° C
- Do not iron
- Do not tumble dry
|   | Weight | Max Size |
| --- | --- | --- |
| XS | < 45 kg | 1.65 m |
| S | 45-55 kg | 1.65 m |
| M | 55-65 kg | 1.70 m |
| L | 65-75 kg | 1.70 m |
| XL | 75-85 kg | 1.80 m |
Pad

: Gel

Sale type

: new

Temperatures

: 0°
Skvěle padnou, dobrý střih a kvalitní zpracování. Měla jsem obavy, zda nebudu mít velikost xs malou, protože velikostní tabulka uvádí, že jsou vhodné do váhy pod 45 kg a já vážím 50 kg, měřím 160 cm a ve skutečnosti bych si dokázala představit ještě trochu užší střih. Na 45 kg holce budou kalhoty, podle mě, hodně volné. Šokovala mě doba dodání. Objednáno v pondělí v deset dopoledne a doručeno v úterý o půl jedenácté dopoledne! Díky!

Taille conforme au tableau (M pour 1m68 et 60kg). Testé à 0 degrés pendant 2h et pas eu froid :-) je recommande!

Taille conforme au tableau (M pour 1m68 et 60kg). Testé à 0 degrés pendant 2h et pas eu froid :-) je recommande!

Super confortable, chaud et aéré je recommande en plus le look est top.

Utilisé ce matin par temps humide et venteux, très bon produit et classe avec ça !!


Muy bueno talla xs para chica de 160 y 50kg comodo, sin tirantes y no se mueve tela resistente y aspecto genial

Collant hiver gel ekoi just for her colors rose - taille : s

Je suis ravie de mon achat, c'était ma 1ère commande, j'ai fait une sortie à 2°/5°( il avait bien gelé la nuit) et moi qui suis très frileuse Hé bien c'était très bien. La texture, intérieure et extérieure sont super ainsi que le colori. Et la taille me correspond bien, me suis référée au tableau. J'ai d'ailleurs commandé une paire de gants hiver car les miens sont trop fins. Merci. Beaux et bons produits.


Collant hiver gel ekoi just for her colors rose - taille : s

Je suis ravie de mon achat, c'était ma 1ère commande, j'ai fait une sortie à 2°/5°( il avait bien gelé la nuit) et moi qui suis très frileuse Hé bien c'était très bien. La texture, intérieure et extérieure sont super ainsi que le colori. Et la taille me correspond bien, me suis référée au tableau. J'ai d'ailleurs commandé une paire de gants hiver car les miens sont trop fins. Merci. Beaux et bons produits.


Collant hiver gel ekoi just for her colors rose - taille : s

Je suis ravie de mon achat, c'était ma 1ère commande, j'ai fait une sortie à 2°/5°( il avait bien gelé la nuit) et moi qui suis très frileuse Hé bien c'était très bien. La texture, intérieure et extérieure sont super ainsi que le colori. Et la taille me correspond bien, me suis référée au tableau. J'ai d'ailleurs commandé une paire de gants hiver car les miens sont trop fins. Merci. Beaux et bons produits.


Collant hiver gel ekoi just for her colors rose - taille : s

Je suis ravie de mon achat, c'était ma 1ère commande, j'ai fait une sortie à 2°/5°( il avait bien gelé la nuit) et moi qui suis très frileuse Hé bien c'était très bien. La texture, intérieure et extérieure sont super ainsi que le colori. Et la taille me correspond bien, me suis référée au tableau. J'ai d'ailleurs commandé une paire de gants hiver car les miens sont trop fins. Merci. Beaux et bons produits.


Je n'ai pas encore testé ces pack, mais l'ensemble taille bien (je mesure 1m74 de corpulence normale), le collant est confortable, hâte de le tester bientôt!

Collant hiver gel just for her rose

Rien à dire Correspond parfaitement aux tailles et qualités avancées

Collant hiver gel just for her rose

Rien à dire Correspond parfaitement aux tailles et qualités avancées

je trouve qu'il faut 2ou 3 lavages pour qu'il soit plus confortable

Adapté à la morphologie féminine. Matière agréable. Très beau collant.

Correspond à la taille indiquée,cela me satisfait