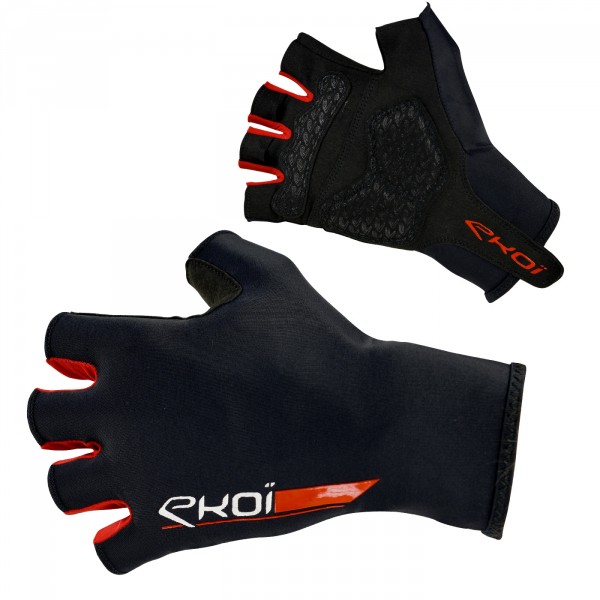 EKOI ROAD Black short-fingered cycling gloves with gel inserts
We welcome your feedback !
Shipping and returns
Free returns Except during official French sales periods : Returns policy
Shipping information to : France

Delivered between 13/04 and 15/04
For any order placed before 12.00, delivery in 1 to 3 days.
Free delivery starting from £61.80 purchase
Price :
£7.05
Product info
A pair of short-fingered cycling gloves with gel inserts for added comfort, the perfect bar hold, soft stylish and breathable too.
Product features
- 2 gel inserts in the palms for absorbing road buzz.
- NO velcro.
Use
For use:
Road cycling / Racing or training
Technical features
- Tabs in the area of the ring and major fingers for easier removal of the glove.
- Cuff tab for easier pulling on of the glove.

UPPER:
- Stretchable and breathable lycra.

PALM:
- Non-slip GEL inserts for optimal bar hold.
-Carpian channel protection.
- Grip in Amara (synthetic and washable) for optimal breathability (and excellent wicking).
Material
- 80% Polyester
- 20% Elastane
Washing instructions
- Machine wash at 30°C, turned Inside out (Do not tumble dry)
| | |
| --- | --- |
| S |  < 8 cm |
| M | 8 - 9 cm |
| L | 9 - 10 cm |
| XL | 10 - 11 cm |
| XXL |  > 11 cm |
| | |
Super gant, confort au top, jamais eu aussi bien, je recommande vivement

Sehr gute Passform. Empfehlenswert!

Bonne taille, bonne protection contre le froid

Jean-philippe B.

12/15/19

Gants très confortables et qui tiennent bien chaud. Super look et très bonne qualité de fabrication

De zon is weg maar ze passen wel goed.


kvalitní,příjemný materiál

die Socken sind echt gut, hatte bis jetzt immer zwei an (was in den Schuhen immer etwas eng war) aber das entfällt jetzt. Einsatz war um die 0 Grad ca.3 std. lang in Ordnung.

Très bon produit. Pour mes mains un peu larges, j'aurais dû prendre la taille 2XL mais cette taille n'était plus en vente.

Gants vélo gel ekoi road noir

Taille normale.
Gel parfait et bien positionné.
Je recommande.

Taille un peut petit méme en respectant le guide des tailles

C'EST NORMAL , LE GANT DOIT ETRE ENFILÉ COMME UNE SECONDE PEAU POUR AVOIR UNE BONNE PRISE EN MAIN DU CINTRE .
JC EKOI

Parfait, perfect, perfetto

bonne tenue du tissu et bien confortable

Gants très confortable.
Manque juste quelques attaches pour les retirer facilement.

Muy bien todo, recomendado 100%

Muy bien todo, recomendado 100%

look sympa, bien taillés mais inserts gel vraiment minimalistes, le confort et la protection en cas de chute s'en ressentent

Facile à enfiler et facile à retirer ça matière en fait des gants très confortable sortie de 2h40 avec. super produit

Faciles à enfiler et à retirer. Impeccables pour la saison actuelle. Je recommande.

L'essai a été fait aujourd'hui, et ils sont super. Ils sont très légers, une seconde peau. Pas de plis qui viennent gêner. Impeccable

Ottima presa. Confortevole.

Très bonne qualité et belles finitions.

Super gants très confortable maintient bien le guidon

guantes muy chulos solo un pero por las medidas de la web, XL van un poco justos,es verdad que podria cambiarlos pero voy a gusto despues de dos salidas

Guanti ciclicmo gel ekoi road nero

guanti perfetti leggeri ottima presa sul manubrio

des gants de qualité mais pour moi un gros inconvénient trop ajusté et difficile a enlevé il manque un grip pour les enlever car autour du poignet lorsqu'on le retire cela le rnretourne a chaque fois et le gant trop ajusté au poignet 78kg 1.78m un peu costaud quand meme cela ne remets pas en cause la qualité mais plus la conception rnrnrn

BONJOUR ALPHONSE NOUS AVONS LE MODELE GANTS VELO SILICON CONCEPT AVEC BRIDE VELCRO
JC EKOI


Gants très légers et agréables à porter. Pads en gel bien placés et suffisamments épais pour être confortable et sentir le guidon. Il manque juste une partie en tissus éponge pour essuyer la sueur.

J'ai reçu ces gants qui très bien pour instant ,très confortable pas eritation ,et un bon amorti a voir sur longue distance

les protection sont bien pensées ,bravo! plus de petites douleurs.

Bien mais pas très résistant

Bon produit bonne coupe, gants qui remonte assez haut c'est top, ventilation correct, cependant le rembourage est très moyen... Je lave pourtant sans essorage et deux sorties de 100km est le rembourage est casi inexistant... Un peu déçus tout comme le gel injection de la comp 11 comparé a la comp 10, cependant ça ne changera rien a mon amour pour la marque ❤️

Facile à mettre et à enlever , très confortable et bon maintien.

Gel ekoi road noir - taille : l

taille juste.Très bon amorti et toutefois un peu trop long au niveau des poignets.(Avis perso).

Gants fins et léger. Pads en gel bien placés et agréables même sur de longues sorties.

Très confortables, design sympa. A voir sur la durée ...

Les gants me vont parfaitement et sont très bien taillé ,on les oublis tellement on est bien dedans et les inserts gel sont très bien répartis et ne crée aucune gène.
contrairement à d'autres modèles de chez Ekoi (qui me faisait mal entre les doigts) je les adores .
J'ai acheter les mêmes en rouge ,ils sont parfait et de bonne qualité

Cordido Coello J.

04/19/19

Gants vélo gel ekoi road noir

Adaptation parfaite

Bardzo dobra jakość rękawiczek. Rozmiarówka odpowiednia, fajny elastyczny materiał. Polecam.

Bonne taille
Agréable à porter ,remonte assez haut ce qui est très bien comparer à d'autre produit


Elegant et confortable, ne déteint pas ! Bref parfait