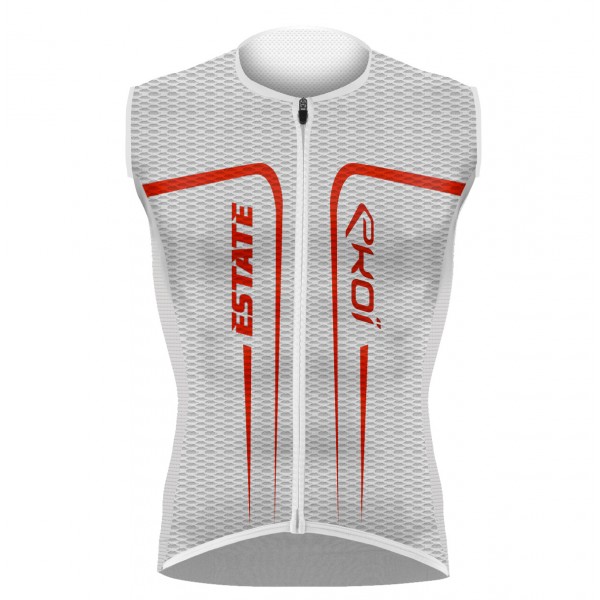 EKOI ESTATE White / Red sleeveless jersey
We welcome your feedback !
Shipping and returns
Free returns Except during official French sales periods : Returns policy
Shipping information to : France

Delivered between 14/08 and 17/08
For any order placed before 12.00, delivery in 1 to 3 days.
Free delivery starting from £89.91 purchase
Price :
£8.98
Delivered between 13/08 and 17/08
Retrait en magasin dans la journée

Delivered between 17/08 and 19/08
For any order placed before 12.00, delivery in 1 to 3 days.
Free delivery starting from £80.92 purchase
Price :
£6.29

Delivered between 17/08 and 19/08
Delivery in a pick-up point of your choice in 4 days.
Free delivery starting from £80.92 purchase
Price :
£6.29
Product info
Designed specifically for wearing in the very hot summer months. Extremely light and well ventilated it quickly wicks moisture to leave the torso dry.
Product features
2 different fabrics all very light and perforated to ward off the effects of very hot weather.
- Very fast drying.
Use
- Extremely light jersey for use during the hottest summer months, does not require the wearing of a base layer
Technical features
- Micro-perforated side panels.
- Mesh front and back panels.
- Low scoop neckline.
- YKK zip.
- Flatlock seams.
- 3 back pockets.
Material
- 100% polyester.
Washing instructions
- Machine washable at 30°C.
- Do not tumble dry, do not iron.
- Wash preferably in a white mesh bag to stop colour run and to avoid rubbing with other products used in the manufacture of cycling apparel that might damage the material, such as Velcro.
| | | |
| --- | --- | --- |
| S | < 65 kg | <1.70 m |
| M | 65-71 kg | 1.78 m |
| L | 72-77 kg | 1.83 m |
| XL | 78-84 kg | 1.88 m |
| 2XL | 85-92 kg | 1.93 m |
bonne coupe, joli et très agréable à porter l'été par fortes chaleurs. à voir, la tenue dans le temps

Super maillot manche courte, parfait quand il fait très chaud. A améliorer, les poches sont légèrement trop courtes, 2 cm de plus et ce maillot serait parfait

Comme il faut par grande chaleur.
Le tissu est fragile, attention au lavage...
Au top, c'est Ekoi!

Tessuto molto traspirante

Très bonne sensation par forte chaleur

Taille petit, choisir une taille au dessus.
Bon maillot qui sèche rapidement : testé lors des canicules de ces derniers temps.

Sehr gute Passform und schön luftig.
Jederzeit wieder und schnelle Lieferung

Buen material y muy ventilado

Buen material y muy ventilado. La talla en mi caso 1,80m alto y 83kg peso, escogi XL, previa consulta a la web. Me va bien, aunque si te gusta ir muy ceñido en mi caso la L tambien me valdria.
El unico defecto que le encuentro, son los bolsillos traseros, tienen un poco holgura y da la sensacion de que se te caigan los objetos que lleves.
En mi caso no suelo llevar mucha cosa, para un par de geles sin problemas.
Mi consejo si estais en dudas con la talla, cogeria la menor.
Lo he probado a 40 grados y ventila mucho, el material muy bien.
Recomiendo la compra.


Maglia senza maniche adatta ad allenamenti sopra i 30°, taschee comode e asciugabilità quasi immediata.
Ottimo prodotto per non avere l' abbronzatura da muratore e poi è made in Italy, cosa che qualche marchio ben più in vista non fa più da tempo ....

Très bien par forte chaleur

Jean-françois T.

07/27/19

Maillot ekoi estate sans manches blanc

Très bon produit livraison rapide rien à redire

très bon achat, très agréable par temps chaud, très agréable à porter

Super pour températures élevées

Acheté un pour essai. Impeccable chaleur forte. On n'a pas l'impression de baigner dans son jus. J'ai acheté un deuxième exemplaire 3 semaines après

Idéal pour les fortes chaleurs

Ventilé et agréable à porter. Attention de ne pas trop charger les poches arrières.

Super Qualität, Preis ok, schnelle Lieferung

Réponds totalement à mes attentes
La taille est respectée, j'ai pris du L pour 1.80m 73kg

Maillot top, malgré les grosses chaleurs estivales, on ne le sent pas


Quant il fait chaud c'est ideal

Roulant à La Reunion, j'avais besoin de maillots pour grosses chaleurs, j'ai trouvé !
Du bonheur ce maillot...Extra-light, extra-aéré, très confortable je ne le sens pas...À voir pour la résistance dans le temps...
Nickel pour le moment.

MAILLOT pas encore utilisé.Pour les autres produits achetés,aucun problème

Parfait pour Taille M pour 1m78 ,66kg et couleur sympa et discrète.
Me sert de sous-maillot car la matière est très légère et n'aillant pas de sacoche de selle,les 3 poches s'ajoutent aux 3 poches du maillot de cyclisme qui me rendent bien service pour porter de quoi réparer ,papiers perso et barres énergetiques ,etc...
j'attends la 2eme démarque avec impatience pour m'en offrir un autre !
merci Ekoï , je recommande ce produit

Super dres pro teploty nad 30 stupňů,lehký a prodyšný materiál.

Maillot estate sans manche

Pour les grandes chaleurs, parfait.

Buen producto para días muy cálidos

Buena calidad y cómodo. Echo en falta una cremallera trasera.