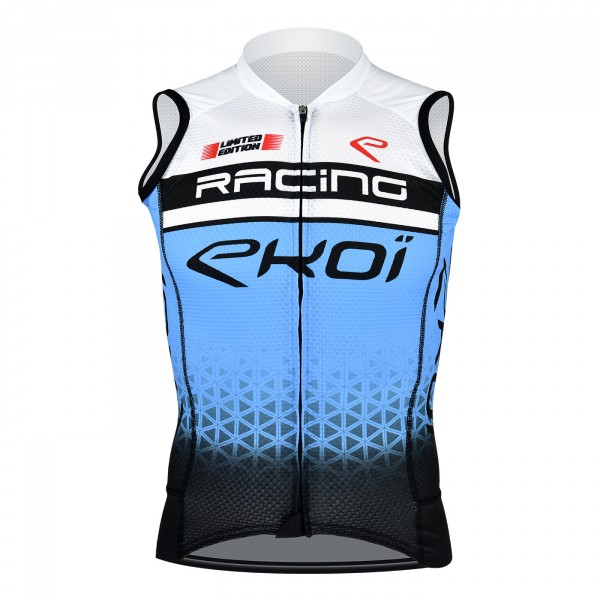 EKOI SLEEVELESS JERSEY RACING BLUE
We welcome your feedback !
Shipping and returns
Free returns Except during official French sales periods : Returns policy
Shipping information to : France

Delivered between 14/08 and 17/08
For any order placed before 12.00, delivery in 1 to 3 days.
Free delivery starting from £89.91 purchase
Price :
£8.98
Delivered between 13/08 and 17/08
Retrait en magasin dans la journée

Delivered between 17/08 and 19/08
For any order placed before 12.00, delivery in 1 to 3 days.
Free delivery starting from £80.92 purchase
Price :
£6.29

Delivered between 17/08 and 19/08
Delivery in a pick-up point of your choice in 4 days.
Free delivery starting from £80.92 purchase
Price :
£6.29
Product info
This sleeveless jersey was designed to ride in summer when it is very hot. Ultra light & very ventilated, it wicks away sweat & stays dry during exercise.

It is for competitors or regular practitioners
Curved cut, the back of the jersey is lengthened for good protection of kidneys in the lying position. This jersey is cared for to the smallest detail to allow you to practice your favorite sport in the best possible conditions & with the most beautiful look possible.
Product features
- Ultra light & perforated fabric to fight against heat
- Ultra fast drying
- Flat seams for more comfort
Use
- Ultra light jersey to wear directly on the skin, without underwear, in hot weather.
Technical features
2 different & complementary technical fabrics

FRONT AND SIDE: FIBER MITI FULL MOON :
- Micro perforated
- High elasticity

BACK : FIBER MITI EXTRAFIL :
- Very ventilated structure for optimal perspiration wicking
- Ultra breathable & ventilated
CLOSING :
- Self-locking YKK zip torso (guarantee of solidity & ease of opening and closing).
- Zipper cover at the bottom of the jersey to avoid friction on the shorts.
ELASTIC HOLDBAND :
- Wide band on the sides (6,5cm) with silicone.
- 2.5 cm elastic band with silicone on the back of the jersey for optimal support.
- Bevel cut on the front to optimize comfort when seated on the bike.

BACK POCKETS :
3 classic pockets with elastic at the top for perfect support.
Material
Fabrics made in Italy
- 100% polyester
Washing instructions
- Hand wash recommended or machine wash at 40°C (gentle cycle).
- Before washing, turn the clothes over (seams on the outside).
- Wash if possible in a mesh bag to avoid friction with other products that could damage the fabrics (gloves, backpack or any other article that may have velcro bands).
- Notumble dry
- No fabric softener
- No dryer
- No ironing
|   | Weight | Max Size |
| --- | --- | --- |
| S | < 65 kg | < 1.70 m |
| M | 65-69 kg | 1.78 m |
| L | 70-74 kg | 1.83 m |
| XL | 75-80 kg | 1.88 m |
| 2XL | 81-86 kg | 1.93 m |
Stéphane T.

Niveau : Avancé

Age : 35-44

08/08/20

Top : léger, joli (bleu) et bien coupé

J'hésitais sur la taille. XL pour 1,78m / 83 kg tombe impeccable.
Très beau textile bien adapté en ces temps particulièrement chauds.

Jeanpierre B.

Niveau : Amateur

Age : 55-64

07/25/20

je viens de recevoir un maillot ete sans manche. La grille des tailles et poids ne correspond pas.Prendre une taille au dessus.Je le renvois a mes frais dommage.?

Merci pour votre commentaire.
Nous vous confirmons que le guide de taille est correct : ce maillot doit être porté près du corps, comme une seconde peau.
Il a été conçu pour rouler l'été quand il fait très chaud. Pour une évacuation optimale de la sueur, le tissu technique doit être en contact avec votre peau.
Sportivement,
L'équipe Ekoï.