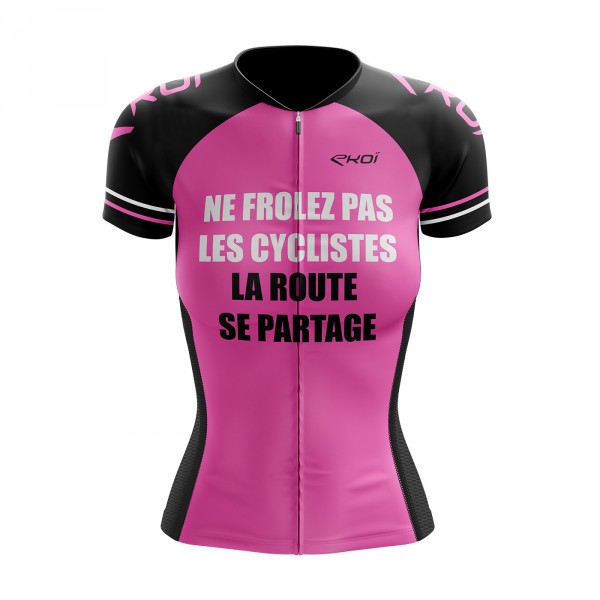 Cycling Jersey LADY EKOI PROTECT FR Neon Pink
We welcome your feedback !
Shipping and returns
Free returns Except during official French sales periods : Returns policy
Shipping information to : France

Delivered between 03/06 and 05/06
For any order placed before 12.00, delivery in 1 to 3 days.
Free delivery starting from £81.02 purchase
Price :
£8.99

Delivered between 04/06 and 08/06
For any order placed before 12.00, delivery in 1 to 3 days.
Free delivery starting from £63.02 purchase
Price :
£6.29
Product info
Jersey designed for safety so as to be visible on the road & alert motorists for cyclists respect, but also technical, comfortable & aesthetic, it will be perfect for experienced cyclists during their long training trips.
Product features
- 4 different fabrics:
Windproof on the front, breathable on the back, resistant pockets, elastic & perforated on the flanks

- Laser cut sleeves (no silicone & no hem)
- 6 sizes from S to 3 XL to suit all body types.
- 4 bright colors to stand out on the road : white yellow orange red !

- Made in Europe
Use
Road
Technical features
CLOSING :
- Self-locking YKK zip torso (guarantee of solidity & ease of opening and closing

ELASTIC BAND PERFORATED :
- All around the jersey for perfect support

BACK POCKETS :
-3 classic pockets with elastic for perfect support

- 6 SIZES : S M L XL 2XL 3XL
- Short neck
Washing instructions
Hand washing or machine wash 30°C
|   | Weight | Max Size | Chest Size |
| --- | --- | --- | --- |
| XS | < 47 kg | 1m60 | 75-80 |
| S | 48-55 kg | 1m70 | 80-85 |
| M | 55-65 kg | 1m75 | 85-90 |
| L | 65-70 kg | 1m80 | 90-95 |
| XL | 70-80 kg | 1m80 | 95-100 |
Sale type

: new

Range

: Safety
Confort, original et assorti à mon vélo je suis ravie de mon achat.

Sehr schick, tolle .... aber

Das Trikot ist aus tollem Stoff, sieht genial aus und hat eine sehr gute Qualität. Man kann bei dem Preis getrost kaufen und hat dann nicht die Katze im Sack sondern ein tolles Trikot. Ein kleines "Aber" muss ich aber zufügen und hoffe, dass es bei der nächsten Serie Beachtung findet. Warum macht man Trikots für Frauen immer so kurz im Rücken? 5cm länger hinten und ein etwas breiterer Bund unten vorn und hinten wären super. Auch die Ärmel dürfen ein paar cm länger werden. Der Reißverschluss sollte etwas weiter unten enden, er könnte, so bei mir, in den Hals drücken, sodass ich ihn lieber 3cm offen lasse. Alles in allem ein sehr schickes Trikot, dass man noch ein wenig optimieren kann. P. S Die doppelten Taschen hinten reichen auch einfach, in das untere Täschchen packt man sowieso nichts, verliert man zu leicht. Lieber die normalen Taschen tiefer, dass man leichter hineingreifen kann,derzeit recht hoch angesetzt.