We welcome your feedback !
Shipping and returns
Free returns Except during official French sales periods : Returns policy
Shipping information to : France

Delivered between 03/06 and 05/06
For any order placed before 12.00, delivery in 1 to 3 days.
Free delivery starting from £81.02 purchase
Price :
£8.99

Delivered between 04/06 and 08/06
For any order placed before 12.00, delivery in 1 to 3 days.
Free delivery starting from £63.02 purchase
Price :
£6.29
Product info
Jersey designed for safety so as to be visible on the road & alert motorists for cyclists respect, but also technical, comfortable & aesthetic, it will be perfect for experienced cyclists during their long training trips.
Product features
- 4 different fabrics :
Windproof on the front, breathable on the back, resistant pockets, elastic & perforated on the flanks

- Laser cut sleeves (no silicone & no hem)
- 6 sizes from S to 3 XL to suit all body types.
- 4 bright colors to stand out on the road : white yellow orange red !

- Made in Europe
Use
Road
Technical features
CLOSING :
- Self-locking YKK zip torso (guarantee of solidity & ease of opening and closing

ELASTIC BAND PERFORATED :
- All around the jersey for perfect support

BACK POCKETS :
-3 classic pockets with elastic for perfect support

- 6 SIZES : S M L XL 2XL 3XL
- Short neck
Washing instructions
Hand washing or machine wash 30°C.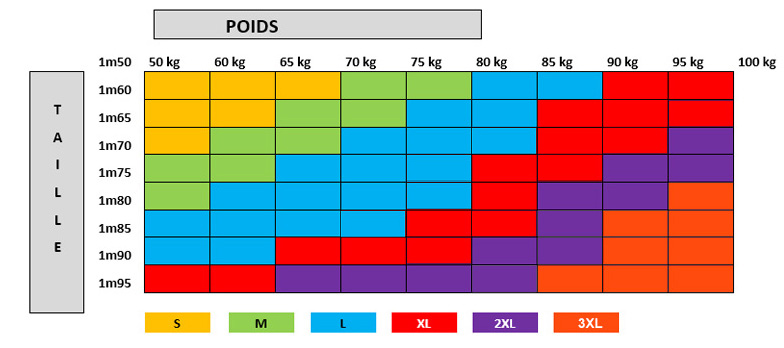 Sale type

: new

Range

: Safety
Je suis très satisfait de ce maillot. J'ai observé un changement de comportement des véhicules quand je suis doublé. Les distances plus importantes ! J'achèterai un second.

Makkelijk mee te nemen en gelijk op de eerste rit kunnen testen. Bleef keurig droog.

Très bon produit quand il fait super chaud .
Conforme a mon gabarit 1.86 pour 97kg

j'ai commandé un maillot protect rien à dire sur la qualité mais quelle déception quant à la taille. ékoi a une facheuse tendance à oublier que leurs produits ne sont pas exclusivement destinés à des professionnels!!!! mais aussi à des cyclistes amateurs ( pas toujours affutés) je mesure 1,74 pour 74 kg en prenant le guide des tailles (fourchette haute) j'ai commandé un maillot taille L . je veux bien que ça se porte près du corps mais là un gosse de 14 ans ne rentrerais pas dans le maillot !

Merci Bruno pour votre commentaire.
Nous ne sommes pas d'accord avec vous : vous ne pouvez pas dire que enfant de 14 ans ne rentrerait pas dans un maillot taille L. En effet, l'athlète sur la photo porte une taille M.
Si vous mesurez 1,74m pour 74kg, la taille L doit vous convenir.
Un maillot se porte près du corps, comme une seconde peau, pour qu'il puisse remplir efficacement son rôle : meilleure évacuation de la transpiration, éviter les plis pour plus d'aérodynamisme et surtout plus de confort. En effet, des plis trop importants peuvent être une source de frottements (brûlures).
Sportivement,
L'équipe Ekoï.