We welcome your feedback !
Shipping and returns
Free returns Except during official French sales periods : Returns policy
Shipping information to : France

Delivered between 03/06 and 05/06
For any order placed before 12.00, delivery in 1 to 3 days.
Free delivery starting from £81.02 purchase
Price :
£8.99

Delivered between 04/06 and 08/06
For any order placed before 12.00, delivery in 1 to 3 days.
Free delivery starting from £63.02 purchase
Price :
£6.29
Product info
Jersey designed for safety so as to be visible on the road & alert motorists for cyclists respect, but also technical, comfortable & aesthetic, it will be perfect for experienced cyclists during their long training trips.
Product features
- 4 different fabrics :
Windproof on the front, breathable on the back, resistant pockets, elastic & perforated on the flanks

- Laser cut sleeves (no silicone & no hem)
- 6 sizes from S to 3 XL to suit all body types.
- 4 bright colors to stand out on the road : white yellow orange red !

- Made in Europe
Use
Road
Technical features
CLOSING :
- Self-locking YKK zip torso (guarantee of solidity & ease of opening and closing

ELASTIC BAND PERFORATED :
- All around the jersey for perfect support

BACK POCKETS :
-3 classic pockets with elastic for perfect support

- 6 SIZES : S M L XL 2XL 3XL
- Short neck
Washing instructions
Hand washing or machine wash 30°C.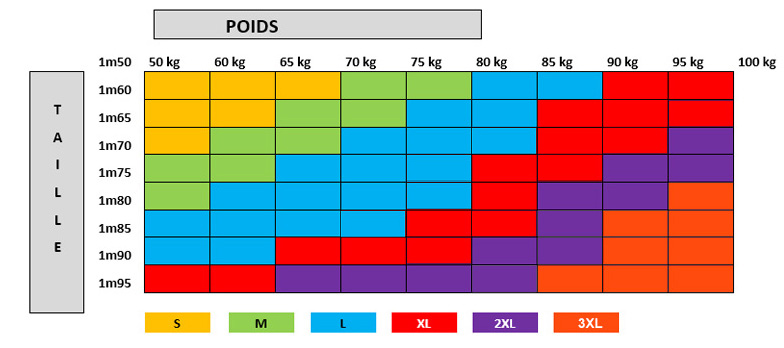 Sale type

: new

Range

: Safety
Taille parfaite
J'ai fait sensation au sein de mon groupe de cyclistes

Maillot vélo ekoi protect fr fluo

Super produit, la qualité est au rdv

Très agréable à porter. Rappel aux automobilistes et aux cyclistes que la chaussée se partage. Je trouve l'idée originale en terme de communication.

j'avais essayé un maillot EKOI de mon fils en taille XL et ça allait. je ne sais pas si vous avez changé de profil mais c'est bien dommage parce que ce maillot me plaisait beaucoup j'espère l'avoir en XXL. Cordialement. Fred

Merci pour votre commentaire.
Cette collection a une coupe cintrée près du corps. Nous recommandons de suivre le guide de taille.
Sportivement,
L'équipe Ekoï.

Tenue vraiment agréable à porter. J'ai hésité entre du XXL et du XXXL. Je fais 192 cm pour 90Kg, et je pense vraiment, être entre les deux tailles. Il XXXL plisse légèrement, mais je pense que j'aurai été un peu trop serré dans du XXL.
Aucun regret sur mon choix.

Beau maillot pour être vu. La coupe est sympa

Vraiment très bon maillot. Pour un prix vraiment raisonnable. Je le recommande

Bonne matière mais mal tailler ,je suis obliger de prendre une taille xxl enfin le l'espère j'ai demander l'échange!!! Je mesure 173cm pour 75kg le tableau des tailles est pas bon

Merci pour votre commentaire.
Nous pouvons vous assurer que le guide des tailles est correct.
Ce maillot se porte près du corps. Si vous achetez une taille XXL pour 173cm et 75kg, le maillot va flotter avec le vent. Vous aurez donc une moins bonne évacuation de la sueur, moins d'aérodynamisme et une formation de plis qui peuvent être source de blessures liées au frottements.
Sportivement,
L'équipe Ekoï.

Maillot vélo ekoi protect fr fluo jaune

Super maillot, confortable colle bien à la peau.J'ai effectuer 90 kms hier avec et aucune gène , très fluide et pour ce qui est de la chaleur 25 degrés hier aucune transpiration ressenti , car l'aération et parfaite Pour ce qui est du slogan , TOP et la visibilité éclatante.En tête de peloton les voitures m'on vite aperçu ,Je recommande ce produit .Les tailles indiquées correspondent parfaitement.

Maillot pour les journées chaudes

Très beau maillot, à condition de respecter la grille des tailles. 1m83 pour 88 Kgs, je prends habituellement du XL et là on me conseillé du XXL et j'ai bien fait de suivre. Taille parfait.nPetit reproche tout de même au niveau des manches que je trouve un peu trop longues car elles m'arrivent quasiment au coude. Couleur très voyante et slogan suffisamment gros pour être lu de loin.nQuestion de goût perso. En revanche très léger niveau épaisseur, donc prévoir un dessous pour éviter les fraicheurs matinales.