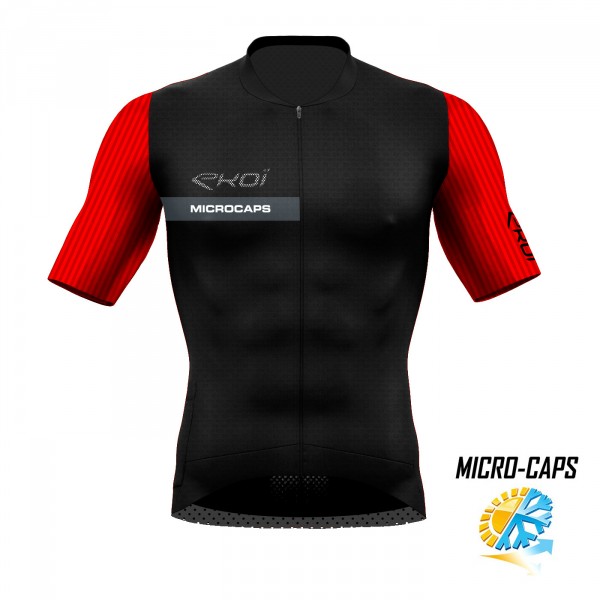 Summer Jersey EKOI MICROCAPS Red
EKOI PREMIUM PRODUCTS
 EKOI has developed a premium range primarily for the use of the fantastic athletes we have the distinct honour to equip. These exceptional champions require the very best products, every gain is important and can mean the difference between the win, a podium place or just a finish. It is perfectly normal that we should make these exceptional products available to all our customers.
Designing a PREMIUM product requires the input of a team of specialists from A to Z and is a task that is far more time consuming and difficult than one might, initially, imagine.
All the products in the EKOI PREMIUM range are designed on the criteria of the pro riders we supply, we listen to what they require, then our design team takes on the task, working with the manufacturer to design a stylish and functional product. We thoroughly test the first prototypes, iron out any problems and only when completely satisfied do we give the go ahead to the manufacturer to begin production.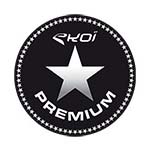 - Product DESIGN is the work of a French or Italian designer, it is then validated and tested by our own in-house team as well as by the same pro riders who initially tasked us.
- The product is developed by our designers, who work exclusively for EKOI.
- The product is tested at least 3 times in real conditions before approval for sale.
- The product is made using the best available materials.
- Production is 100% made in EUROPE (for optimal quality control of the materials used and the finish that must be PERFECT).
The aim is not to obtain excellent value for money but, above all, to create the best available product whatever the cost and the time required to take the product to market. Our levels of stock will purposefully remain low and the product life of each individual product is strictly linked to it's continued use by the athletes we supply (the product will remain available for as long as it is being used by our pro riders)
Only SILVER and GOLD VIP Club discounts will be accepted.
All promotional codes can not be applied to PREMIUM products
We welcome your feedback !
Shipping and returns
Free returns Except during official French sales periods : Returns policy
Shipping information to : France

Delivered between 31/01 and 03/02
48/72h to your door or at the post office
Price :
£5.06

Delivered between 30/01 and 03/02
For any order placed before 12.00, delivery in 1 to 3 days.
Price :
£7.59

Delivered between 03/02 and 05/02
Delivery in a pick-up point of your choice in 4 days.
Free delivery starting from £33.75 purchase
Price :
£4.21

Delivered between 31/01 and 03/02
For any order placed before 12.00, delivery in 1 to 3 days.
Free delivery starting from £84.40 purchase
Price :
£5.90
Special gift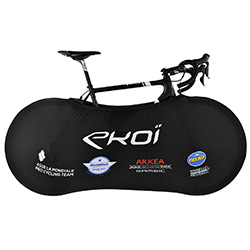 1 bike travel bag Bike Protect Pro Team EKoi Special Gift
 with every order over €159*
Valid on the total amount of purchase orders, excluding shipping costs, while stocks last
Product info
This is an innovation that will change your training during summer in hot weather. It will give you a well being but is also an asset to be more efficient and avoid overheating.

Breathable fabrics that wicks sweat are used in the textile, but EKOI is the first brand to offer a refreshing and breathable fabric.
Placed in a strategic position, the black dorsal band contains refreshing micro capsules that keep the fabric cool & dry, the wind that passes through your back gives you amazing freshness & limits the heat sensation.

When you touch this fabric you feel a sensation of freshness but it is in action and from the airflow that you feel the coolness on your back.
Product features
- Refreshing fabric band with micro capsules.
- Decreased skin temperature.
- Optimization of thermal comfort.
- Less stress related to heat.
- Decreased body temperature.
Use
Designed for intensive road training or summer competition.
Technical features
- Laser cut sleeves in aerodynamic Stripe fabric.
- Smaller and flare summer neck
- Ultra light and breathable fabric.
- Perforated rear elastic band for a perfect fit.
- 4 pockets including 1 invisible zip pocket.
- YKK invisible zip.
- Micro perforated lycra pockets.
- Aerodynamic fabric sleeves, second skin effect
- Manufactured & made in Italy.
Material
100% polyester.
Washing instructions
- Hand washing not to alter the fabric composed of micro capsules.
- No dryer or ironing.
- Dry in the sun in the open air but not on a heater so as not to alter the fabric composed of micro capsules.
|   | Weight | Max Size |
| --- | --- | --- |
| S | < 65 kg | 1.70 m |
| M | 66-72 kg | 1.75 m |
| L | 73-78 kg | 1.80 m |
| XL | 79-85 kg | 1.85 m |
| 2XL | > 85 kg | 1.90 m |
Range

: EKOI PREMIMUM

Technology

: Microcaps refresh

Temperatures

: 35°