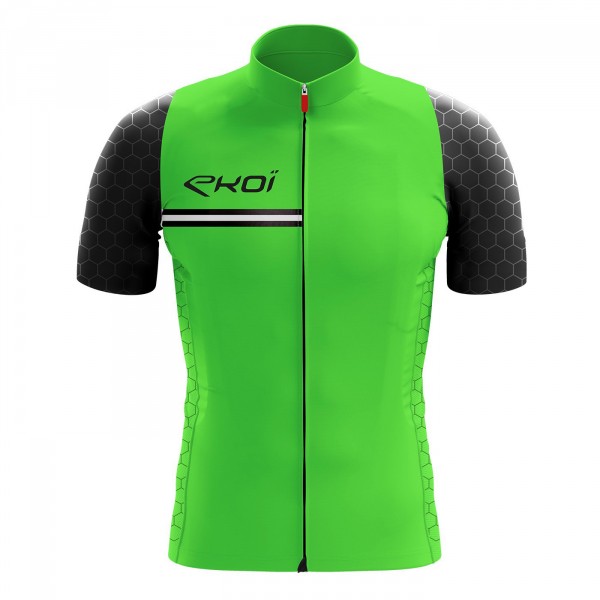 EKOI HEXA Green fluo jersey
We welcome your feedback !
Shipping and returns
Free returns Except during official French sales periods : Returns policy
Shipping information to : France

Delivered between 12/08 and 14/08
For any order placed before 12.00, delivery in 1 to 3 days.
Free delivery starting from £90.27 purchase
Price :
£9.02
Delivered between 11/08 and 13/08
Retrait en magasin dans la journée

Delivered between 13/08 and 17/08
For any order placed before 12.00, delivery in 1 to 3 days.
Free delivery starting from £81.24 purchase
Price :
£6.31

Delivered between 17/08 and 19/08
Delivery in a pick-up point of your choice in 4 days.
Free delivery starting from £81.24 purchase
Price :
£6.31
Product info
The all-new EKOI HEXA collection: a range of highly-technical cycling wear that is both comfortable and stylish.

The EKOI HEXA collection is particularly aimed at the competitor and regular cyclist. We have selected the best Italian materials available that have been specially designed for bike racing.

The jersey is made of 4 different materials: a windproof material used for the front, a lightweight material used for the back, and stretchable second skin effect material used for the sides, across the shoulders and for the sleeves.

Slim (race-cut) fit, the back of the jersey has a "magpie" (drop-down) tail for optimal protection of the lower back even when down in the drops, the sleeves are slightly longer (as favoured by the pro riders) than normal with a laser cut (hem-free) finish.
The finish of this jersey has been thought of down to the finest detail offering you technically-optimal apparel, oh, and I almost forgot, it's very stylish too!.
Product features
- Materials made in Italy
- Slim (race-cut) fit
- Laser-cut sleeve hem
Use
For use:
Road cycling
Training and racing
Technical features
4 different highly-technical and complementary materials:

FRONT PANEL: EKOI EXCLUSIVE EKOI VITDRY FABRIC:
- Attracts moisture and rapidly wicks it away to leave the torso dry.
- Windproof.
- Durable.
- Soft.
- Stretchable.


SLEEVES: EKOI ELASTIC
- Ladder-resistant material, laser cut finish.
- Second skin effect.
- Breathable.
- Fine and lightweight.
- Stretchable.
- Seamless sleeve hems.


BACK: MITI EXTRAFIL FIBRE
- its ventilated structure is perfect for wicking.
- ultra-breathable and ventilated.


SIDES: MITI FULL MOON FIBRE:
- Micro-perforated.
- Extremely stretchable.


- YKK self-locking zip (YKK zips are known for their reliability).
- Bottom zip garage protects the bib short from rubbing against the jersey zip housing).

ELASTICATED WAIST HEM:
- Wide (5cm) front waist hem.
- Bevel cut for added comfort.
- Silicone back and sides waist hem for optimal lower back support.

BACK POCKETS
-3 standard pockets.
Material
Material made in Italy:
- 100% polyester
Washing instructions
- Machine wash at 30°C
- Do not spin.
- Do not use fabric conditioner.
- Do not tumble dry.
- Do not iron.
| | | |
| --- | --- | --- |
| S | < 65 kg | <1.70 m |
| M | 65-69 kg | 1.78 m |
| L | 70-74 kg | 1.83 m |
| XL | 75-80 kg | 1.88 m |
| 2XL | 81-86 kg | 1.93 m |
| 3XL | 87-92 kg | > 1.93 m |
Jean Yves G.

Niveau : Expert

Age : 65+

07/31/20

Bonjour.
Nous avons la un maillot réservé à la belle saison . La Coupe est bonne , le produit agréable à porter , pas de gène particuliere.
Maillot très sobre qui donne un beau visuel sur le cycliste .
Taille correcte : 1,75m pour 61kgs : Taille M
Merci Ekoi pour votre diversité , vos produits et votre service en général.

Jerome B.

Niveau : Amateur

Age : 35-44

07/28/20

Très bien, mais attention à la taille.

1M74, 57 kgs, donc pas très gros ; j'ai commandé un taille M et il ne me faut pas plus petit...nManches légèrement serrées, taille du buste ok, le tissu n'est pas trop tendu.nQualité habituelle Ekoi, pas de remarque particulière à ce sujet.

Leider gefällt mir das Trikot nicht, so dass ich eine Rücksendung vornehmen werde.

Leider gefällt mir das Trikot nicht, so dass ich eine Rücksendung vornehmen werde.

Maillot ekoi hexa verde fluo

Se clarea la ropa de abajo

Produit qualité top livraison ok merci ekoi tres beau ensemble merci ekoi

Produit qualité top livraison ok merci ekoi tres beau ensemble merci ekoi

la correspondance de tailles n'est pas juste, certes je suis un gabarit atypique pour un cycliste 1,92 pour 114 kg.... mais dans mon quotidien je prends du 2XL et la le 3XL est beaucoup trop petit.
Sinon la matière est agréable au touché.

la correspondance de tailles n'est pas juste, certes je suis un gabarit atypique pour un cycliste 1,92 pour 114 kg.... mais dans mon quotidien je prends du 2XL et la le 3XL est beaucoup trop petit.
Sinon la matière est agréable au touché.

Vous faites des économies sur e tissus. Ces maillots sont sûrement adaptés pour des cyclistes d'1,70 m et 30 kg. Il faudrait que vos gabarits soient plus précis.

Finalement après deux retours pour taille trop étroite, celui est parfait. je trouve ce modèle plus petit que les formes précédentes. Sinon toujours satisfait.

Schönes Trikot mit etwas längeren Ärmeln. Hab diesmal L genommen statt XL, ist somit schön eng.

produit qui taille vraiment petit " info pour les acheteurs au moins 2 tailles au dessus " retourné j'attend donc le retour look identique au cuissard tres beau

Beau maillot,mais tableau des tailles à revoir

Commandé un taille L pour 1m72 et 72kg: ultra moulant à la limite de "péter" les coutures. Retour gratuit du produit et demande de conseil avec le SAV. Donc: un taille XXL pour un port un peu plus ample. Pas facile d'acheter sans essayer, mais attention aux tailles entre un cyclo pro et un amateur. Merci Ekoi.

Acheté en taille L pour 1.72m et 72kg (assez trapu), le maillot est assez près du corps. Confort idéal par temps chaud

Maillot hexa très confortable !

On a une bonne impression de fraicheur par temps chaud mais ne pas hésiter à prendre une taille supérieure à la normale car très près du corps !

El maillot ,se ajusta a la perfección,

les manches pourraient etre moins serrées

il faut cependant prendre toujours une taille supérieure à la taille initiale

Nickel pour grosse chaleur

Le maillot est très bien tailler mets la couleur n'est pas celle que j'ai commandé mets plus clair de ce fait je suis un peu déçu et il pourrait faire des cuissard aussi xxxl

Minimal zu groß kann man aber mit leben. Schöne lange Ärmel und gut verarbeitet.

Bon maillot très respirant peut être les manches un peut longues bien vu la petite protection au niveau de la fermeture éclair en bas
Je recommande

Las mangas resultaron un poco largas. Elija una talla menos que la recomendación en el cuadro. El material es demasiado ligero para mi gusto.

Couleur Flashante permettant d'être bien vu et coupe bien ajustée pour un confort optimal