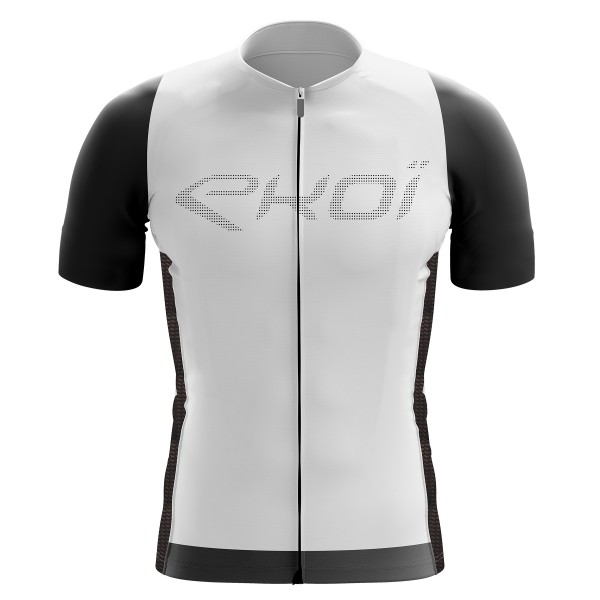 EKOI Perforato White short sleeve jersey
We welcome your feedback !
Shipping and returns
Free returns Except during official French sales periods : Returns policy
Shipping information to : France

Delivered between 02/06 and 04/06
For any order placed before 12.00, delivery in 1 to 3 days.
Free delivery starting from £80.91 purchase
Price :
£8.98

Delivered between 03/06 and 05/06
For any order placed before 12.00, delivery in 1 to 3 days.
Free delivery starting from £62.92 purchase
Price :
£6.28
Product features
Perforated fabric for wear in temperatures from 23° to 40°C (wear with an EKOI base layer in températures below 26°C)

- Cut and material giving a second skin effect.
- TT-type finish neck
- Fabric and jersey made in Italy
Use
The EKOI PERFORATO range is aimed primarily at the competitor or the highly-motivated cyclist seeking optimal performance from the best possible products. Road cycling.
Technical features
ZIP:
- Self-locking YKK zip (durable and easily opened/closed even on the fly)

ELASTICATED WAIST HEM:
- Throughout the whole hem with silicone inserts for the perfect support across the lower back and a fitted elasticated front

BACK POCKETS:
-3 standard pockets.

AVAILABLE IN 6 SIZES: S M L XL 2XL 3XL
Washing instructions
Hand wash preferably or machine wash at 30°C (preferably use the net bag provided)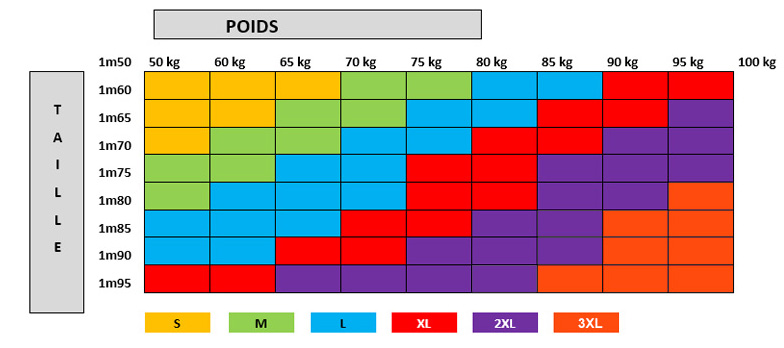 The EKOI PERFORATO range is aimed at the bike racer or seriously-motivated cyclist. Wehave chosen the best available fabrics for use at high level (training or racing) for wear in temperatures from 23° to 40°C. The cut is close-fitting for asecond skin effect and an aero advantage. Made using 3 different fabrics, in Italy - Torso: light, highly-stretchable fabric that is soft and supple, weighing only 120 g - The sides are made in a mesh for enhanced ventilation and exceptional aeration - The laser-cut sleeves (no hems) are made from a ladderproof seamless fabric that is highly-stretchable to prevent the sleeves riding above the biceps, soft and light
Sale type

: best selling

Temperatures

: 35°
Pas encore testé mais il est beau et à l'air très léger, à voir l'été prochain

très bon produit léger parfait pour les sortie en été

très bon produit léger parfait pour les sortie en été

Tessuto bellissimo, leggero, elastico. Le cuciture sono inesistenti!!
Semplicemente un prodotto fantastico!

super Produkt gute Qualität

Super maillot très light pour les fortes chaleurs.
Taille S pour 1.70 m 62 kg. Il se porte serré près du corps. Finitions très soignées.

Perfetta. Molto bella. Traspirante, effetto seconda pelle. Una meraviglia. Attagliamento come da configuratore. Da acquistare per le giornate in cui non vuoi rinunciare ad uscire in bici, ma il caldo mosca le gambe.

Tres bon produit encore une fois de la part d'Ekoi.

Mais attention a la taille! Le cuissard taille petit!! Il faut donc prendre une taille supplementaire au moment de la commande afin d'éviter un retour.

Je cherchais un mail léger pour supporter le soleil réunionnais, avec un col très court type contre la montre (à quoi bon concevoir un mail d'été si c'est pour le doter d'un col roulé!), et surtout SOBRE en terme de coloris...
Celui ci est juste parfait, exactement ce que je cherchais.
Testé aujourd'hui sur une sortie alternant soleil, vent et averses. Il sèche très vite, se supporte bien sous la chaleur (malgré son dos noir).
La coupe est agréable, très proche du corps, mieux vaut ne pas avoir de brioche... Les manches pas trop longues ce qui est appréciable par temps chaud mais suffisamment pour que les bras soient protégés du soleil.
Seul bémol, les manches ont l'air d'être coupées au laser et le tissu ne bénéficie d'aucun retour (pour limiter les coutures et favoriser le confort et la légèreté je suppose), mais j'ai peur que ça s'effiloche dans le temps...