EKOI Black Elegance short sleeve jersey
We welcome your feedback !
Delivery options and returns
Shipping information to :
United States

Shipping cost £35.32
Delivery between 27/05 and 29/05
Delivery in 1 day by end of day for deliveries in the same country, 1 to 5 days by end of day in the rest of the world.
Free returns (Except sale periods)
Special gift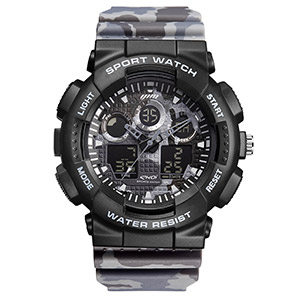 For any order over £130, you will receive an LTD EKOI WATCH
Offer valid while supplies last, based on the total amount before shipping costs.
Product info
The EKOI BLACK ELEGANCE premium range of cycling gear is specfically for the seriously-motivated cyclist. We have specially opted for the best possible materials available in the design of this jersey.

The EKOI BLACK ELEGANCE jersey is made using 2 difgferent premium-performance materials:
- A material called ATRANI 16 throughout (except the side panels) is windproof, extremely light, silky smooth and a light compression effect for that second skin sensation, and it's aero too!
- The side panels are in a material manufactured by the Swiss firm SCHOELLER associated with premium-performance clothing is both highly-stretchable and light for an excellent support and optimal ventilation and wicking.
Product features
The close-fit cut is seamless across the shoulders for friction-free cycling and for optimal comfort, sleeves are slightly longer than usual (for that pro look) and laser cut (hem-free). This jersey has been desgined in the minutest detail to enbale the wearer to go after their PB stylishly.
Product features
2 highly-technical materials that complement each other and which are charcteristic of a premium-qulaity product.

ATRANI 16 fibre
- Traps moisture and wicks it away rapidly to leave the upper body dry
- Windproof
- AERO
- Soft
- Highly-stretchable
- Made in Switzerland

Cold black fibre from Swiss firm SCHOELLER used for the side panels.

- Design and panel cut conceived to avoid seams across the shoulders and back for friction-free cycling
Use
The PREMIUM EKOI BLACK ELEGANCE range is primarily oriented to the committed cyclist demanding the best possible producs in their search for improved performance over both short and long-distance rides.
Technical features
POCKET:
- Waterproof back pocket

ZIP:
- Self-locking hidden YKK chest zip (guaranteed for its durability and ease of opening and closing)

ELASTICATED WAIST HEM :
- Throughout (back, front & sides) waist hem with silicone for that perfect support

Back pockets:
-3 standard pockets.
-1 waterproof pocket with hidden zip.

Available in 6 SIZES : S M L XL 2XL 3XL
Washing instructions
Hand wash, preferably, or machine wash at 30°C (in a net bag)
Sale type

: new

Range

: EKOI PREMIMUM