We welcome your feedback !
Shipping and returns
Free returns Except during official French sales periods : Returns policy
Shipping information to : France

Delivered between 03/06 and 05/06
For any order placed before 12.00, delivery in 1 to 3 days.
Free delivery starting from £81.02 purchase
Price :
£8.99

Delivered between 04/06 and 08/06
For any order placed before 12.00, delivery in 1 to 3 days.
Free delivery starting from £63.02 purchase
Price :
£6.29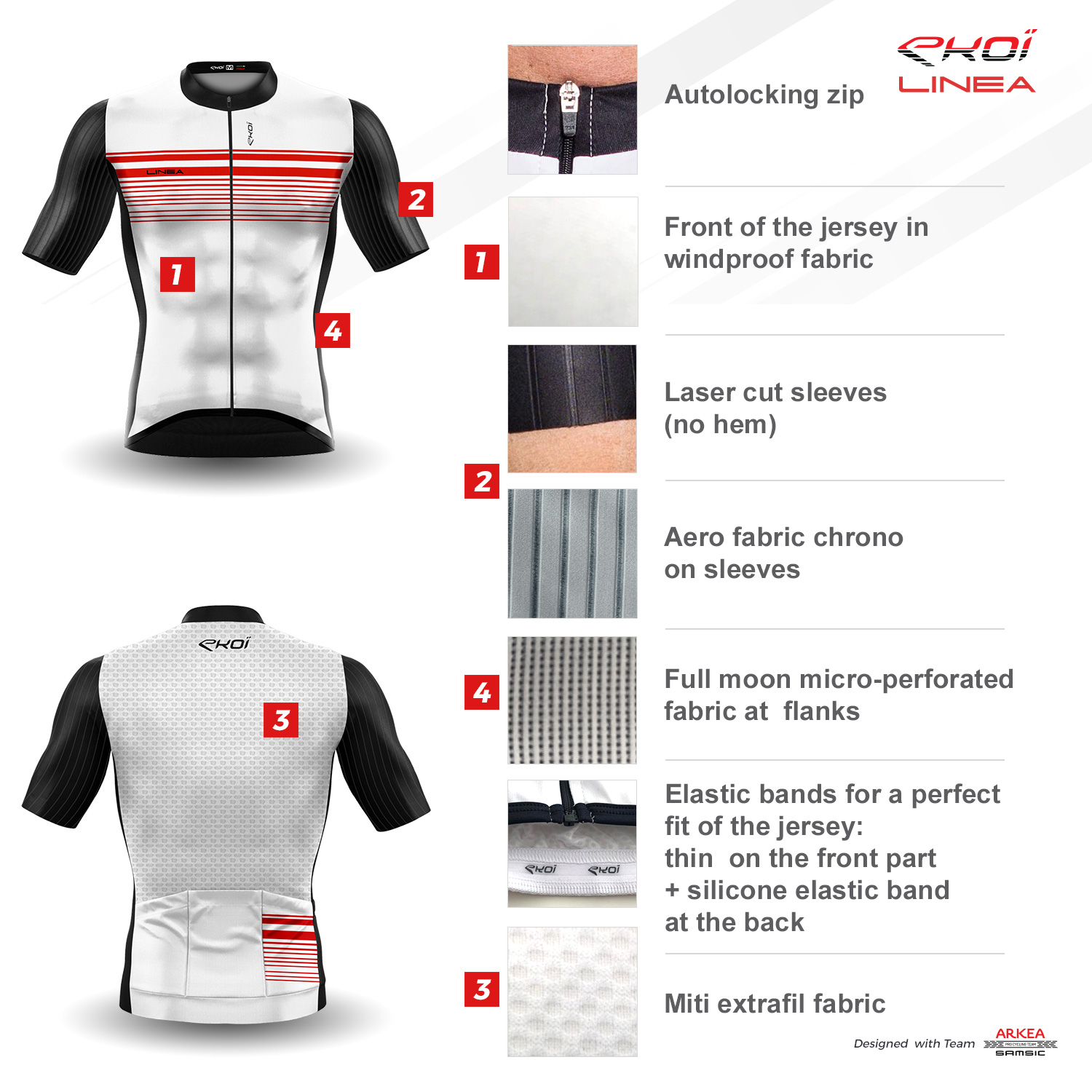 Product info
This jersey is very technical, comfortable and aesthetic. It is especially for riders of races or frequent trainers.

It is made in Italy and consists of Italian fabrics with 4 different fibers, like the jerseys of the professionals of the ARKEA SAMSIC team:
- windbreaker in front,
- very ventilated in the back,
- Elastic and micro-perforated on the side
- Aero and second skin effect on the sleeves ...

The cut is curved, the back of the jersey is extended to protect the kidneys in a lying position, the sleeves are longer than normal (as with the pros) and laser-cut (without hem). This jersey is thought through to the smallest detail so that you can practice your favorite sport under the best possible conditions and greatest performance.
Product features
- 4 different technical fabrics made in Italy
- Laser cut aero fabric without hem
- Made in Italy
Use
- Racing or training on the road.
Technical features
4 different and additional technical fabrics:

FRONT: EXCLUSIVE EKOI VITDRY FIBER:
- Absorbs sweat and wicks it away very quickly to keep the upper body dry.
- windbreaker.
- strength.
- softness.
- elasticity.


SLEEVES: EKOI AERO FIBER:
- laser cut.
- Second skin effect.
- Breathable.
- elasticity.
- No seam on the bottom of the sleeves.


REAR: FIBER MITI EXTRAFIL:
- The very airy structure wicks sweat away.
- ultra breathable and ventilated.


PAGE: FIBER MITI FULL MOON:
- Micro perforated.
- High elasticity.


- Self-locking YKK zipper (reliability).


ELASTIC TAPE:
- Wide band on the front of the jersey (6.5 cm).
- Beveled cut to optimize comfort.
- 2.5 cm rubber band with silicone on the back and sides of the jersey for optimal support and kidney protection.

BACK POCKETS:
-3 classic pockets, 1 pocket with zipper
Officer collar:
Classic height 4 cm
Material
Made in Italy fabrics.
- 100% polyester
Washing instructions
- Machine wash at 30 °
- Do not spin.
- No fabric softener.
- No dryer.
- Do not iron.
|   | Weight | Max Size |
| --- | --- | --- |
| S | < 65 kg | < 1.70 m |
| M | 65-69 kg | 1.78 m |
| L | 70-74 kg | 1.83 m |
| XL | 75-80 kg | 1.88 m |
| 2XL | 81-86 kg | 1.93 m |
| 3XL | 87-92 kg | > 1.93 m |
bon produit , agréable à porter , taille XL 1,82 m pour 80 kg