Helmet EKOI AR13 Black - Black
Your opinion interests us !
Delivery options and returns

Delivery between 08/12 and 10/12
For any order placed before 12 noon, home delivery within 1-2 working days.
Free Delivery from 129,99 €
Retail price :
9,99 €

Delivery between 07/12 and 09/12
Retrait en magasin dans la journée

Delivery between 09/12 and 11/12
For all orders placed before 12.00 pm, delivery in 24-48 at a UPS collection point. All collection points can change due to the current situation.
Free Delivery from 99,99 €
Retail price :
6,99 €
Details
The EKOI AR13 helmet combines an aerodynamic design, low weight (just 220 g in size S/M) and air circulation (13 vents). It has been specifically designed to be the most aerodynamic as possible, despite its multi-discipline (road / MTB / Triathlon / TT's) use. Our design team came up with this design following extensive testing in the wind tunnel. It's a helmet for all seasons (even in very high temperatures)
Products benefits
- aerodynamic
- Occipital bone (height) adjust system for the perfect fit
- Available in 10 different colours
Use
For use: Road, MTB or triathlon / racing or training
Features
- In Mold shell
- 13 vents.
- Insect net.
- Both straps are adjustable under each ear.
- Perforated occipital bone (height) adjust system with notched dial for fine adjustments.

- Helmet weight in size S/M 220 g and in size L/XL 230 g
- S/M (55/58 cm) / L/XL (59/61 cm)

- Approved to EU standards


La norme CE (NF EN ISO 12312-1:2013 + ISO 12312-1 2013) est conforme aux lois en vigueur dans les pays de l'Union europeenne.
Cette norme CE 1078 n'est pas valable aux USA ( norme CPSC obligatoire) ou en Australie. Nous vous conseillons (si vous vivez hors de l'Union européenne )de vous informer sur la norme en vigueur conforme aux lois de votre pays ou de contacter notre service information produit Ekoi qui vous renseignera.
Material
THE EU standard (NF EN ISO 12312-1:2013 + ISO 12312-1 2013) is conform with laws in each of the EU member states.

This CE 1078 standard IS NOT VALID in USA (where the obligatory CPSC standard applies) or in Australia. We therefore advise you (should you live outside the European Union) to establish and read the standard that applies, as per the law, in your own country, alternatively, you can contact our Product Information service who will be pleased to provide you the necessary information.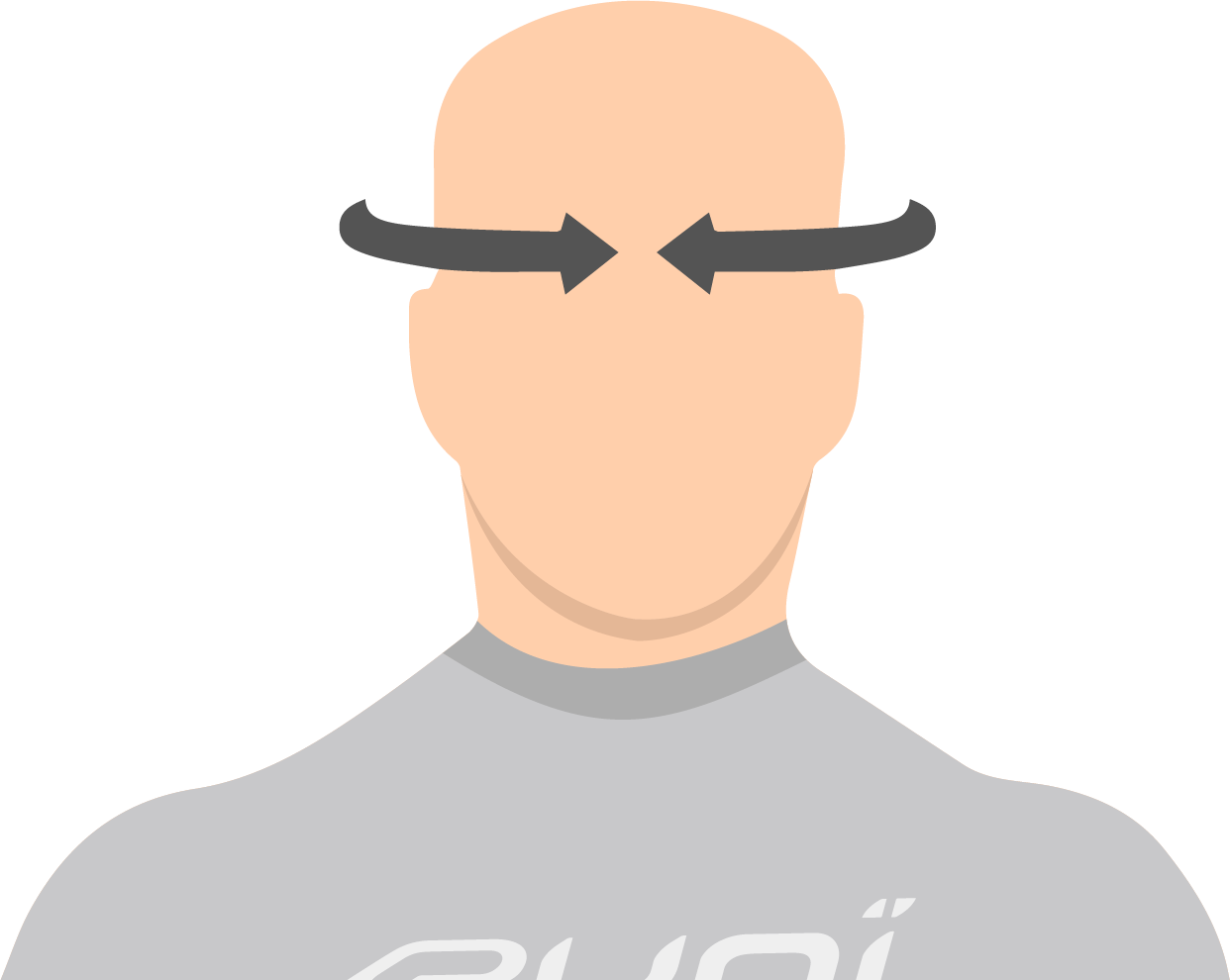 | | |
| --- | --- |
| S/M | 55-58 cm |
| L/XL | 59-61 cm |
Stephen W.

Level : Amateur

Age : 65+

08/04/20

just received my ar13 helmet and really pleased with it in my opinion this helmet great for the price ,its light ,stylish and arrived very quickly ,well done ekoi.

Pat R.

Level : Advanced

Age : 45-54

08/04/20

The helmet is lightweight, comfortable and a good fit. The straps are easily adjusted and and have a good quality feel to them.
I have ridden in all conditions and the helmet performs well in hot, cold and wet climates. It extremely good value and I have already recommended it to a friend who has also purchased.

Stephanie D.

Level : Amateur

Age : 25-34

12/01/20

Passform sehr gut und angenehm zu tragen. Aussehen schlicht und schön. Sehr gute Wahl nach langem suchen.

Steve T.

Level : Amateur

Age : 35-44

11/27/20

casque correct au niveau de la taille mais gêné au niveau du réglage du maintien occipital très désagréable au moment de le mettre heureusement ce désagrément se fait oublier après.

Thomas V.

Level : Beginner

Age : 35-44

11/26/20

J'avais un casque VTT Bell en 58 et je suis aussi en 58 sur mon casque moto HJC... Mais après une première commande en S-M (54-58) je ne sentais pas ma tête bien dans le casque et pas super confortable malgré plusieurs tests de réglages...
Au téléphone on m'a conseillé un échange avec la taille au-dessus, j'étais un peu dubitatif... Mais plus aucun problème avec le L-XL (59-64) : il est par-fait !
J'ai profité de changer de taille pour finalement prendre un noir mat... Il est superbe !

Stephanie D.

Level : Amateur

Age : 25-34

11/25/20

Passform sehr gut und angenehm zu tragen. Aussehen schlicht und schön. Sehr gute Wahl nach langem suchen.

Carlos H.

Level : Amateur

Age : 45-54

11/20/20

Muy chulo y a buen precio

HolannEstoy muy contento con la compra. El casco es muy chulo, queda muy bien (no es excesivamente grande), y además lo conseguí a muy buen precio en una promoción. Es muy cómodo y ligero. Y espero que, si llega el momento, cumpla su función de seguridad, aunque ojalá no tenga que saberlo.

Antje O.

Level : Amateur

Age : 45-54

11/19/20

Sitzt perfekt auch bei schmalen Gesichtern.

Fabien K.

Level : Advanced

Age : 55-64

11/19/20

Casque très agréable à porter et avec un look profilé du meilleur effet. Une fermeture pareil au Corsa lihgt serait mieux.

Leone D.

Level : Amateur

Age : 45-54

11/18/20

Leggero comodo facile da regolare
Ottima la retina protezione insetti

Laurent B.

Level : Beginner

Age : 55-64

11/17/20

Même desserré au maximum, ce casque me serre trop. Pourtant, j'ai pas l'impression d'avoir un crâne hors norme !!

Merci pour votre commentaire.
Si le casque est trop petit, nous vous recommandons de l'échanger pour la taille au dessus.
Sportivement,
L'équipe Ekoï.

Gilles T.

Level : Amateur

Age : 45-54

11/07/20

Juste déballé, pas encore essayé (confinement oblige).nJe "chausse" du 61 et le casque taille L/XL (59/61) est pile/poil à ma taille, sangle complétement relâchée !nJe précise que je me rase le crane.nLe port d'un sous casque été (ou d'un bandana) est juste possible, ce qui interdit celui d'un sous casque hiver + épais.nSinon produit léger et de bonne facture !nY'à plus qu'à...

Fabrizio P.

Level : Amateur

Age : 35-44

10/29/20

Bellissimo il casco leggero ed avvolgente da un ottimo senso di sicurezza

Laurent C.

Level : Amateur

Age : 45-54

10/27/20

très léger, agréable à porter

Antonio F.

Level : Amateur

Age : 55-64

10/24/20

Casco bonito y muy comodo, todo correcto .

Bruno C.

Level : Beginner

Age : 65+

10/21/20

Nouveau dans le cyclisme, le port du casque est une première, et bien qu'il faille s'habituer à celui-ci, il me semble confortable, léger et se fait oublier en roulant.
PARFAIT au final.
Hors appréciation du casque, une note d'excellence pour l'échange téléphonique avec mon interlocuteur, sa gentillesse et sa prise en charge commerciale, rare de nos jours BRAVO!

Anne C.

Level : Amateur

Age : 45-54

10/18/20

Let hjelm, flot design, passer perfekt

Christian B.

Level : Amateur

Age : 55-64

10/17/20

Casque aéro agréable en demi saison

Casque aéro bien conçu,confortable mais aération un peu limite en été,parfait en demi saison.

Marc P.

Level : Beginner

Age : 45-54

10/17/20

Franck G.

Level : Amateur

Age : 45-54

10/16/20

Très bon rapport qualité/prix

Léger,bien ventilé,confortable,molette de réglage efficace.
Mise à la taille un peu hasardeuse sûrement due à une notice d utilisation à la clarté perfectible.
A voir l évolution du produit dans le temps.
Bon produit je recommande


Frederick S.

Level : Beginner

Age : 35-44

10/15/20

Bon produits j'adore je recommande

Chiara B.

Level : Amateur

Age : 35-44

10/14/20

Alexis B.

Level : Amateur

Age : 45-54

10/14/20

bon produit, mais sangle pas très pratique à régler...

Sebastien B.

Level : Beginner

Age : 35-44

10/13/20

Confortable, très beau look.

Franck B.

Level : Beginner

Age : 45-54

10/10/20

Excellent produit, confortable le tout avec le service
Rien à redire !

Hervé D.

Level : Advanced

Age : 55-64

10/09/20

bonjour,rnje viens de réceptionner ma commande,un casque AR13 et une coque de casque corsa light.Je pensais que cette coque s'adaptait sur le casque AR13 mais non.Aussi je voudrais renvoyer le casque et prendre un corsa light noir taille L/XL .Est-ce que le renvoi de cet article est à ma charge ?

Merci pour votre commentaire.
Les retours sont gratuits (frais pris en charge par Ekoï). Vous trouverez plus d'informations dans la rubrique Aide / Contact.
Sportivement,
L'équipe Ekoï.

Vincent R.

Level : Amateur

Age : 45-54

10/08/20

Manque de confort au niveau des lanières

Correspond parfaitement à me attentes à un détail prêt : les lanières ne sont pas super confortables et tombent mal sur le coté de la tête.
Dommage car en dehors de ça le casque est top


Anthony L.

Level : Amateur

Age : 25-34

10/04/20

Simon M.

Level : Expert

Age : 35-44

10/03/20

Let hjelm som er behagelig at køre med både vinter og sommer.

Andreas R.

Level : Advanced

Age : 25-34

10/01/20

Der Helm hat eine sehr angenehme Passform und ist sehr leicht. Die Belüftung ist auch für kürzere Anstiege im Sommer ausreichend.

Corentin B.

Level : Amateur

Age : 18-24

09/30/20

J'ai acheté ce magnifique casque ekoi noir il est livré avec un sac pour le rangement du casque. Il est en parfaite État quand je l'ai reçu il a plusieurs taille je vous recommande ce produit

Gérard K.

Level : Amateur

Age : 45-54

09/26/20

Super! Confortable, aérations suffisantes.

Javier R.

Level : Beginner

Age : 35-44

09/25/20

Jorge F.

Level : Amateur

Age : 55-64

09/24/20

Buena compra relación calidad precio.

Jürgen P.

Level : Beginner

Age : 45-54

09/24/20

Die Form passt bei mir nicht, schade

Julien H.

Level : Beginner

Age : 25-34

09/24/20

Ein super bequemer Helm, einfach TOP

Jean-michel L.

Level : Amateur

Age : 45-54

09/19/20

très bon produit correspondant a la commande. Très agréable à porter, confortable je recommande.

Vicente Jose R.

Level : Amateur

Age : 35-44

09/18/20

Buen producto se ajusta muy bien y es ligero.

Gaetan C.

Level : Advanced

Age : 25-34

09/16/20

Bon casque et assez esthétique.
On aurait aimé avoir une attache magnétique.

Vincent D.

Level : Amateur

Age : 45-54

09/10/20

Léger, esthétique, rien à dire de plus.

Alain S.

Level : Amateur

Age : 45-54

09/08/20

Helm ekoi ar13 schwarz - schwarz - größe : l/xl produkten

Preisleistungsverhältnis extrem gut für 50€ echt top

Raúl C.

Level : Amateur

Age : 35-44

09/05/20

Calidad precio inmejorable......un casco ligero y con materiales de calidad....

Massimiliano C.

Level : Amateur

Age : 25-34

09/01/20

Leggerissimo e comodissimo, penso che a questo prezzo non si posso trovare niente di meglio in giro!!! Consigliatissimo!!!

David L.

Level : Amateur

Age : 35-44

08/29/20

Plastique intérieur et attache

Les plastiques de support de sangle trop visible sur les côtés et regrette que l'attache de la mentonnière soit pas aimantée sinon casque très léger et bonne aération.

Giuseppe S.

Level : Amateur

Age : 55-64

08/29/20

Ben fatto leggero e anche bello esteticamente, immagino abbia superato tutti i test di resistenza.

Jean-jacques V.

Level : Amateur

Age : 65+

08/28/20

Excellent moule bien la tête sans faire énorme

Enric H.

Level : Amateur

Age : 25-34

08/28/20

Muy cómodo y ajusta perfecto!

Yannick A.

Level : Amateur

Age : 45-54

08/27/20

Casque léger et facile à régler. Je voulais un casque avec filet en plus, pour le prix c'est le top

Jean Baptiste M.

Level : Amateur

Age : 35-44

08/26/20

Réglage efficace, très léger. Je recommande ce produit.

Mattia G.

Level : Expert

Age : 35-44

08/24/20

Buongiorno, ho ricevuto il Vostro casco ed è di ottima qualità. Purtroppo mi dà un pò fastidio nella parte alta posteriore durante l'utilizzo, avete consigli da darmi in merito? cambiare imbottitura?

Grazie

Bonjour, j'ai bien reçu votre casque et il est d'excellente qualité. Malheureusement cela me dérange un peu dans le haut du dos lors de l'utilisation, avez-vous un conseil à me donner? changer de rembourrage?

Merci

Rodolfo G.

Level : Amateur

Age : 35-44

08/21/20

Eccellente articolo, mai avuto un casco così bello!!! E' confortevole, piccolo, leggerissimo e calza perfettamente. Ottimo il sistema di regolazione sotto le orecchie con le apposite fibbie, design moderno e aerodinamico, bella anche la serigrafia, molto curato nei dettagli. E' arrivato in 2 gg con UPS con tracciamento. Comprerò sicuramente altri articoli Ekoi!!!!

Luc G.

Level : Amateur

Age : 55-64

08/18/20

très léger et confortable.taille bien ajustée,bien aéré par temps chaud.Livraison rapide.Très bon rapport qualité/prix.

David G.

Level : Amateur

Age : 45-54

08/14/20

Solo puedo recomendar el casco, precioso diseño, me queda como un guante, y tras varias horas de carretera solo puedo decir que es el más confortable que he tenido. Mucho más confortable que el kask mojito que también tengo.

Anne L.

Level : Amateur

Age : 35-44

08/14/20

Très bon produit rapport qualité /prix parfait

Paul G.

Level : Amateur

Age : 35-44

08/11/20

Good price to value relation

Well finished and suits well.

Lucien G.

Level : Beginner

Age : 35-44

08/11/20

pour un débutant très bon produit

Mickael J.

Level : Advanced

Age : 45-54

08/11/20

Bon produit dommage pour l attache quelle ne soit pas emmenter

Franqui L.

Level : Beginner

Age : 45-54

08/07/20

J'avais déjà un noir et jaune, j'ai repris un noir être plus raccord avec d'autres couleurs de tenues ... léger et confortable

Damien C.

Level : Amateur

Age : 25-34

08/07/20

Très joli casque, attention il a tendance à marquer vite.

Volker H.

Level : Amateur

Age : 45-54

08/05/20

Leicht und sehr gute passform

Das Rädchen am Hinterkopf fixiert (durch seine Einfassung ohne Haare einzuklemmen) den Helm angenehm von allen Seiten. Nach 10 Minuten vergisst man, dass man ihn trägt, obwohl er wie anzementiert sitzt.

Gwenael B.

Level : Amateur

Age : 45-54

08/04/20

L'impression de rien n'avoir sur la tête, alors que les casques ont longtemps constitué une gêne et ce même si leur port est une nécessité, ce casque est top

Thierry G.

Level : Advanced

Age : 55-64

07/30/20

Sven L.

Level : Beginner

Age : 45-54

07/28/20

Super leicht, guter sitz, attraktiver preis

sitzt sehr gut, gut einzustellen und ist federleicht. Dazu ein attraktiver Preis.

Andy B.

Level : Amateur

Age : 45-54

07/28/20

Magnifique casque aéro. Très bien ventilé, avec un design discret, son maintien est excellent. Une boucle magnétique aurait été plus judicieux pour ce produit (dispo en version AR14 maintenant).

Franck A.

Level : Amateur

Age : 45-54

07/26/20

Presque Parfait. Manque juste l'attache rapide, c'est histoire de critiquer, léger, le filet anti insectes, et vraiment pas déçu de la couleur noire, les ajustements sont très faciles.

Sitzt gut und ist angenehm leicht. Bänder am Ohr etwas gewöhnungsbedürftig, kann aber auch sein, dass ich die richtige Einstellung noch finden muss. Für den Preis bisher sehr zufrieden. Fällt nach meinem Empfinden etwas kleiner aus.

Muy buen casco, muy buen servicio

je n' ai pas suivi le guide des tailles celui ci en S/M est en 55 /58 et malheureusement légèrement trop grand .je fais un 54 et j' espéré qu'il m' aille quand même , mais non ..Donc retour gratuit avec demande d' un avoir . Et je me suis orientée vers le AR14 noir en xs que j'attends impatiemment .

Por ponerle una pega, se echa en falta algo de ventilación, pero se acopla perfecto, muy ligero, recommendable calidad precio 100%

passt perfekt und Preiswert!

Bellissimo comodo e leggero

Muy bonito, buena relación calidad precio

Bonne qualité mais taille un peu petit c'est pourquoi je ne mets pas 5 *

mooie helm en zit heel goed

Agréable a porter par sa légèreté et ses aérations.



Casque très léger, agréable et confortable
Esthétique joli
Un très bon achat

Casque ekoi ar13 noir noir

bello leggero confortevole, grazie Ekoi

Très agréable a porter en remplacement du X6 déjà de la marque .
Satisfait de mon achat !
Par contre à l'époque nous recevions un kit autocollant avec le colis ?
A méditer !

Casque parfait pour moi, épouse bien la forme de la tête et il est très léger on ne le sent Pas sûr la tête
Seul bémol la boucle d attache et sa protection sont un peu grosse, on la sent bien sur la gorge dommage...



super produit à tout les niveaux

Design et ultra léger ...
Je recommande

Offert à mon cousin qui en est ravi. Sobre et confortable ! Super !

Casque léger très confortable et agréable à porter. A conseiller

Acheté avec la tenue corsa, il est agréable à porter. Bien ventilé mais la sangle n'est pas magnétique comme sur le corsa... Dommage. En revanche, il est livré avec sa housse de protection qui fait office de besace, que l'on peut mettre au dos.
Pour le prix payé, c'est une très bonne affaire

Plutôt une bonne surprise, confortable et plutôt léger, je croise les doigts pour ne jamais avoir à parler de sa résistance...

Casco molto bello misura giusta,comoda la rete per gli insetti e non sembra di portarlo molto leggero..

Prettige, lichte helm. fijne pasvorm

spero protegga quanto è bello! Molto leggero, 250g in L/XL e molto piccolo!

Léger et confortable, on l'oubli totalement en roulant

Casque léger et agréable à porter.

For me it is a very good product for an excellent price. Delivery was very good

Muy buen casco relación calidad precio!

Estoy contento con el casco AR13. Muy ligero y apenas se nota. Más cómodo que otro que tengo de la marca Bontrager que vale el doble. Mi cabeza mide 58cm pero cogí la talla superior L/XL y perfecto. No hay nada más molesto que te duela la cabeza por coger un casco pequeño. Perfecto!

Bel casco buono ed ottimo qualità e prezzo consigliatissimo

Espectacular! calidad precio inigualable.

Muy cómodo, ligero y buen ajuste. Muy buena aerodinámica. Buena ventilación. Rejilla anti insectos incluida. Cierre muy original, fácil y práctico. Totalmente recomendable.

Salve,acquisto fatto il 14 ad oggi 16-6-20 ancora non ho notizie della spedizione .

Buongiorno, per avere info deve inviare una mail con il numero ordine.
Le ricordiamo che il 14 Giugno era Domenica e l'ordine è stato quindi registrato nel primo giorno lavorativo successivo (quindi ieri, Lunedì 15 Giugno).

Beste, rnrnIk heb gisteren mijn besteling goed ontvangen, maar ik heb alles dubbel gekregen.rnWat moet ik hiermee doen?rnrnMvg,rnrnTomas

Beste, bedankt voor uw feedback en voor uw eerlijkheid ! We hebben tussentijds uw mail goed ontvangen. U zal binnenkort een gratisretoursticker krijgen. Tot binnenkort ! Mvg. Céline Vandenbroucke