EKOI TEAM ARKEA SAMSIC BLACKLIGHT FIT PRO JACKET
EKOI PREMIUM PRODUCTS
EKOI has developed a premium range primarily for the use of the fantastic athletes we have the distinct honour to equip. These exceptional champions require the very best products, every gain is important and can mean the difference between the win, a podium place or just a finish. It is perfectly normal that we should make these exceptional products available to all our customers.
Designing a PREMIUM product requires the input of a team of specialists from A to Z and is a task that is far more time consuming and difficult than one might, initially, imagine.
All the products in the EKOI PREMIUM range are designed on the criteria of the pro riders we supply, we listen to what they require, then our design team takes on the task, working with the manufacturer to design a stylish and functional product. We thoroughly test the first prototypes, iron out any problems and only when completely satisfied do we give the go ahead to the manufacturer to begin production.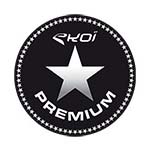 - Product DESIGN is the work of a French or Italian designer, it is then validated and tested by our own in-house team as well as by the same pro riders who initially tasked us.
- The product is developed by our designers, who work exclusively for EKOI.
- The product is tested at least 3 times in real conditions before approval for sale.
- The product is made using the best available materials.
- Production is 100% made in EUROPE (for optimal quality control of the materials used and the finish that must be PERFECT).
The aim is not to obtain excellent value for money but, above all, to create the best available product whatever the cost and the time required to take the product to market. Our levels of stock will purposefully remain low and the product life of each individual product is strictly linked to it's continued use by the athletes we supply (the product will remain available for as long as it is being used by our pro riders)
Only SILVER and GOLD VIP Club discounts will be accepted.
All promotional codes can not be applied to PREMIUM products
We welcome your feedback !
Shipping and returns
Free returns Except during official French sales periods : Returns policy
Shipping information to : France

Delivered between 09/12 and 11/12
48/72h to your door or at the post office
Price :
£5.11

Delivered between 09/12 and 11/12
For any order placed before 12.00, delivery in 1 to 3 days.
Price :
£7.67

Delivered between 10/12 and 12/12
Delivery in a pick-up point of your choice in 4 days.
Free delivery starting from £34.10 purchase
Price :
£4.25

Delivered between 09/12 and 11/12
For any order placed before 12.00, delivery in 1 to 3 days.
Free delivery starting from £85.26 purchase
Price :
£5.96
Product info
This lightweight and waterproof windproof LWP jacket (LWP = Llight Waterproof) made for the ARKEA SAMSIC PRO TEAM can be easily put on in the event of a sudden shower, or for descending a col for use in temperatures above or equal to 15°C.

Designed for riding all day (if need be !) in the rain or in difficult conditions.
Product features
- 100% waterproof and breathable
- Waterproof zip
- Ultra-lightweight
- COLD STOP wrists (a concept developed by EKOI to stop Wind and rain racing up the sleeves)
- Drop-down back panel protects the lower back from splashing
- Made in Italy using italian-made fabrics
Use
For use:
Racing and training in temperatures above or equal to 15°C.
Technical features
Waterproof and breathable fabrics
Waterproof YKK zips
Back pocket with waterproof YKK
Elasticated waist hem with silicone
Stretchable and soft material
Material
100% polyester
190g
Washing instructions
Preferably hnad wash or n a net sack to protect the fabric from other abrasive materials
- Machine washable at 30°C.
- Do not tumble dry.
- Do not iron.
- Do not dry clean
EKOI TEAM ARKEA SAMSIC BLACKLIGHT FIT PRO JACKET
| | | |
| --- | --- | --- |
| S | 1kg - 60kg | 1.00m - 3.00m |
| M | 61kg - 68kg | 1.00m - 3.00m |
| L | 69kg - 75kg | 1.00m - 3.00m |
| XL | 76kg - 83kg | 1.00m - 3.00m |
| XXL | 84kg - 200kg | 1.00m - 3.00m |
Sponsored athletes

: ARKEA SAMSIC

Range

: EKOI PREMIMUM
Purchased primarily to provide protection from rain. However, it does not, unless from a very light drizzle. A regular rain will have water soaking up and leaking through the fabric within 15 min. of riding. I wouldn't have purchased it had I known what the fabric properties with regard to waterproofness really are.