EKOI SECURE Black connected SOS button
We would like your feedback! !
Delivery and return
Shipping information to :
United Kingdom

Free shipping
Delivery between 23/08 and 24/08
Delivery in 2 in 5 days at home.
Free returns (Except sale periods)

Parcels delivered to Europe in 1 to 3 days and 2 to 5 days to the rest of the world.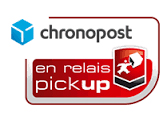 48/72 hours Europe wide delivery to your collection point.
http://www.ekoi.fr/img/cms/argu-btn-connect-comp10_FR.jpg
Summery
The connected "MonSheriff" button allows you to inform, with just 1 click, your friends and family to come immediately to your assistance should you run into a problem or alternatively to quickly reassure them during your training (or other) rides, that all is well. Functions with both Smartphone & IPhone
The product +
- So easy to use: Just 1 click = 1 function activated.
- Discreet SOS button: either attached to your clothing or carried in a jersey or jacket pocket (25x25 mm & just 7 g in weight.)
- Ride training rides with a zen attitude with the reassure your friends & family function..
- The click that could save your life: quickly inform simultaneously up to 5 different friends &/or family members.
Use
- Reassure (whilst riding that all is well) your friends and family.
- Alert (your friends & family) should a problem occur.
Technical features
The EKOI connected safey button needs just 1 simple click to activate.

Connected to your smartphone, it allows you to activate several different functions, communicating simultaneously with your friends & /or family or to alert the same in the event of a problem.

REASSURE:
- Send a text to reasure your friends and/or family with a pre-recorded text message (e.g. "Hi, just to let you know that all is OK and I'm on my way home) that also gives your geo-positioning.
- Choose up to 5 different persons to receive these messages.

ALERT:
- The click that could save your life!
- Send a pre-recorded telephone call simultaneously to alert up to 5 different persons, giving them your geo-positioning, plus the list of the other informed persons and their telephone numbers for a fast and well coordinated (amongst the different persons) reaction.
- It is possible to couple these calls with sending text and e-mail messages.

OTHER FUNCTIONS INCLUDE:
- Activates an alarm siren, that can continue up to 1 hour, to draw the attention of passersby/other road users etc. to your assistance.
- Remotely locks your telephone, to protect your recorded data, in the event of theft of your phone.
- Activates the dictaphone and records the audible noises around you.
- Remotely take photos or activate the video function of your phone, in real time.

Set up to 3 different functions using the 3 functions of the Safety/SOS button:
- 1 click
- 2 rapid clicks
- 1 continuous press of the button.
- Remove the protective tab from the EKOI button. - Download the MonSherif application (using Play Store or Apple Store) - Activate bluetooth, follow the instructions and connect your SOS botton to your Smartphone or I-phone. - Attach the MonSherif button to your apparel or put in a jersey or jacket pocket. https://youtu.be/KQdLbKBI_YI Download the application: MonSherif app. Instal the app and connect your EKOI SOS button How it works