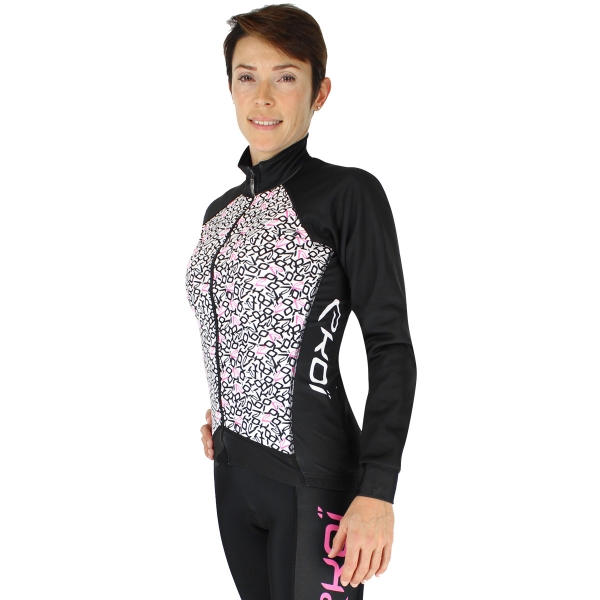 EKOI LADY Algoritmo Pink women's thermal jacket
We welcome your feedback !
Shipping and returns
Free returns Except during official French sales periods : Returns policy
Shipping information to : France

Delivered between 07/04 and 09/04
For any order placed before 12.00, delivery in 1 to 3 days.
Free delivery starting from £61.63 purchase
Price :
£7.04
Product info
The EKOI Lady thermal jacket, so elegant, so stylish and yet so comfortable, practical and warm for your winter rides.
Product features
- Soft touch fibre with fleece-lined Windtex membrane for added thermal protection
- Waterproof and breathable.
- Soft, stretchable fibre for optimal comfort on the bike.
- Four back pockets, one of which is zipped for your valuables.
- Specific design and colours for the lady rider.
Use
For use:
- Road or MTB cycling: training or racing
- In temperatures between 0° and 10°C.
Technical features
- Adjusted cut, specifically designed for the female anatomy.
- High (Officer style) fleece-lined collar.
- YKK zip (YKK zips are synonymous with effective closure and durability).
- Silicone waist band for optimal support and hold, irrespective if in the drops or on the tops.
- Top and bottom zip garages for friction-free riding.
- Flatlock seams for extra comfort..
- Available in four sizes from S to XL.
Material
- Soft touch 250 g thermal fibre.
Washing instructions
- The soft touch polyester is so easy to clean, due to its Easy Wash treatment, just giving the jacket a wipe over with a damp sponge will remove 90% of of mud and other stains (which we recommend you do immediately after your ride if you do not have time to machine wah your jacket before your next ride).
- Machine washable at 30°C
- DO NOT IRON.
- DO NOT TUMBLE DRY.
         

Tour de poitrine

(cm)

Poids

(kg)

Taille

(cm)

S

80 - 85

< 45 

1 m 65

M

85 - 90

45 - 55 

1 m 65

L

90 - 95

55 -65

1 m 70

XL

95 - 100

65 - 75

1 m 80
Ik ben zeer tevreden over mijn nieuwe Ekoi Jack, mooi en plezierig om dragen..