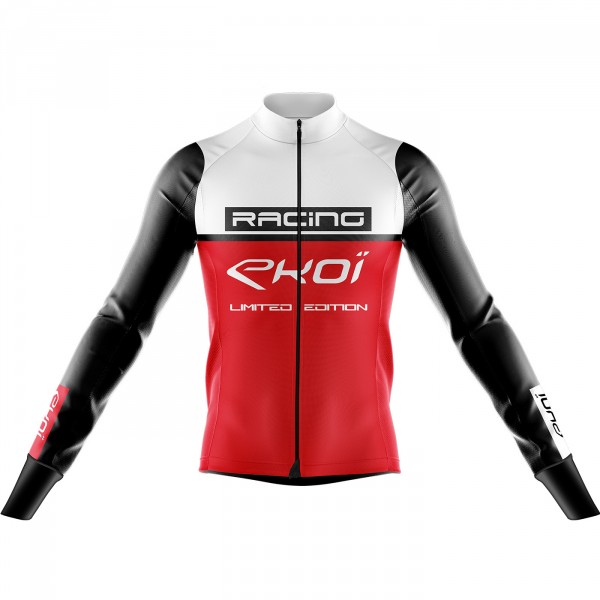 Jersey EKOI RACING 7°C White/Red
We welcome your feedback !
Shipping and returns
Free returns Except during official French sales periods : Returns policy
Shipping information to : France

Delivered between 29/09 and 01/10
For any order placed before 12.00, delivery in 1 to 3 days.
Free delivery starting from 99,99 € purchase
Price :
9,99 €

Delivered between 28/09 and 30/09
Retrait en magasin dans la journée

Delivered between 30/09 and 02/10
Delivery in a pick-up point of your choice in 4 days.
Free delivery starting from 69,99 € purchase
Price :
4,99 €

Delivered between 30/09 and 02/10
For any order placed before 12.00, delivery in 1 to 3 days.
Free delivery starting from 89,99 € purchase
Price :
6,99 €
Product features
- Breathable fleece lined fiber made in Italy 180 gr
- COLD STOP cuffs ( developed by EKOI which avoids the wind and cold in)
- Elastic bands (front 5 cm & back) for a perfect fit
Use
- Road or MTB
- Competition or training (to wear with our technical base layer EKOI 1st layer)
- You can wear almost all year long
- Efficient down to 7° C
Technical features
- Made in Italy fleece lined micro perforated fiber
- YKK self-locking zip (efficiency & longevity)
- Flat seams
- 3 back pockets

- Sizes S to 3XL
Material
100% polyester fleece lined fiber 180 gr
Washing instructions
Machine wash 30°
No tumble dry
No softener
No dryer
No Ironing
|   | Weight | Max Sizes |
| --- | --- | --- |
| S | < 66 kg | 1.75 m |
| M | 67-73 kg | 1.80 m |
| L | 74-81 kg | 1.85 m |
| XL | 82-88 kg | 1.90 m |
| 2XL | 89-95 kg | 1.95 m |
| 3XL | 96-105 kg | > 1.95 m |
The EKOI RACING 7° C long sleeve jersey is worn for a large part of the year, under a thermal jacket in cold weather or simply with a technical base layer in spring or autumn.

It is efficient down to 7° C with a technical base layer
Colour

: Blanc Rouge

Temperatures

: 7°
Good quality but thin and only usable in cold summer mornings/evenings.

Patrick L.

Level : Learner

Age : 55-64

09/24/20

Comme d'habitude, j'ai reçu cet article très rapidement. Ce maillot est très beau, bien taillé (L pour 1,73m et 76kg) et visiblement de bonne qualité. Pour le reste, je ne peux en dire plus, ne l'ayant pas testé sur route, il ne fait pas encore assez froid.

Jean-louis C.

Level : Amateur

Age : 65+

09/24/20

Excellent produit, conforme a mon attente. Je dois dire que client de votre marque depuis seulement cette année je suis entièrement satisfait de tous les équipement achetés.

Christophe B.

Level : Avancé

Age : 35-44

09/24/20

Très bon maillot, chaud et léger.
Pour la taille j'ai pris L (1.82m, 73kg), il est peut être un peu lâche, le M serait peut être mieux pour ceux qui veulent qqch qui colle au corps.


Odpovídající, skvěle padnoucí a popisu odpovídající

Bien
Conforme à mon attente.

Habría que ajustar la tabla de tallas.
Pillé una M pensando que quizás me iba a quedar justisima, y resulta que me queda enorme.

Maillot racine 7°blanc rouge

Je suis vraiment satisfait de ce produit (prévoir un maillot de peau en dessous pour éviter d'avoir froid)

Maillot conforme aux attentes
1ere couche assez chaude indispensable dessous car sur 2 sorties a 10 degrés avec soleil par moment c était limite froid en début de sortie
Bon confort taille ok par rapport aux co seils

Francisco Javier J.

12/27/19

Estoy muy satisfecho con el Maillot se ajusta muy bien, la calidad es muy buena y el diseño esta muy chulo. La talla recomendada es la M según la web con mis medidas y peso 1,82cm/ 74 Kg y me queda perfecto. En mi primera salida habían unos 3° C y no pase frío llevándolo con una térmica de manga larga debajo solamente. En definitiva seguiré comprando en Ekoi sin duda. El aspecto mejorable es el tiempo de entrega 1 semana, por lo demás todo OK.

Maglia nel complesso discreta, misure non idonee

taglia S troppo grande, per me inutilizzabile

Jean Francois T.

12/21/19

Très bon produit conforme à la description je le recommande

la veste fait son boulot. Agréable à porter, je confirme que c'est un bon achat.

Conforme à la commande. Rien à dire de négatif après plusieurs sorties.

Seule remarque sur ce maillot en taille S, au niveau du col, le tour de cou reste lâche fermeture remontée jusqu'en haut. Est -ce dû à un défaut du produit reçu ou la coupe est elle faîte ainsi ?

Maillot de trés bonne qualité.Aucune sensation de froid lors de sortie avec des températures proche des 4 degrés, bien sûr, je mets une veste thermique .J'ai pris la taille L ,et les manches sont assez longues et couvrent bien les poignets.Je suis equipé en produits EKOI pour pratiquer mes entrainements en période hivernale, et j'en suis trés satisfait . Ancien coureur cycliste, je recommande les produits EKOI, véritable leader dans les rapports Qualité, Prix .