EKOI LEGENDE Black Gold Helmet
EKOI PREMIUM PRODUCTS
EKOI has developed a premium range primarily for the use of the fantastic athletes we have the distinct honour to equip. These exceptional champions require the very best products, every gain is important and can mean the difference between the win, a podium place or just a finish. It is perfectly normal that we should make these exceptional products available to all our customers.
Designing a PREMIUM product requires the input of a team of specialists from A to Z and is a task that is far more time consuming and difficult than one might, initially, imagine.
All the products in the EKOI PREMIUM range are designed on the criteria of the pro riders we supply, we listen to what they require, then our design team takes on the task, working with the manufacturer to design a stylish and functional product. We thoroughly test the first prototypes, iron out any problems and only when completely satisfied do we give the go ahead to the manufacturer to begin production.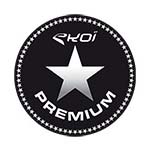 - Product DESIGN is the work of a French or Italian designer, it is then validated and tested by our own in-house team as well as by the same pro riders who initially tasked us.
- The product is developed by our designers, who work exclusively for EKOI.
- The product is tested at least 3 times in real conditions before approval for sale.
- The product is made using the best available materials.
- Production is 100% made in EUROPE (for optimal quality control of the materials used and the finish that must be PERFECT).
The aim is not to obtain excellent value for money but, above all, to create the best available product whatever the cost and the time required to take the product to market. Our levels of stock will purposefully remain low and the product life of each individual product is strictly linked to it's continued use by the athletes we supply (the product will remain available for as long as it is being used by our pro riders)
Only SILVER and GOLD VIP Club discounts will be accepted.
All promotional codes can not be applied to PREMIUM products
We welcome your feedback !
Shipping and returns
Free returns Except during official French sales periods : Returns policy
Shipping information to : France

Delivered between 18/12 and 20/12
48/72h to your door or at the post office
Price :
£5.00

Delivered between 17/12 and 19/12
For any order placed before 12.00, delivery in 1 to 3 days.
Price :
£7.50

Delivered between 20/12 and 23/12
Delivery in a pick-up point of your choice in 4 days.
Free delivery starting from £33.37 purchase
Price :
£4.16

Delivered between 18/12 and 20/12
For any order placed before 12.00, delivery in 1 to 3 days.
Free delivery starting from £83.44 purchase
Price :
£5.83
Product info
The all new, ground breaking EKOI LEGENDE helmet has been designed by Benjamin BLANCHARD, then checked and validated by 2 Italian designers at the forefront of bike and motor bike helmet design. Made in Italy by a company that specialises in the manufacture of top-of-the-range cycling helmets.

The initial helmet design was then extensively tested and tweeked (as necessary) in the wind tunnel for optimal air penetration and air flow, and FINALLY it was personally tested and improved by, none other than, Romain BARDET, who has worn the helmet every day for training or racing since the start of the 2018 season.

The development of the EKOI LEGENDE helmet has required 2 years of painstaking work. We would like to thank Romain BARDET for his invaluable assistance in the development and refinement of this helmet, that he wore for the very first time in public on the Tour de France 2017 on the 14th of July (St Girons-Foix) stage, already a year ago, but those 12 months were necessary to improve helmet comfort and above all to reduce its weight (by 30g).

The design of this product was inspired by the first leather helmets seen in the 40's and called a hairnet (in English) or a boudin in french. Extremely well ventilated, with a wraparound shape for optimal air flow and protection, associated with the necessary comfort required for bike racing.
Product features
Every helmet comes supplied with:
3 different foam thickness options
+ an insect net

- Internal cage in polypropylene for reinforced protection in the event of a crash.
- CAD-designed ergonomic shape (adapted to most european head shapes)
- Modern magnetically-closing buckle for precision fastening
- Optional transparent aero shell (sold separately) for added aerodynamics and protection from the rain and cold.
- Exceptional and never before seen helmet finish: transparent micro shell with the choice of brilliant, matt or GOLD finishing
- 28 vents for unbeatable ventilation.

- Height and circumference occipital adjustment + the choice of 3 different foam thicknesses for the perfect fit.
- Height adjustable occipital bone dial for a precision fit for every head shape.
- Specific left and right occipital adjustment for that precision fit for every head shape.

- 100% made in Italy.

- 5 YEAR WARRANTY (against all impairments, except in the event of a crash)
- HELMET (CRASH) REPLACEMENT WARRANTY: We will replace your helmet at half price should you damage or break your helmet resulting from a crash (warranty applies for the first 2 years following helmet purchase)

Use
For use:
Road cycling: Training and racing
Technical features
- Full (liner & shell) In Mold.
- 28 vents.
- Ventilated straps (excellent wicking).
- 3 different foam densities to choose from + an insect net are supplied with the helmet for the perfect helmet fit adapted to fit every head shape and size.
- Fully-adjustable straps (below each ear).

- 9 different colour options: National colours of France / Italy / Belgium / Spain. Plus matt black & brilliant white / Transparent / Matt black / Gold / AG2R La MONDIALE TEAM REPLICA
- Further customising options on the EKOI configurator (foam colour , wearer's name)

Helmet weight:
- 235g in size S/M 55/58 cm
- 255g in size L/XL 59/62 cm


La norme CE (NF EN ISO 12312-1:2013 + ISO 12312-1 2013) est conforme aux lois en vigueur dans les pays de l'Union europeenne.
Cette norme CE 1078 n'est pas valable aux USA ( norme CPSC obligatoire) ou en Australie. Nous vous conseillons (si vous vivez hors de l'Union européenne )de vous informer sur la norme en vigueur conforme aux lois de votre pays ou de contacter notre service information produit Ekoi qui vous renseignera.
Material
- High-density, ultra light EPS with internal polypropylene cage.
The type of polystyrene used has been specifically selected for its performance and density.
S/M (55/58cm)

L/XL (59/62cm)