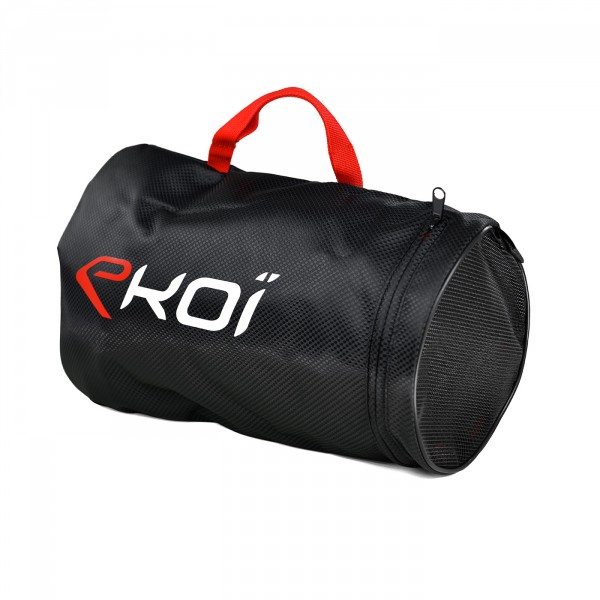 EKOI 2016 Post-race Sports Bag
We welcome your feedback !
Shipping and returns
Free returns Except during official French sales periods : Returns policy
Shipping information to : France

Delivered between 09/04 and 13/04
For any order placed before 12.00, delivery in 1 to 3 days.
Free delivery starting from £61.95 purchase
Price :
£7.07
Used by professional and elite riders for their damp post-race cycling gear and shoes.

Product plus points:
- A practical cyclindrical shape
- A well-ventilated bag with compartments allowing wet gear to be separated from dry stuff .
Really confortable helmet and, as expected, because it needs to be 'aero' and there's almost no wind holes, a bit hot.

great bag for all your wet and dirty clothing

Permet de ranger mes chaussures de trail, un corsaire, un haut thermique, des chaussettes et un bandana.

Bonne qualité mais diamètre trop petit à mon sens pour des chaussures vtt T43..nJ'ai du faire preuve d'imagination pour les faire rentrer..

Idéal pour les chaussures

Pas mal du tout ce sac. Je range mes chaussures dans ce sac qui est bien aéré. Permet notamment au retour d'une sortie pluvieuse de stocker les chaussures tout en permettant leur séchage. J'aime bien.

Hubert Christian Pierre B.

11/12/19

Pas encore utilisé, je l'ai acheté pour transporter mes deux batteries VAE,

Buen producto, recomendable

Buen producto, recomendable

Sac pratique et de très bonne qualité .

Sac pratique et de très bonne qualité .

Meme matière que le sac. Semble robuste. Relativement rigide. Chaussures, couvres chaussures et chaussettes rentrent parfaitement. Belle bagagerie dans l'ensemble.

Un déplacement en voiture pour sortir d'une ville avant de se lancer dans une longue sortie, ce sac est idéal pour regrouper toutes les petites affaires, compteur vélo, ravito, pièce d'identité, argent, lunettes, etc.

Très pratique pour les déplacements

Merci pour ce petit cadeau bonus très appréciable!

Sac de rangement cylindre ekoi

RAS super.

Idéal pr mettre des affaires sales !
Ou chaussures

Excellent pour les affaires

impeccable pour transporter ses affaires

Sac de rangement pour casque et chaussure

Vraiment super pratique !

Un des indispensables de l'équipement du cycliste

Tres bien. Personnellement, je l'utilise pour le rangement de mes chaussures après la randonnée. Fini le coffre de voiture mal rangé... chaussures (pour ma part) ou autres équipements y prendrons place sans soucis (Peut être un peu juste pour le rangement des chaussures MTB hiver... a voir).

Très bon produit , mon fils l'utilise pour mettre ses vêtements de velo lorsqu'il se change entre deux épreuves.

Pas cher, pratique et remplis la fonction. Peut servir de mini sac aussi pour d'autre activité.

Pratique pour mettre le linge sale ou les chaussures de vtt boueuses avant de monter en voiture.
Les dimensions : environ 44cm x 25 cm.

Vendue comme sac pour vetements sales celle ci est aussi tres pratique pour les chaussures... avec aération. Je recommande ce produit léger et très pratique...

Pour le prix en soldes rien à redire
Très pratique

Ekoi 2016 post-race sports bag - size : unique

sac très pratique pour séparer votre linge après une course dans le sac de sport a roulette EKOI

Sac de rangement ekoi 2016 - taille : unique

Pas eu le temps de m'en servir mais cela semble nikel

Sac de rangement ekoi 2016 - taille : unique

Beau et bon produit de qualité