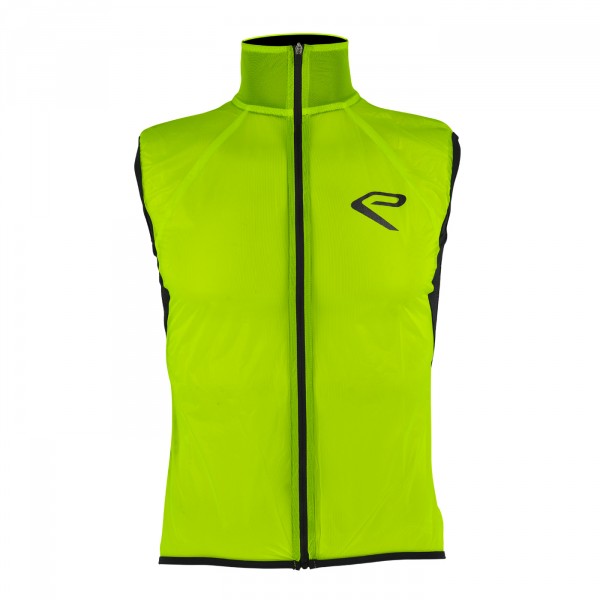 Rain Vest EKOITransparent Yellow
We welcome your feedback !
Shipping and returns
Free returns Except during official French sales periods : Returns policy
Shipping information to : France

Delivered between 29/09 and 01/10
For any order placed before 12.00, delivery in 1 to 3 days.
Free delivery starting from 99,99 € purchase
Price :
9,99 €

Delivered between 28/09 and 30/09
Retrait en magasin dans la journée

Delivered between 30/09 and 02/10
Delivery in a pick-up point of your choice in 4 days.
Free delivery starting from 69,99 € purchase
Price :
4,99 €

Delivered between 30/09 and 02/10
For any order placed before 12.00, delivery in 1 to 3 days.
Free delivery starting from 89,99 € purchase
Price :
6,99 €
Product info
This rain gilet has been designed specifically for motivated cyclists, extremely lightweight, close fitting, it takes up little space in a jersey back Pocket. As it is transparent the jersey and race number if involved in competive cycling is still visible.
Product features
Waterproof except under the arms
Exceptionally light
Elasticated micro-perforated armhole panels for the comfort and to avoid the "sail effect" when racing
Lined higher collar for the comfort
Use
For use:
Training and racing
Can be worn when warming up, descending a col or in the event of unforesen light showers
Technical features
- Ergnomic cut with dropped down tail
- Elasticated armholes and waist
- Full-frontal zip
- Soft and lightweight, easily packs away in a jersey pocket (Comes with its own little pouch)
- Weight 100g in size M
Washing instructions
Washable at 30°C (DO NOT tumble dry)
| | | |
| --- | --- | --- |
| S | < 63 kg | 1.70 m |
| M | 64-69 kg | 1.75 m |
| L | 70-74 kg | 1.80 m |
| XL | 75-79 kg | 1.85 m |
| 2XL | 80-85 kg | 1.90 m |
| 3XL | >86 kg | > 1.90 m |
Sale type

: new

Technology

: Dry
Gerard C.

Level : Expert

Age : 55-64

08/04/20


Belle coupe, aération côté très sympa, fait le Job / sécurité bien visible

Gilet léger et agreable super pratique et efficace

Trop petit. J attends de pouvoir le retourner pour récupérer un XXL

Merci pour votre commentaire.
Vous pouvez en effet effectuer un retour gratuitement (frais pris en charge par Ekoï).
Sportivement,
L'équipe Ekoï.

Bueno con viento y frio en carretera. Veremos con lluvia k tal va. Talla justo para un 160 y 60 kilos talla s

Bien qu'ayant pris du xxl celle-ci taille trop petit. Dommage

Buen material, talla pequeña

Muy buen material, aunque la talla és pequeña.
Siempre uso la talla M en mis compras de material ekoï, pero en este chaleco tuve que cambiar por una talla L.
El trato fenomenal el cambio por talla perfecto

Pas encore testé sous la pluie mais très bien en coupe vent. Très pratique par sa taille mini, prendre une taille de plus que la taille normale (par exemple : pour du M prendre du L)

Au delà de la protection contre la pluie, la couleur jaune permet d'être vu de loin, notamment sur les routes de campagne où les gens roulent de plus en plus vite sans prêter attention aux cyclistes.
La taille L est parfaite pour moi (1,75 m et 77 kg). Un vêtement qu'il est indispensable d'avoir en hiver lorsque les journées sont plus sombres qu'en été. Je recommande ce produit Ekoi sans hésiter.

Bon produit mais attention ne pas hésiter à prendre 2 tailles au dessus ( surtout si 2 sous-couches ou utilisation d'un " camelbak" en dessous).

Gilet pluie translucide jaune

tres beau gilet souple a porter hyper light faire tres attention taille vraiment petit !!!! prendre 2 tailles au dessus c'est nickel

Ottimo prodotto, buona vestibilità

Perfecto y cómodo. Abulta poco

Perfecto y cómodo. Abulta poco

Gilet utile pour être bien vue. Je regrette qu'il n'y Pas de poche dans le dos comme les maillots de cycliste. Je mesure 1.78m pour 70kg j'ai pris un taille L, quand je met une veste d'hiver le gilet est vraiment trop serré risque d'abimer lá fermeture éclair. Je conseille de prendre un XL

Avec la recherche d Aerodynamisme, ce casque est plus gros qu un Ar13. À mon niveau et ma pratique en club il n est pas d une grande utilité au final. A mon goût , il est trop imposant sur la tête, mais produit superbe malgré tout.

gilet commandé en XXL. Ne correspond pas du tout à cette taille.Je me demande s'il n'y a pas eu erreur .
Taille très petit.Correspond à une taille L.Dommage que lors de la commande ceci ne soit pas précisé.
Cela nous éviterai des démarches de retour.