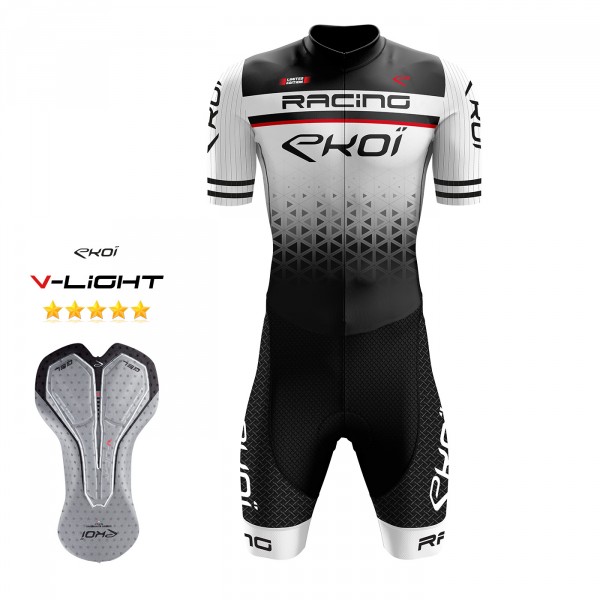 SUMMER SKIN SUIT GEL EKOI LTD RACING WHITE
We welcome your feedback !
Shipping and returns
Free returns Except during official French sales periods : Returns policy
Shipping information to : France

Delivered between 02/06 and 04/06
For any order placed before 12.00, delivery in 1 to 3 days.
Free delivery starting from £80.96 purchase
Price :
£8.99

Delivered between 03/06 and 05/06
For any order placed before 12.00, delivery in 1 to 3 days.
Free delivery starting from £62.97 purchase
Price :
£6.29
Product info
The skin suits provide amazing comfort & free movements.
They are aesthetic & effective because they perfectly protect the kidneys.
These suits are more & more worn by professional during the classics but also by regular cyclists
Product features
- Aesthetics: skinny look (no pleat)
- No straps for a real comfort.
- Laser cut chrono fabric sleeves.
- New GEL V light padding (made in Italy) (V shape which optimizes comfort when pedaling; ultra light & breathable padding)
- Pee stop possible without removing the suit (opening on the front)
Use
Use : On road from end of april to end of september (depoending on the area or country)
Technical features
- Windproof jersey fabrics
-High neck
- Micro perforated back fabric
2 diff lycra on bibshorts : embossed (for strength and anti-slip on the saddle and cross effect on sides
- Flat seams
- Micro perforated elastic bands with silicone inserts at thighs
- Self-locking YKK zip
- 2 back pockets
- Zip protection/garage to avoid shorts damaging
- 5 sizes: S / M / L / XL / 2XL
Material
100% Polyester
Washing instructions
Machine wash 30° C in a net bag to avoid other garments or velcro from rubbing together
No Dryer
No ironing
|   | Poids | Taille maximum conseillée |
| --- | --- | --- |
| S | < 60 kg | 1.75 m |
| M | 61-70 kg | 1.80 m |
| L | 71-77 kg | 1.85 m |
| XL | 78-85 kg | > 1.85 m |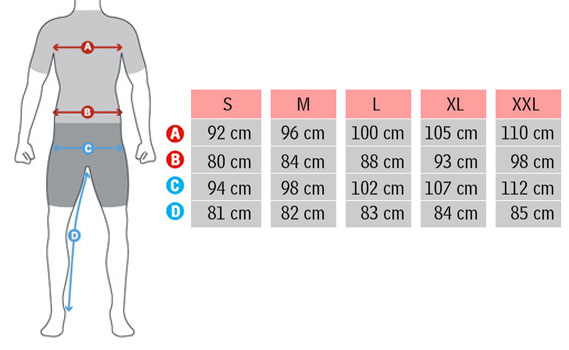 Top top top nickel ( 1,83 m. 70 kg ) En M' elle taille bien et elle est super confortable

Très belle tenue, confortable .. Un pti souci avec une remise ..., g tel au service problème réglé en 1' par une personne très aimable merci ekoi

Mi sono lasciato prendere dalla tentazione ed ho deciso di provare con l'acquisto del mio primo completo body. rnHo preso una 'L' con l'ausilio del misurometro, mi sono fidato ciecamente considerate le mie misure (1,86×75) ed è risultato perfetto, calza in modo impeccabile, lo si indossa in modo confortevole ed anche il fondello è buono, per la mia struttura fisica è aderente proprio come lo desideravo. Consigliato!!!

Superbe qualité , vivement la première sortie avec.