EKOI ARKEA SAMSIC PRO TEAM Sprint skinsuit
We welcome your feedback !
Delivery options and returns
Shipping information to :
United States

Shipping cost £35.07
Delivery between 21/05 and 23/05
Delivery in 1 day by end of day for deliveries in the same country, 1 to 5 days by end of day in the rest of the world.
Free returns (Except sale periods)
Special gift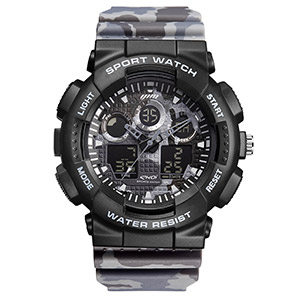 For any order over £130, you will receive an LTD EKOI WATCH
Offer valid while supplies last, based on the total amount before shipping costs.
Product info
Aero skinsuit specially developed for, and with the invaluable feedback of, the ARKEA SAMSIC team's riders. Skinsuits have become essential items for pro riders, why not you?
Product features
- Designed and developed with the ARKEA SAMSIC riders and in particular with André Greipel.
- Latest generation pad with gel inserts.
- Aero ( tested and perfected in the wind tunnel in Milan)
- Specifically-designed fabric for racing at the highest level, aerodynamic, lightweight soft, breathable and resistant.
- Comfort (strapless).

- Fabric made in Italy.
- Product manufactured in Spain.
Use
For use:
Road cycing: training and racing, skinsuits are frequently worn by the pro riders because of their comfort (no straps) and aero features. Skinsuits have become essential items for sprinters and classics riders.
Technical features
SKINSUIT UPPER:
- Chest in micro-perforated fabric with hidden zip (optimal breathability).
- Sleeves in micro-perforated fabric, no cuff hems (second skin effect.
- Lycra for the sde panels (stretchability) and aero.
- Perforated fabric used for the back panel (breathability).
- 2 back pockets for the essentials only.

SKINSUIT LOWER:
- Injected gel shape-memory pad.
- Waffled 230g Lycra (resistance and breathability).
- Smooth-finish Lycra lisse (aerodynamic and stretchable).
- Comfort stop aperture.
- 7cm-wide elasticated thigh bands with silicone for the perfect support throughout the pedal stroke.
Material
- 83% Polyester.
- 17% Lycra.
Washing instructions
- Machine wash at 30°C
- Do not spin.
- Do not use fabric conditioner.
- Do not tumble dry.
- Do not iron.
| | Weight | Max Size |
| --- | --- | --- |
| S | < 60 kg | 1.75 m |
| M | 61-70 kg | 1.80 m |
| L | 71-77 kg | 1.85 m |
| XL | 78-85 kg | 1.90 m |
| 2XL | 86-92 kg | 1.95 m |
Sponsored athletes

: ARKEA SAMSIC

Sale type

: new

Range

: Pro