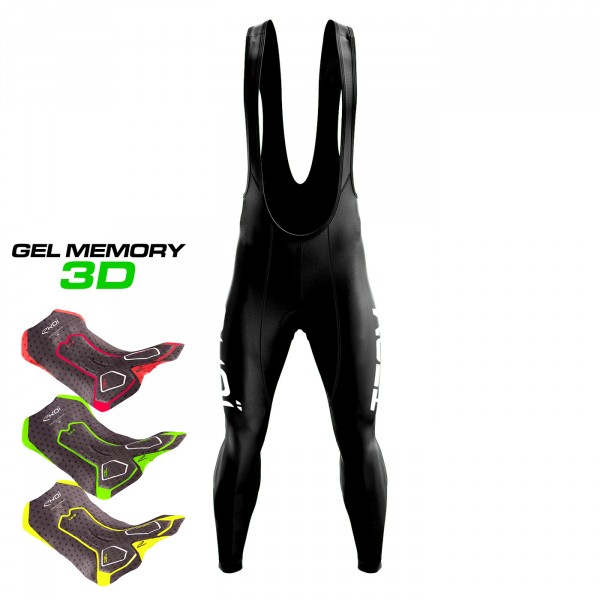 WINTER BIBTIGHTS EKOI TEAM Gel MEMORY 3D
We welcome your feedback !
Shipping and returns
Free returns Except during official French sales periods : Returns policy
Shipping information to : France

Delivered between 30/09 and 02/10
For any order placed before 12.00, delivery in 1 to 3 days.
Free delivery starting from 99,99 € purchase
Price :
9,99 €

Delivered between 29/09 and 01/10
Retrait en magasin dans la journée

Delivered between 01/10 and 03/10
Delivery in a pick-up point of your choice in 4 days.
Free delivery starting from 69,99 € purchase
Price :
4,99 €

Delivered between 01/10 and 05/10
For any order placed before 12.00, delivery in 1 to 3 days.
Free delivery starting from 89,99 € purchase
Price :
6,99 €
Product features
-GEL padding with shape memory adapted to your weight. (3 different densities depending on your weight). The GEL padding will keep its original shape without getting tight & will dampen the micro vibrations caused by a light saddle & a bike + increasingly rigid wheels.

- SUPER ROUBAIX thermal fiber (keeps the body at a constant temperature) wicks sweat and moisture quickly.
- Padding with antibacterial treatment .
- Fabrics made in Italy.

- WR ° treatment (optional) makes the lycra waterproof (against splashing water).
Use
Training or competition/road or MTB - Efficient down to 0° C
Technical features
The SUPER ROUBAIX made in Italy thermal fleece is a technical fiber with the following properties :

- Excellent thermal body insulation (protects from cold & humidity).
- Tights fully lined fleece inside , soft, warm, and comfortable.
- Pantyhose with elastic band + silicone for a perfect fit.
- Ankle zippers to put on or remove the tights easily
- Flat seams for increased strength & optimum comfort.
- Shaped ergonomic cut.
- Made in Italy.
Material
100 % Polyester
Washing instructions
Hand or machine washing 30° maximum -
Up side down washing is recommended
No softener
No dry clean
No dryer
No ironing
|   | Weight | Max Size |
| --- | --- | --- |
| S | < 66 kg | 1.75 m |
| M | 66-75 kg | 1.78 m |
| L | 76-83 kg | 1.83 m |
| XL | 84-90 kg | 1.90 m |
| 2XL | > 90 kg | 1.95 m |
You wil be surprised by this EKOI TEAM tights .

It is very comfortable, warm and soft

Entierely fleece lined & efficient down to 0° C

Also In treated WR version :
A water-repellent treatment is available as an option on both versions : this treatment makes your tights waterproof against moisture and splashing water (but not effective in case of heavy rain)


To be customized on our configurator
Pad

: Gel Memory

Range

: Limted edition

Temperatures

: 0°
Very good quality tights, great fit, gel very comfortable. Make sure you read the fitting instructions, to save having to return for exchange. Thank you Ekoi

Good quality and value bib tights

Good quality, perfect for cool but not freezing mornings. Slightly tight for the size and I prefer the fitted pad in most of the bib-shorts as this one feels slightly thicker and doesn't immediately adjust.

A falta de poder probarlos en la carretera (confinamiento), la sensación es muy buena. Cómodos, buen ajuste y bonitos. Cuando los pueda probar de verdad ya diré.

Ottimo prodotto, ben fatto

Très confortable sauf bretelles

Très bon cuissard, confortable surtout au niveau de l'assise sur des sorties VTT de plus de 2h30. Taille relativement petit (L pour 1m80 et 72Kg et il est très ajusté mais le guide des tailles sur le site a fait son boulot !) Le seul vrai inconvenient est l'irritation aux tétons à cause des bretelles...à la place du mesh un tissus fin et lisse (comme sur d'autres marques) aurait été apprécié. Acheté en promo et rapport qualité/prix au top !

Cálida y comodidad excelente

Heb deze broek aangeschaft, en was bijzonder tevreden van hoe ze aansluit aan het lichaam. Het beschermt je goed tegen koude of wind. Ikzelf ben 165cm weeg 79kg. En heb mij een large besteld. Ik weet dit omdat deze broek gemaakt word in Italië. Heb deze maat ook bij castelli en alé. Anders maat medium

SuperQualität Gutes Sitzkissen Gerne Wieder

Het zeem komt zeer laag (te kort) aan achetrzijde van de broek

Leider ist die Hose zu klein

Taille trop petit même en suivant le guide des tailles et la fermeture éclaire de la jambe droite défectueuse très déçu de mon achat je ne recommanderai pas 2commandes avec problème la première des lunettes avec une marque sur un verre .rnSoit j ai pas de chance ou les produits sont pas top .rnBrisset eric

Eric un conseiller vous recontacte ce matin

Absolut geniale Hose, die hält was sie verspricht und meine Erwartungen weit übertroffen hat. Design, Material, Passform, Funktionalität - ich könnte rein gar nichts benennen, wie man diese Hose optimieren könnte. Ich bin rundum zufrieden und kann gar nicht glauben, dass ich über den Winter Sale eine solche Hose zu einem absolut fairen (fast schon günstigen) Preis bekommen habe. Klare Kaufempfehlung.

Confort parfait et protection gel vraiment très bien. J'attends de pouvoir sortir pour tester son efficacité par temps de pluie.

Bon produit pour l'inter saison , pour l'hivers il me semble un peut léger

Bon produit, largement assez chaud pour les hivers doux du sud de la France.

bon produit ,bien fini et confortable mais trop serrant au niveau des cuisses meme en taille XXL .

Collant hiver ekoi team gel memory 3d - taille : xl

Livraison rapide et conforme à la commande.
Collant bien chaud et confortable. Le gel 3D est top. Sortie de plus de 3h sans aucune douleur.
Taille XL correspond à une personne 1m84/83kg


Cuissard parfaitement ajusté et performant.

Bon produit mais il taille petit pour moi avec cuisses assez développés

produit conforme bien ajuster,collant qui colle bien aux jambes (le mien était bien vieux) essayer sur une sortie de deux heure la Peau GEL est excellente

Bonne qualité - Très près du corps - Agréable à porter

après SORTIE DE 2H30 la marque des coutures est imprimée sur les jambes ( sans ressenti)ceci est du au fait que ce collant taille petit- A recommander rapport qualité prix

Collant hiver ekoi team gel memory 3d - taille : xxl

Tres bien

Ya veremos si funciona el tratamiento WR. Tengo otro culote igual sin WR, y yo los veo igualitos. Espero que no me la hayan colado.

+ Passform ist sehr gut.
- Leider fallen die Größen kleiner aus.
- Etwas Kälteempfindlich im Bereich Oberschenkel. Anderes Material. Ansonsten gute Wärmeisolierung.
+/- Reisverschluss am Bauchbereich wäre vorteilhafter.

Lange winterbroek ekoi gel memory 3d

Top broek,maat klopt precies zeer tevreden.

Taille L bien ajustée (pas comme la veste thermique Racing 0°)
La peau est vraiment agréable.

j'ai commandé une première fois ce collant long (promo 50%) en taille L. Je mesure 1.77 pour 75/76 kg. J'aurai presque pu prendre du M selon le tableau des tailles proposé sur le site. A la réception, le collant était trop petit! C'était plutôt un vêtement de contention au niveau des cuisses et pourtant je suis dans le format "Bardet". J'ai donc retourné l'article (à mes frais!) pour prendre un XL (taille jusqu'à 1.90 m pour 84 à 90 kg) et là encore, même s'il y du mieux c'est encore très serré au niveau des cuisses. Il m'est arrivé la même déconvenue sur l'achat d'un cuissard court sur ce site. Je pense qu'Ekoi devrai déjà en premier lieu préciser quand un article est d'origine italienne ( tendance à tailler très petit) et d'autre part à revoir le tableau des tailles. Sur le produit en lui-même, il est de la qualité attendue dans cette gamme de prix.

Tengo muchas marcas pero este es mejor sin duda

tengo muchas marcas pero este es mejor sin duda

Tengo muchas marcas pero este es mejor sin duda

tengo muchas marcas pero este es mejor sin duda

Taille petit par rapport aux anciens xl

Différence de taille en XL

J ai attendu de porter lors de plusieurs sorties ce collant ;très bon produit qui répond totalement à mes attentesA recommander

Calzamaglia perfetta, vestibilità ottima

Collant hiver team gel mémory 3d

Très bon produit mais taille un peu juste d'après le guide des tailles, il vaut mieux prendre du XL (je mesure 1m80 pour 78 kgs)
Sinon je recommande vivement ce site

il fit bien, tiens chaud et il est agréable a porter. que demander de mieux... si il est confortable sur de longue distance, j'ai pris le rembourrage le plus fin car pèse 72kg, il est suffisant mais je confirmerais ça sur une sortie plus longue (150km)

Bon cuissard, confortable

La peau en gel est très confortable sur des sorties de +- 2h et j'imagine pouvoir rouler plus longtemps sans problème.

Vestibilità pessima, almeno 2 tg sotto quella indicata, ho dovuto renderli, peccato

J'ai directement ressenti une sensation de chaleur. Ce cuissard est très confortable et je me suis senti très à l'aise sur la selle pour une sortie de 3h.
J'ai pris une taille M, je fais 173cm pour 72kg.