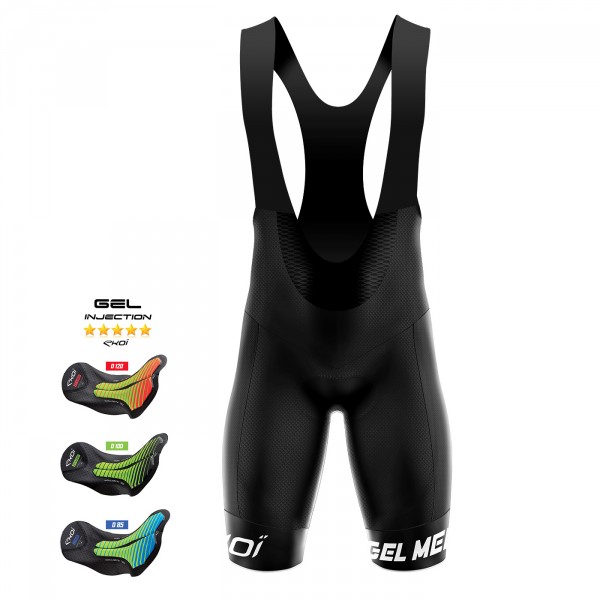 Bibshorts EKOI PRO GEL MEMORY Comfort
We welcome your feedback !
Shipping and returns
Free returns Except during official French sales periods : Returns policy
Shipping information to : France

Delivered between 02/06 and 04/06
For any order placed before 12.00, delivery in 1 to 3 days.
Free delivery starting from £80.96 purchase
Price :
£8.99

Delivered between 03/06 and 05/06
For any order placed before 12.00, delivery in 1 to 3 days.
Free delivery starting from £62.97 purchase
Price :
£6.29

Product info
- SELECT YOUR PADDING ACCORDING TO YOUR WEIGHT :
Current road bikes are becoming more 1 more rigid, the saddles are becoming lighter, the country or mountain roads on which we have to ride are sometimes in poor condition, if you ride from time to time 2 or 3 days in a row you certainly feel discomfort in your ischia on the 2nd or 3rd day, 75% of sports cyclists training 2 to 3 times a week complain of recurring back or kidney problems ... These shorts were designed for optimal comfort on saddle, straps without hems & its cut.

- CUSTOMIZED AMORTIZATION ACCORDING TO YOUR WEIGHT IS AN EVIDENCE :
The paddings gel injection with shape memory are designed according to the weight of the user for their comfort but also to absorb vibrations & micro trauma at the ischia & perineum without the density deteriorating over time.
Our shape memory material retains its elasticity & properties over time.

- INJECTION GEL PADDINGS ARE COMPOSED OF AN ANTI-BACTERIAL COATING :
For optimal hygiene even after long hours of stool in extreme conditions.

- MOISTURE REGULATION & SWEAT EXHAUST :
The micro perforations& thermoregulatory ventilation channels on the whole pad allow an air flow & the evacuation of sweat to keep skin dry.

- MADE IN ITALY
Our GEL paddings have been developed & manufactured in Italy because the Italian know-how is unrivalled.
Product features
- 3 different densities adapted to your weight for your comfort & to absorb road vibrations
- 2 different lycras : lycra 250 gr (embossed) at the level of the saddle (resistance of lycra) + lycra (210 gr) lightened on sides of the thighs to evacuate perspiration.
- Straps without hem for perfect & comfortable support
Use
- For sensitive people( (saddle) or in the event of repeated training and long rides on ROAD or mountain bike.
Technical features
Elastic straps without hem with passage between shoulder blades
- Front part in mesh to facilitate pee stops
- Back radio pocket
- Elastic bands (7.5 cm) micro perforated with silicone for perfect support on the thighs when pedaling.
Material
- Embossed Lycra Sport 250 gr + perforated lycra 210 gr
- 100% sport polyester
Washing instructions
- Machine program 30 °
- No dryer or ironing.
- Wash if possible in a white mesh bag to preserve the lycra & avoid friction with other products which could damage the fabrics (Velcro style very
aggressive with lycra).
|   | Weight |
| --- | --- |
| S | < 60 kg |
| M | 61-70 kg |
| L | 71-77 kg |
| XL | 78-85 kg |
| 2XL | 86-95 kg |
Pad

: Gel Memory

Sale type

: best selling

Range

: Pro
Tight fitting bib shorts. I probably should have gotten XL. Green pad is comfortable without being bulky. My only problem with the bib is the inside stitching seams which rub when peddling. It causes abrasion on my upper leg. It's a pity because I like the look and feel of the shorts. I'm 80kg and 180cm tall

Super confortable, pas déçu de la qualité

Parfait même sur 6 heures en route !

He pedido una talla mas de la que uso en otras marcas y me ha costado bastante ponérmelo. Mañana probaré a hacer una salida a ver qué tal.

J'ai pris un cuissard homme car ils sont avec bretelles et c'est plus agréable. Il est très confortable

Fondello ottimo e vestibilità come da scheda, per ora provati solo su rulli non vedo l'ora di poterli usare anche in esterno

taille serre bien les cuisses ou taille plus petit que XL , le cuissard devrait être plus haut sur abdomen.

Merci pour votre commentaire.
Le cuissard ne doit pas être trop haut pour ne pas comprimer l'abdomen en position de pédalage.
Il doit donc descendre légèrement au niveau de la couture du maillot.
Sportivement,
L'équipe Ekoï.

Sehr angenehmer Tragekomfort. Nur zu empfehlen. Beinabschlüsse halten gut. Kleben aber nicht zu stark.
183cm90kg passt perfekt.

Je prends rarement le temps d'écrire un avis suite à un achat mais là je le prends car le cuissard le mérite : super confort et très bonne coupe tant au niveau de l'entrejambe que des cuisses. On oublierait presque qu'on l'a sur soi...nEn plus j'ai bénéficié d'une promo de -50% ce qui fait qu'au prix de 85 eur on est sur un excellent rapport qualité/prix !

testato sui rulli fondello comodissimo, non vedo l'ora di poter provarlo in strada su un'uscita lunga

Die Hose sitzt perfekt, und der Einsatz fühlt sich sehr gut an

La peau gel est très très confortable, le guide des tailles à très bien fonctionné pour moi.
Le lycra est très confortable et agréable au toucher.
Parfait, avec un rapport qualité prix excellent et une livraison rapide, malgré le confinement.
Le tchat est aussi très réactif et très honnête.
Ekoi, au top.


bin 1m85 gross und 77kg sie geben an dass die Grösse L genügt ein XL vermute wäre die bessere Grösse

RAS.
Bon produit,belle coupe et bonne livraison comme d'habitude.
Je recommande.

Le cuissard a été livré deux jours après la commande. Il est parfait sur la taille et les bretelles larges participe au confort d'utilisation. Je l'ai essayé que sur home traîner. Je suis impatient comme beaucoup d'autre de le mettre sur des sorties longues durées.

Je suis très content de mon achat du cuissard, bonne qualité, bon confort, à vérifier sur long trajet. Délai de livraison rapide.

Prima broek helaas dat nu de prijs € 25 minder is.