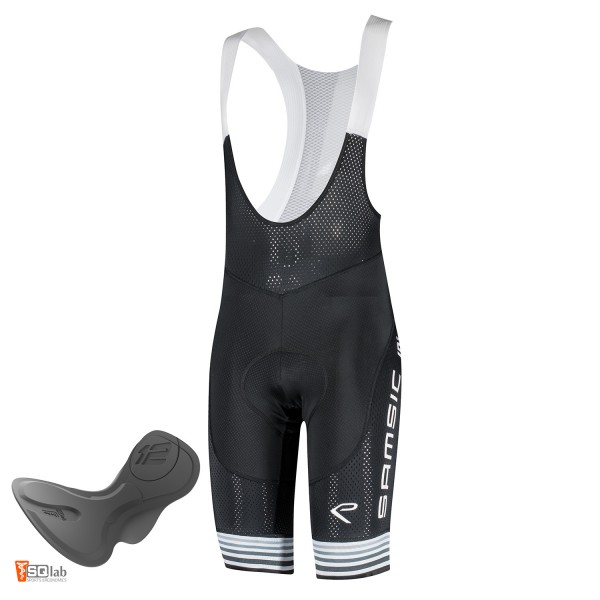 EKOI ARKEA SAMSIC PRO TEAM Refreshing bib short
EKOI PREMIUM PRODUCTS
 EKOI has developed a premium range primarily for the use of the fantastic athletes we have the distinct honour to equip. These exceptional champions require the very best products, every gain is important and can mean the difference between the win, a podium place or just a finish. It is perfectly normal that we should make these exceptional products available to all our customers.
Designing a PREMIUM product requires the input of a team of specialists from A to Z and is a task that is far more time consuming and difficult than one might, initially, imagine.
All the products in the EKOI PREMIUM range are designed on the criteria of the pro riders we supply, we listen to what they require, then our design team takes on the task, working with the manufacturer to design a stylish and functional product. We thoroughly test the first prototypes, iron out any problems and only when completely satisfied do we give the go ahead to the manufacturer to begin production.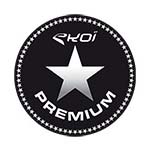 - Product DESIGN is the work of a French or Italian designer, it is then validated and tested by our own in-house team as well as by the same pro riders who initially tasked us.
- The product is developed by our designers, who work exclusively for EKOI.
- The product is tested at least 3 times in real conditions before approval for sale.
- The product is made using the best available materials.
- Production is 100% made in EUROPE (for optimal quality control of the materials used and the finish that must be PERFECT).
The aim is not to obtain excellent value for money but, above all, to create the best available product whatever the cost and the time required to take the product to market. Our levels of stock will purposefully remain low and the product life of each individual product is strictly linked to it's continued use by the athletes we supply (the product will remain available for as long as it is being used by our pro riders)
Only SILVER and GOLD VIP Club discounts will be accepted.
All promotional codes can not be applied to PREMIUM products
We welcome your feedback !
Shipping and returns
Free returns Except during official French sales periods : Returns policy
Shipping information to : France

Delivered between 21/02 and 24/02
48/72h to your door or at the post office
Price :
£4.99

Delivered between 20/02 and 24/02
For any order placed before 12.00, delivery in 1 to 3 days.
Price :
£6.66

Delivered between 24/02 and 26/02
Delivery in a pick-up point of your choice in 4 days.
Free delivery starting from £33.32 purchase
Price :
£4.16

Delivered between 21/02 and 24/02
For any order placed before 12.00, delivery in 1 to 3 days.
Free delivery starting from £66.65 purchase
Price :
£5.82

Product info
Chosen by the UCI World Tour teams for the grand TOURS on excessively hot stages
Product features
Made of 2 different fabrics:

- Perforated 200g LYCRA that is 80% polyamide (softness and durability ) and 20% elastane (stretchability) LIGHTWEIGHT with LIGHT COMPRESSION (Second skin) EFFECT that prevents creasing when riding that would otherwise lead to rubbing and discomfort.

- A perforated waffled lycra is used for the thighs to optimise air flow and to regulate the body temperature, whilst offering excellent wicking.

- An exceptional pad, very soft and thin just (4mm) in thickness for a 360kg/m3 density that absorbs buzz and micro-trauma. Narrow central channel in the area of the perineum to prevent discomfort.

- The micro-perforated silicone stretchable thigh bands are comfortable, providing optimal support throughout the pedal stroke.

- Stretchable straps that are soft and comfortable, mesh element to the back for optimal air flow.
- MADE IN ITALY using Italian fabrics.
Use
The EKOI ARKEA SAMSIC PRO TEAM Refreshing bib short has been designed for the professional peloton and is aimed primarily at the regular cyclist seeking lightweight top qulaity apparel for wear in high températures.
Technical features
- SQULAB pad aimed at the competitor, motivated rider
.
- Preshaped bib short with laser perforations.
- 2 different types of Lycra.
- Silicone logos.
- Flatlock seams.
- Fully perforated elasticated thigh bands with silicone.
- Avalable in 5 sizes from S to 2XL.
Material
- 80% polyamide.
- 20% elastane.
Washing instructions
Hand wash preferably or at 30° in the machine in a white mesh bag
|   | Weight |
| --- | --- |
| S | < 60 kg |
| M | 61-72 kg |
| L | 73-78 kg |
| XL | 79-89 kg |
| 2XL | > 90 kg |

Sponsored athletes

: ARKEA SAMSIC

Pad

: SQ Lab

Range

: EKOI PREMIMUM

Temperatures

: 35°