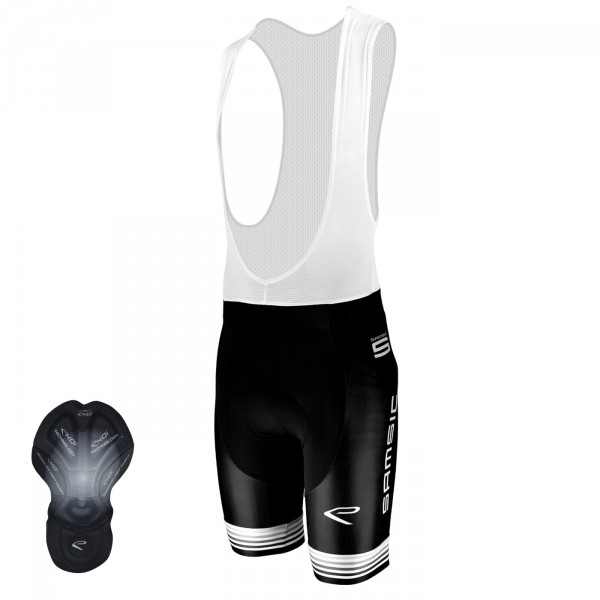 EKOI ARKEA SAMSIC fan bib short
We welcome your feedback !
Shipping and returns
Free returns Except during official French sales periods : Returns policy
Shipping information to : France

Delivered between 28/05 and 30/05
48/72h to your door or at the post office
Free delivery starting from £80.66 purchase
Price :
£8.95

Delivered between 27/05 and 29/05
For any order placed before 12.00, delivery in 1 to 3 days.
Free delivery starting from £80.66 purchase
Price :
£8.95

Delivered between 28/05 and 01/06
For any order placed before 12.00, delivery in 1 to 3 days.
Free delivery starting from £62.74 purchase
Price :
£6.27
Product info
This is not the same bib short as that supplied to the pro riders of the ARKEA SAMSIC, but a more economical version, though the design and motifs are exactly the same as found on the team's bib short.
Product features
- Copy (identical design and coulours to the bib short supplied to the pro team)
- Breathable, gloss lycra
Use
For use:
Road training - rides of under 2 hours
Technical features
- Printed 190g lycra.
- Stretchable mesh straps.
- Elasticated 5.5 cm wide thigh bands silicone.
- 65g foam pad.
Material
- 100% polyester.
Washing instructions
- Machine wash at 30°C
- Do not spin.
- Do not use fabric conditioner.
- Do not tumble dry.
- Do not iron.
|   | Weight |
| --- | --- |
| S | < 60 kg |
| M | 61-70 kg |
| L | 71-77 kg |
| XL | 78-89 kg |
| 2XL | > 90 kg |
Sponsored athletes

: ARKEA SAMSIC
Größe fällt normal aus. XXL ist für mich 194cm 94kg schon fast zu groß

Halt trocken. Größe passt sehr gut.

Très beau Cyissard très agréable à porter et conforme à la description

Comme d'habitude chez ekoi , bien ajusté et qualité très correcte .

Cuissard fan ekoi arkea samsic

TRES BIEN RAS.

Calções confortáveis mas não parecem muito resistentes

Gran compra , más de 5 horas en bici y perfecto en todo, gamuza y material del culotte

Cuissard confortable conforme a mes attentes

Ekoi arkea samsic größe xl

passt perfekt, fühlt sich gut an. Auch Lieferung alles ok.

Taille parfaitement, pas encore testé l'assise par contre mais qui à l'air confortable

bonne coupe qui correspond bien à ma taille et ma morphologie. Juste un peu long. Agréable à porter, bon amorti sur la selle

Supper bequem, Top Qualität.

Bonjour, très belle coupe du cuissard avec un petit bémol au niveau du confort pas super par rapport au prix (80 euros tout de même) sachant que les cuissards de marque italienne sont plus confortables à prix identiques.

Bonjour Eric ,
c'est un modele de base pour un usage entrainement de moins de 2 H si vous voulez mieux il faut commander la version pro team avec peau à mémoire de forme .
JC EKOI

Très confortable.je recommande.

Taillé en mode coursier ne pas prendre une taille au dessous !
Sinon à défaut prendre 1 taille au dessus !
Dommage la peau pas en gel !
Mais nickel !

Cuissard et maillot fan ekoi arkea samsic top

Alors aillant déjà la combinaison pro team j'ai décidé de profiter de l'offre cuissard fan ekoi arkea samsic avec le maillot offert donc mon avis .
La combinaison pro team est d'une qualité exceptionnelle et d'un confort irréprochable ,l'ensemble fan arkea samsic et forcément de moindre qualité mais à rien à envier sur le confort plutôt de bonne qualité vous pouvez y aller les yeux fermer, pour ce qui ont plus de moyen et ceux qui sont exigent je les dirigerai plutôt vers les tenues pro team .
Pour info je fait 1,80m pour 85kg mais tenues ekoi je les prends en taille : cuissard XL maillot L
Sportivement et merci ekoi pour la qualité de vos produits et surtout le prix

Très agréable et esthétique

Taille L , rabat arrière qui couvre les fesses en cas de pluie(projections de la roue). Poches arrières bien étanches.

Bonne tenue, peau qui a l'air de bonne qualité, à tester dans le temps...

Cuissard fan ekoi arkea samsic

bon cuissard confortable

Cambio de modelo de culote.

Me gustaría cambiar el modelo del culote antes de que entreguen el pedido.