EKOI BLACK CAMO Limited edition bib shorts
We welcome your feedback !
Delivery options and returns
Shipping information to :
United States

Shipping cost £35.14
Delivery between 23/05 and 27/05
Delivery in 1 day by end of day for deliveries in the same country, 1 to 5 days by end of day in the rest of the world.
Free returns (Except sale periods)
Special gift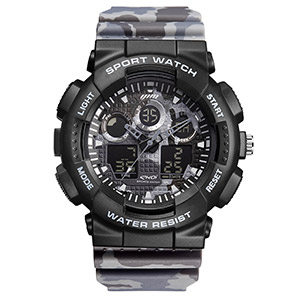 For any order over £130, you will receive an LTD EKOI WATCH
Offer valid while supplies last, based on the total amount before shipping costs.
For an excellent start to your season, why not pick up our BLACK CAMO Limited edition bib shorts that are both technically-advanced and stylish.





The EKOI BLACK CAMO Limited edition bib shorts have been designed with a 220g lycra that is both soft and supple.





We've designed these shorts to include our EKOI GEL INJECTION pad (for saddle-sensitive cyclists, for those long endurance rides or stage race. These bib shorts are among the best currently found on the market (Made in Italy)





Lorsque vous enfilez le cuissard EKOI CAMO vous sentez immédiatement la différence et cette sensation de qualité et de perfection du produit parfaitement adapté à votre corps ne vous quittera plus...
Product features
- EKOI GEL INJECTION PAD:
A wholly-new concept of INJECTING medical-grade GEL (an EKOI exclusivity) into the strategically-positioned sit bones area.
- Shape-memory (does not lose its shape) medical-grade Gel.
- Pad with integral carbon thread for optimal wicking across the whole pad surface to leave your skin dry throughout your ride.
- 2 densities (90 & 110 mm) polyurethane for unbeatable sit bone comfort.
- Made in Italy.
Technical features
- 3D heat-sealed EKOI logo with the camouflage motif.

STRAPS:
- In stretchable breathable mesh for the perfect support and stress-free comfort across the shoulders

FABRIC:
- 220 g lycra 80% polyamide 20% Elastane
That is:
- durable
- stretchable
- soft
- Made in Italy

ELASTICATED THIGH BANDS WITH SILICONE INSERTS:
- 7 cm wide for the comfort
- Wide elasticated thigh bands with silicone for the perfect stress-free support
- Made in Italy

SEAMS:
- Using thread made in Italy
Washing instructions
Machine wash at 30°C.
- Do not tumble dry, do not dry clean
Pad

: Gel

Sale type

: new

Range

: Limted edition