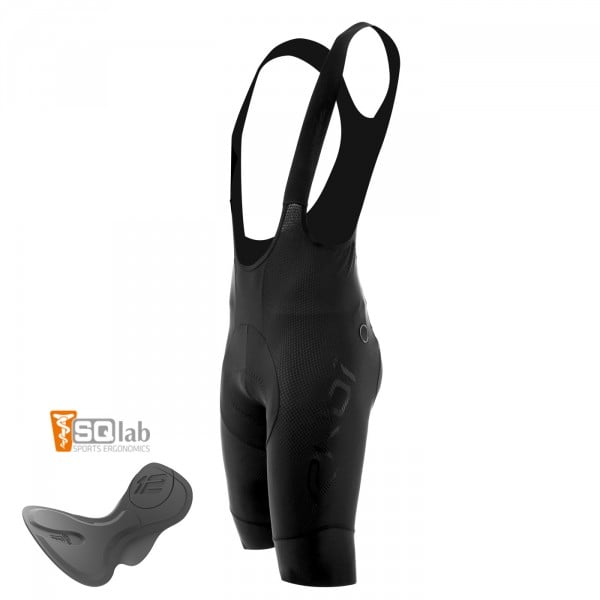 EKOI Black Elegance bib short
We welcome your feedback !
Shipping and returns
Free returns Except during official French sales periods : Returns policy
Shipping information to : France

Delivered between 10/04 and 13/04
For any order placed before 12.00, delivery in 1 to 3 days.
Free delivery starting from £61.80 purchase
Price :
£7.05
Special gift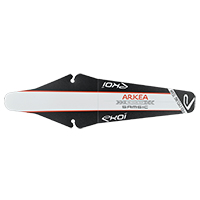 For every order over 69€, EKOI will include one free limited edition EKOI COFIDIS mudguard.
Offer valid while supplies last, based on the total amount before shipping costs.
Product info
The EKOI BLACK ELEGANCE premium range of cycling gear is specfically for the seriously-motivated cyclist. We have specially opted for the best possible materials available in the design of this bib short.

The EKOI BLACK ELEGANCE bib short is, quite simply, the best bib short we have ever produced, you will even forget your wearing it enabling you to train harder and longer. FULL ON
Product features
Made using 2 different materials:
- One called UZZANO is both very soft and durable, highly-resistant to continual rub against the saddle.
- On the thighs is a highly-technical honeycomb material manufactured by the Swiss firm SCHOELLER associated with top-end performance materials that has been designed to improve air flow, maintan constant body temperature and wick moisture rapidly.

- The wholly-new pad is in a word, EXCEPTIONAL, both soft and thin, just 4mm but with a never-before-seen density of 360kg/m3 which absorbs all micro-trauma with a narrow pad centre offsets all irritation and rubbinf with the saddle.
- Elasticated close-fitting thigh cuffs are both effective and comfortable.

- Seamless straps that are highly-stretchable and comfortable, with an aerated panel in the back for effective wicking and a pocket for the radio link with your DS.
Use
The PREMIUM EKOI BLACK ELEGANCE bib short is primarily oriented to the committed cyclist demanding the best possible producs in their search for improved performance over both short and long-distance rides.
Technical features
- Pre-shaped bib short with carbon logos.
- 4 different materials.
- 1 race radio pocket in the back panel.
- Elasticated thigh cuffs with silicone.


- Available in 5 sizes S / M / L / XL / 2XL
Material
- 61% polyamide
- 22% polyester
- 17% elastane
Washing instructions
Hand wash, preferably, or machine wash at 30°C (in a net bag)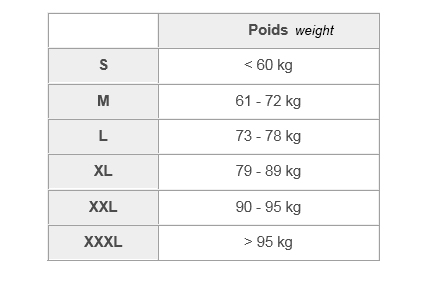 Range

: Pro

Technology

: Carbon
Man lægger næsten ikke mærke til at have dem på. De er meget tynde, og benene er meget lange (går næsten helt ned til knæet).

Es ist nicht die richtige Hose in falscher Größe.
Habe bekommen, Trägerhose EKOI PIRATE 2 GEL black in L .
Ich möchte diese Hose zurück senden.

Belettering laat los . Aangegeven en een nieuwe opgestuurd gekregen . Hoop dat het bij deze broek wel blijft zitten .

Super Trägerradhose - angenehm auf der Haut, atmungsacktief und endlich ein dünner Sitzpolster, der sich nicht anfühlt, wie eine Windel.

Die Hose passt wie eine zweite Haut und schützt bei kühlerem Wetter und Wind

Leider waren die Hosenbeine zu lang oder meine Beine zu kurz.... sonst eine schöne Hose... musste ich zurücksenden !!!

De broek is zo licht dat je ze niet voelt.
Ze is comfortabel.
De maat M lijkt me iets groter dan de andere broeken van Ekoi in maat M.

Testé sur 100km en montagne par près de 40 degrés. Le confort est inégalable. Le choix des matériaux frise la perfection tout comme la coupe. Le maillot respire parfaitement. Je recommande!

Acheté en juin pour un cadeau d'anniversaire, le produit est vraiment de très bonne qualité, d'un super confort et est joli aussi ! Le seul hic est qu'après 2 utilisations, le logo de la marque se décolle et est noirci, en ayant bien respecté les recommandations de lavage ! Je suis tout de même étonnée, peut-être est-ce un cas isolé, mais bon vu le prix n......bref mail envoyé au service client pour avoir plus d d'explications.

J'ai testé le cuissard sur plusieurs sorties plutôt agréable, par contre je suis déçue de la peau, douleur, manque de confort, je l'avais acheté pour faire des sorties longues

Bonjour David , cette peau s'adresse à des coureurs qui roulent beaucoup et n'ayant pas de problème de selle ...
la peau est très technique mais ne convient pas à tout le monde j'en conviens.
JC EKOI

Cuissard black elegance sqlab-taille xl

problème , ne taille pas comme les autre cuissard ekoi et problème sur élastiques cuisses rnj'ai retourné le produit j'attends

Bonjour Philippe ,
chaque cuissard a un taillant different selon les lycra employés, le cuissard black elegance est un produit top et la forme de l'élastique est spécifique pour un meilleur gainage et maintien sur les cuisses .Le tissu alvéolé est exceptionnel et garde la temperature constante au niveau des cuisses tout en evacuant la sueur ( tissu produit en Suisse et porté par le team pro arkea samsic )
C'est le meilleur cuissard de la gamme ekoi et j'en parle d'autant mieux que je roule avec et que je l'apprécie particulièrement
JC EKOI

HellornJe le trouve parfait en terme de confort et surtout de look ! Sobre et discret, j'adore.rnPar contre, compliqué pour moi de trouver un ensemble adéquat avec mon physique atypique ( 1m70 82 kgs, jambes fines et corps trapu) rnLa grille de taille ne m'aide pas beaucoup. Je dois commander à l'instinct.

BONJOUR Fabrice ,
IL VOUS FAUT un cuissard L et un maillot 2XL
jc ekoi

Cosciale molto bello, la taglia XL è un pò abbondante ed il fondello troppo sottile e poco confortevole. Il pettorale anteriore un pò troppo alto e scomodo per il bisogni.

Non corrisponde alle aspettative

buongiornornvolevo riportarvi una mia lamentela in quanto, essendo Vs. cliente da tempo credo di averne diritto. Ho acquistato la salopette in oggetto e questa presenta un fondello non come da descrizione. l'ho indossato ma dopo 1 ora di uscita sento intorpedimenti e formicolii ovunque ed è quasi impossibile pedalare. visto il costo elevato pensavo e speravo che il capo in questione facesse il suo dovere . ma così non è. rnvorrei, se possibile qualche spiegazione in meritornrngrazie.rnVs. cliente Giuseppe Turchettarn

CIAO GIUSEPPE
UN CONSULENTE VI RICHIAMERA
JC EKOI

Zeer goede broek met zeer goede zeem.
Wel voor de nodige prijs,maar zijn geld waard.
Voelt aan als tweede huid.
Ik ben meer dan tevreden over al de EKOI producten.

Des douleurs importantes!

Comme conseillé par Ekoi j'ai persévéré... 4eme sortie aujourd'hui... et toujours des douleurs très importantes au niveau des ischions. En 5 ans de pratique je n'avais jamais eu de douleurs.
Alors j'ai tenter de changer de selle... Rien n'y fait.
Je ne recommande pas ce produit

Ne convient pas à tout le monde

J'ai profité d'une super promo au mois de décembre (115 euros quand même) mais j'ai attendu les beaux jours pour tester le cuissard sur le vélo. C'est une erreur car malgré le fait qu'il est super classe et que le tissu au niveau des cuisses est top, il présente 2 inconvénients majeurs. Il est très long (trop pour moi) et la peau très fine visiblement très bien supportée par d'autres ne me permet pas de rouler plus de 1 h sans avoir mal aux ischions. J'ai pourtant testé sur 3 sorties, même topo. Déçu pour ma part, j'aurais dû mettre ces 115 euros dans un cuissard avec peau gel qui me conviennent parfaitement.

Superbe cuissard qui se fait complètement oublié, la peau, très fine, surprend mais elle fait merveilleusement le job... de plus sous les grosses chaleurs (150km à 40 degrés aujourd'hui) elle évacue parfaitement l'humidité... Je suis un client "historique" et pour moi c'est le meilleur cuissard qu'Ekoï est produit.

Broek 1 keer aan gehad. Zit perfect echter heb me bedenkingen over de zeem. Maak me wat zorgen over het rijden van een lange afstand.

Au top sortie de 6h dans aucun soucis

bonne qualité peau de chamois fine voir à l'usage

Étonnant cette "peau de chamois" très fine et qui pourtant joue parfaitement son rôle de confort.Testée sur 500 km et aucun échauffement.
Taille L parfaite pour ma morphologie de 1.79m pour 75 kg et 86.5cm entrejambe.
Cuissard qui porte bien son nom car confortable,moderne, discret et du coup très "Élégant".
Merci


Muy buena badana, la única pega es que las letras de las perneras se han despegado en el primer uso.

Beine etwas lang, sehr guter Sitz und sehr gutes Polster

Le produit semble bon, mais trop long. Je pense que c'est sa coupe. Il m'arrivait au milieu du genoux, bien que la taille soit bonne, bien ajusté.
Difficile de mettre une note la dessus. Pensez bien qu'il est plus long que d'autre produit comme celui-ci que j'ai également "Cuissard EKOI Pro SAT Memory Noir - Taille : M" et cela dans la même taille.
J'ai donc renvoyé ce cuissard. Comme d'habitude, super SAV. TOP.

J'ai pas trouvé mieux comme cuissard. Il est vraiment confort. Pas l'impression de porter en cuissard. La peau est fine mais hyper confort au final.