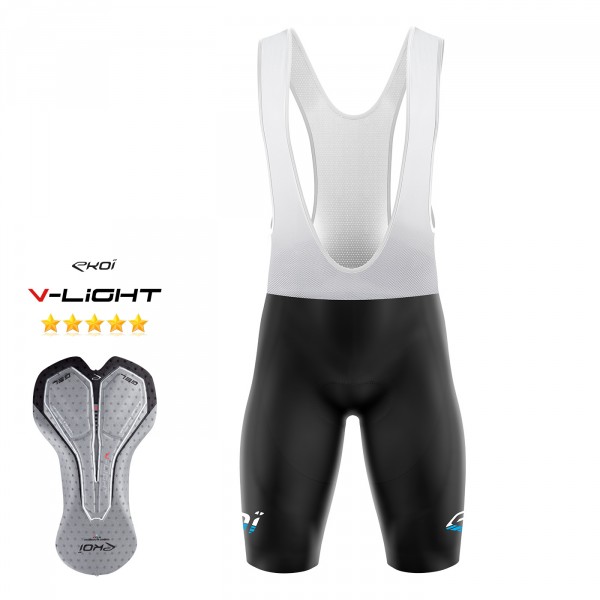 We welcome your feedback !
Shipping and returns
Free returns Except during official French sales periods : Returns policy
Shipping information to : France

Delivered between 11/08 and 13/08
For any order placed before 12.00, delivery in 1 to 3 days.
Free delivery starting from £90.37 purchase
Price :
£9.03
Delivered between 10/08 and 12/08
Retrait en magasin dans la journée

Delivered between 12/08 and 14/08
For any order placed before 12.00, delivery in 1 to 3 days.
Free delivery starting from £81.33 purchase
Price :
£6.32

Delivered between 14/08 and 17/08
Delivery in a pick-up point of your choice in 4 days.
Free delivery starting from £81.33 purchase
Price :
£6.32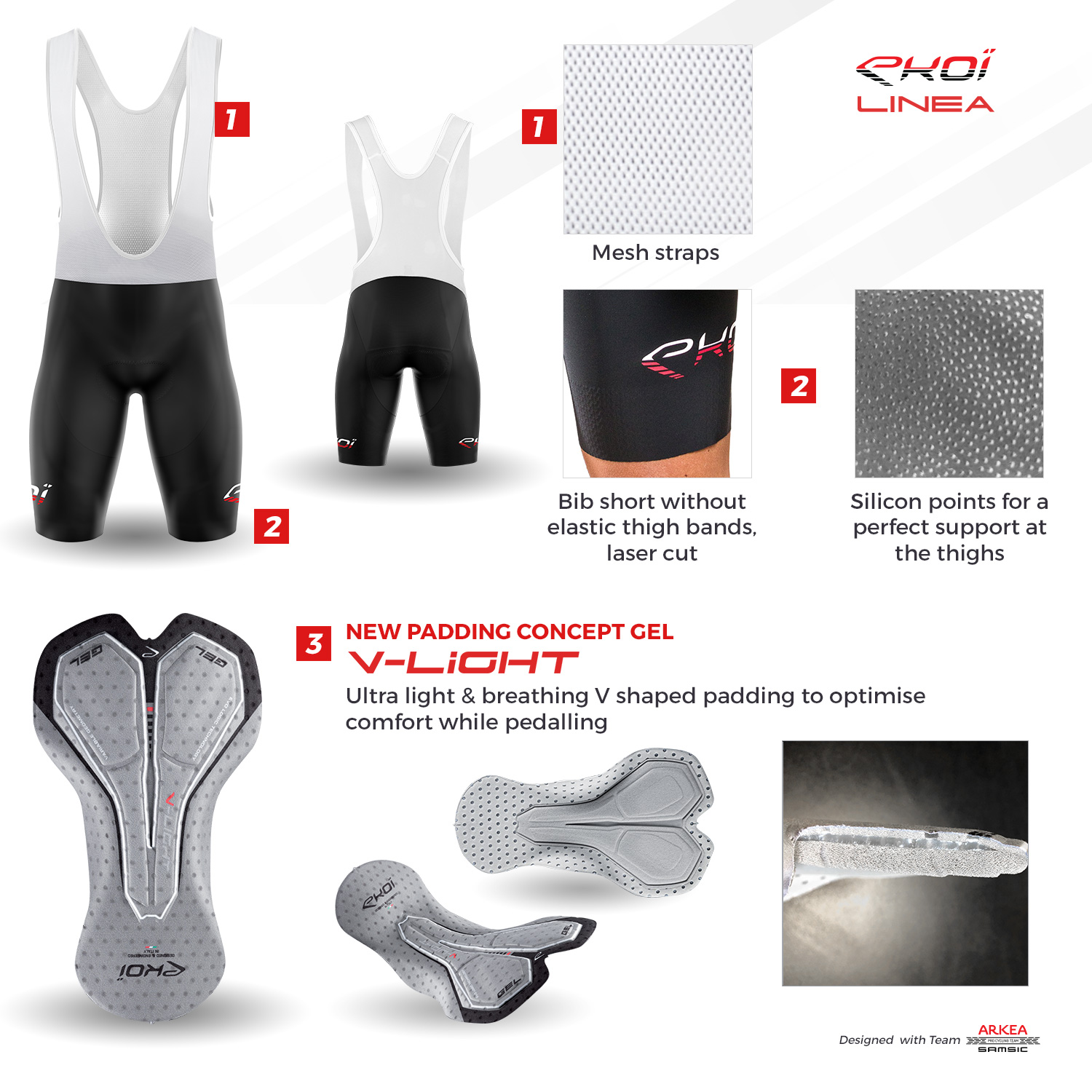 Product info
The EKOI GEL LINEA cycling shorts are designed as comfortably as possible and feel like a second skin.
When you put on these EKOI BIB shorts, you immediately feel the difference and this feeling of freedom of movement that is perfect for pedaling ...
From the very first steps on the pedal, you will appreciate the comfort of the new GEL V.LIGHT pad that accompanies the pedal movement.

This new V-LIGHT pad was developed in collaboration with the ARKEA SAMSIC team.
The lack of elastic bands on the underside of the thighs is also very noteworthy, as the support is perfect without a feeling of limitation.
Product features
- New concept from GEL V-LIGHT ultra-light and very breathable, whose V-shape accompanies and optimizes comfort when pedaling. (EKOI PATENT)
- No rubber bands on the underside of the thighs (laser cut) with silicone inserts for perfect and painless support.
- Undyed black Lycra sport (no unsightly gray color effect)
- Comfortable, soft and very resistant.
- 100% Italian production with GEL fabrics and skin from Italy
Use
- Racers or for ambitious recreational riders from March to September, depending on the country and region.
Technical features
1) New GEL V LIGHT EKOI pads (composition and shape)
- Elastic and breathable (the padding is forgotten, adapts to your buttocks and optimizes comfort when pedaling)

2) LYCRA SPORT:
- breathability
- resistance
- muscle support
- freedom of movement
- lightness
- elasticity
- softness


3) Carrier:
- In stretch and breathable mesh for comfortable and effective support without tension on the shoulders.
Material
Pad + Lycra Sport made in Italy
- 100% polyester
Washing instructions
- Machine wash at 30 °
- No spin.
- No fabric softener.
- No dry pipe.
- Do not iron.
|   | Weight |
| --- | --- |
| S | < 60 kg |
| M | 61-72 kg |
| L | 73-78 kg |
| XL | 79-89 kg |
| 2XL | > 90 kg |
Alberto E.

Niveau : Débutant

Age : 45-54

08/05/20

Era una talla mayor a la que necesitaba, pero lo comprare en talla M

Michel P.

Niveau : Avancé

Age : 55-64

07/31/20

Très beau cuissard mais attention au conseil de taille

Très beau produit.
Tissus de qualité.
MAIS attention le générateur/conseil de taille est faux. Je mesure 1m83, je pèse 82kg et j'ai une morphologie standard avec de bonne cuisses de cycliste (je suis serré/ ajusté dans des jeans coupé en "regular" et pourtant avec la taille conseillée (XL) : ça baille en bas des suisses et les bretelles sont trop lâches. Obligé de faire un échange pour une taille L (juste avant les vacances...snifff.)

Excellente tenue avec un léger bémol

Tenue impeccable et effet seconde peau conforme aux attentes. Cependant au niveau du cuissard (par ailleurs très confortable) les lettres "EKOI" on tendance à se décoller, j'ai effectué un retour de produit (le suivi SAV c'est bien déroulé) mais je pense qu'elles vont et sont entrain de se décoller…. n

Merci pour votre commentaire.
Nous pouvons vous assurer que ce problème ne se produira plus. En effet, les cuissards en stock ont été examinés par notre équipe qualité.
Nous sommes désolé pour la gêne occasionnée.
Sportivement,
L'équipe Ekoï.


Jean-françois K.

06/26/20

Très bon cuissard mais attention au guides tailles

Essayé sur 80 km avec 30 degrés. La peau est très confortable. Commandé en XL puis retourné pour échange par du L (1m83 - 79 kg).