Customize my glasses PERSO EVO 4
The top configurations PERSO EVO 4
EKOI PERSO EVO 4

The Fabio ARU's preferred Model (Team ASTANA)
Create your own CUSTOM EKOI EVO 4 FABIO ARU according to your desires, in the colors of your outfit, your bike or your club.
Customize your glasses EKOI CUSTOM:
- The 7 colors of frames & temples are available: Bright white, glossy black, matte black, red fluorescent green, fluorescent yellow or carbon.
- 5 colors of lenses: mirror, revo red, blue revo, revo green and gray Photochromic 1-2
- 5 Adjustable colored caps: white, blue, gray, black or red.
EKOI leader in France of cycling glasses and Fabio Aru, Paolo Tiranlongo, Alexander Kristoff and Nacer Bouhanni's ...official glasses partner.
Features:
- Frame in lightweight TR90 GRILAMID
- Weight of the glasses: 28 gr
- 4 vents on the central frame
- Adjustable nose bridge (spacing & depth)






- Compatible OPTICAL INSERT





The different lenses:

- MIRROR Category 3 ( wear in summer to protect from normal brightness)
The lenses are shatterproof polycarbonate and provide 100% UV protection.
The mirror lenses will filter solar brightness up to 92%.
The mirror lenses have a mirror reflection that emphasizes brightness protection.




- REVO lenses Category 3: wear in summer (to fight against a strong light).
This lens is recommended for clear & sensitive eyes.

The lenses are shatterproof polycarbonate & provide 100% UV protection.
Revo sun lenses will filter the solar brightness up to 95%.
EKOI selected these lenses for their outstanding quality.
The REVO treatment more effectively protects from brightness during intense sunshine.

The available shades of REVO: REVO RED / GREEN REVO / REVO BLUE


- PHOTOCHROMIC lenses Category 1-2 shaded according to the light and will filter the
solar brightness has 92%.

Adapts to changing weather (cloudy, rainy or foggy) or your changing trips (woods, shadow areas, tunnels ............ ..)

Come in a carbon box with Spray and Fabio ARU's pouch (excluding promotions) :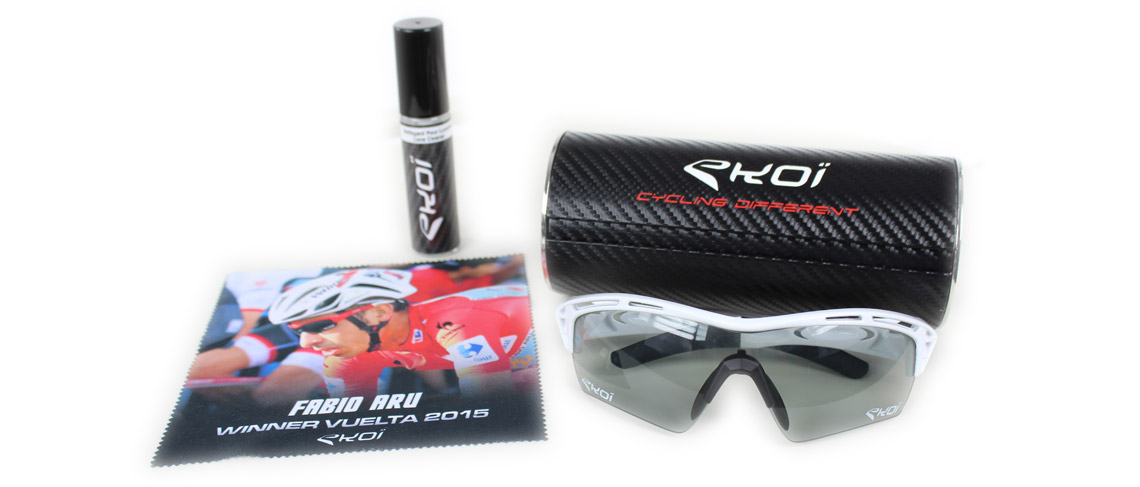 - Homologué normes CE

La norme CE 1078 est conforme aux lois en vigueur dans les pays de l'Union européenne.
Nous vous conseillons (si vous vivez hors de l'Union européenne) de vous informer sur la norme en vigueur conforme aux lois de votre pays ou de contacter notre service information produit Ekoi qui vous renseignera.

Whether you are a club, an association, a group of runners or even an individual, enjoy our discount:
20% off on your glasses EKOI PERSOEVO4 from 10 units ordered!


To take advantage of this discount, add directly to cart the glasses you want. From 10 units put the basket, the discount will be automatically applied.


Offer valid for the purchase of at least 10 EKOI glasses (identical or different).
Very pleased with the product but supplied in a broken case so it was loose in the box

Look fantastic IMHO. Very good fit. No light coming in from the bottom as I found with other makes. Very light to wear but still feel well made so we shall see.