EKOI PREMIUM PRODUCTS
EKOI has developed a premium range primarily for the use of the fantastic athletes we have the distinct honour to equip. These exceptional champions require the very best products, every gain is important and can mean the difference between the win, a podium place or just a finish. It is perfectly normal that we should make these exceptional products available to all our customers.
Designing a PREMIUM product requires the input of a team of specialists from A to Z and is a task that is far more time consuming and difficult than one might, initially, imagine.
All the products in the EKOI PREMIUM range are designed on the criteria of the pro riders we supply, we listen to what they require, then our design team takes on the task, working with the manufacturer to design a stylish and functional product. We thoroughly test the first prototypes, iron out any problems and only when completely satisfied do we give the go ahead to the manufacturer to begin production.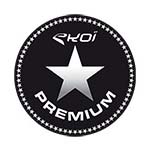 - Product DESIGN is the work of a French or Italian designer, it is then validated and tested by our own in-house team as well as by the same pro riders who initially tasked us.
- The product is developed by our designers, who work exclusively for EKOI.
- The product is tested at least 3 times in real conditions before approval for sale.
- The product is made using the best available materials.
- Production is 100% made in EUROPE (for optimal quality control of the materials used and the finish that must be PERFECT).
The aim is not to obtain excellent value for money but, above all, to create the best available product whatever the cost and the time required to take the product to market. Our levels of stock will purposefully remain low and the product life of each individual product is strictly linked to it's continued use by the athletes we supply (the product will remain available for as long as it is being used by our pro riders)
Only SILVER and GOLD VIP Club discounts will be accepted.
Discounts (birthdays, newsletters ...) and all promotional codes can not be applied to PREMIUM products
Because the R5 Custom shoes are designed and made on-demand, the time required to produce and to ship your new shoes to you is 4 weeks (maximum).
As these EKOI R5 Custom shoes are made to order we are obviously unable to accept the return of this product.
Use our size guide chart to determine the right shoe size for you. If your foot size falls between 2 shoe sizes you should call our product information service on the following toll-free number: +44 7508017213
EKOI R5 Custom :
"Effective, comfortable and fun the EKOI R5 road cycling shoes have been designed for performance "
Hand-made in Spain for top-level road cyclists.
Extremely light, very stiff offering unbeatable power transfer, their design in one seamless piece plus an ERGONOMICALLY-DESIGNED HEEL CUP for perfect support of the heel for guaranteed comfort , it is our best-ever ROAD shoe.
ROAD Model :

- Ultra-light, just 276g in EU size 41.
- Effective foot closure by 2 independent dials for precision closing, heel cap for optimal heel support.
- Perforated tongue for excellent moisture transfer to the exterior of the shoe.
- Made from one single seamless element for unrivalled comfort (imagine your favourite slippers).
- Full carbon SHD sole for optimal power transfer.
- EKOI 10/10 stiffness index.
- Full carbon ultra-light SHD sole with 6 vents for optimal aeration and prevention of hot foot.
- Sole: - Full carbon ultra-light SHD sole with 6 vents for optimal aeration.
- 3-bolt (standard- SHIMANO, LOOK) cleat compatibility
MTB Model :

- Removable treads (can be replaced).
- reinforced toe box for added protection.
- non-slip band.
- Shoe weight 363g in EU size 42.
The product + :
- Extremely light: just 276g in EU size 41.
- Optimal power transfer due to the SHD 100% carbon sole.
- Stiffness index: 10/10.
- SHD carbon sole ventilated across the whole sole surface (6 vents) stops the phenomenon of hot foot.
- Excellent and accurate hold due to the 2 independent step-by-step dial closures, plus the ergonomically-designed heel cup.
- Perforated shoe tongue for rapid wicking.
- Made from one single piece for a seamless design for optimal comfort (feels just like a favourite slipper)
Technical features :
Upper:
- Upper in synthetic leather (easy clean) perforated (excellent moisture wicking)
- Soft, perforated tongue held in place by 2 criss-crossed cables.
Interior:
- Lined with fully-breathable material.
- anti-bacteria treatment for excellent hygiene and to avoid unpleasant odour.
Rear:
- Reinforced heel cup for a perfect support of the heel.
- Ergonomic surround envelopes the rear of the ankle.
- Heel pad in natural rubber.
Weight :
- 276g in EU size 41

For use:
The performance-seeking road race cyclist



FOOT LENGH

(see above)

EKOI

Size

24

38

24,5

39

25

40

25,5

41

26

41

26,5

42

27

43

27,5

43

28

44

28,5

45

29

46

29,5

46

30

47

30,5

47

31

48