Special gift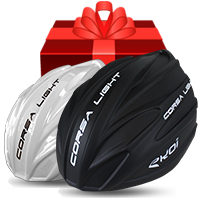 When you buy one EKOI CORSA LIGHT during our Flash Sale, EKOI will give you one free removable Shell to go with it for impeccable protection from cold and wind.
Offer good while supplies last.

The Official helmet of the UCI World Tour Team AG2R La Mondiale and the UCI World MTB BH Team



Product Features:
- Featherweight (the world's lightest helmet) 189gr in size S/M (54-58cm)
- 24 vents (Superior airflow performance)
- PSE inner cradle: Choice of 6 colours White + Black + Red + Blue + Yellow + Orange (Lighter & more fun)


- Fully height and width adjustable for a perfect occipital bone fit
- Vented chin strap
- Magnetic chin strap closure

Use :
- Road & MTB racing
Material:
- High density, featherweight PSE inner cradle
Additional features:
- Full In-mould shell: Both shell upper and lower
- 24 vents
- 10 air exhaust vents
- Pads in Cool Max® with anti-insect nets
- Fit system with perforated notch by notch adjustment dial
- Chin strap adjustable below both ears for optimal comfort and fit
- Vented width tension adjustment by step-by-step ratchet wheel
- Weight S / M 189 gr
- Weight L / XL 200 gr
- EU approved standard

2 Sizes:
- S / M (54 / 58cm)
- L / XL (59 / 62cm)

The EKOI CORSA LIGHT helmet is fully customisable in the colours of your choice:
More than 25 available options: 8 colours, 6 frame colour options, 2 frame finish options, 11 national flag options.
Further option: Removable aero shell
With the removable aero shell, the EKOI CORSA LIGHT helmet becomes even more aerodynamic offering enhanced air penetration performance (it also insulates against the cold, wind & rain).

2 Aero shell Sizes:
- S / M: 25 gr.
- L / XL: 31 gr.

The aero shell is easily removable, but requires careful handling to avoid damage.
3 padding and insert options:
- Featherweight gel inserts: Comfortable and a clean and tidy helmet interior
- Anti-insect net
- Cool max® padding

Great Product! Great value for the Price!

I now have two Ekoi Corsa Light helmets, a white and red that I bought last summer and now a matt black with Aero shield so I can choose which one to wear based on my kit selection and weather (aero shield for the wet/cold). I love them. They are comfortable, lightweight and I really like the magnetic clasp. The only thing that I would change is the rather flat profile of the brim when you look head-on but to be honest it is still a good looking helmet which I thoroughly recommend.

I wish my name was on both sides of the helmet. I did not see an option for this.

Hi, the corsa light hemet is very comfortable and looks great.rnrn Great service and fast delivery

Great helmet so light but strong would recommend it to anyone

It's the best helmet I've ever had! Super light and the fit and look is awesome!

LOVE this helmet and am picking up another in the same color now ( in my team colors! ), as previously ordered recently. Lightest - or at least feels the lightest of any helmet I've used in my 25 years on-the-bicycle. Disappears when on. Perfect. Give the engineer / team who designed that a bonus!