Create your Bib short
Gel Pad
Density 65
Gel Pad
Density 85
Gel Pad
Density 120

The pad's gel inserts' density is different (choice of 3 different gel densities) based on the rider's weight.

Made-to-measure cushioning:
Shape-memory, weight-determined density cancel out road buzz and micro-trauma at the sit bones and perineum even over the long-term. The gel retains its density and shape.

- GEL MEMORY 65 BLUE : supported weight: max 70 kg
- GEL MEMORY 85 GREENÂ : supported weight 71 - 77 kg
- GEL MEMORY 120 YELLOWÂ : supported weight: 78 kg & over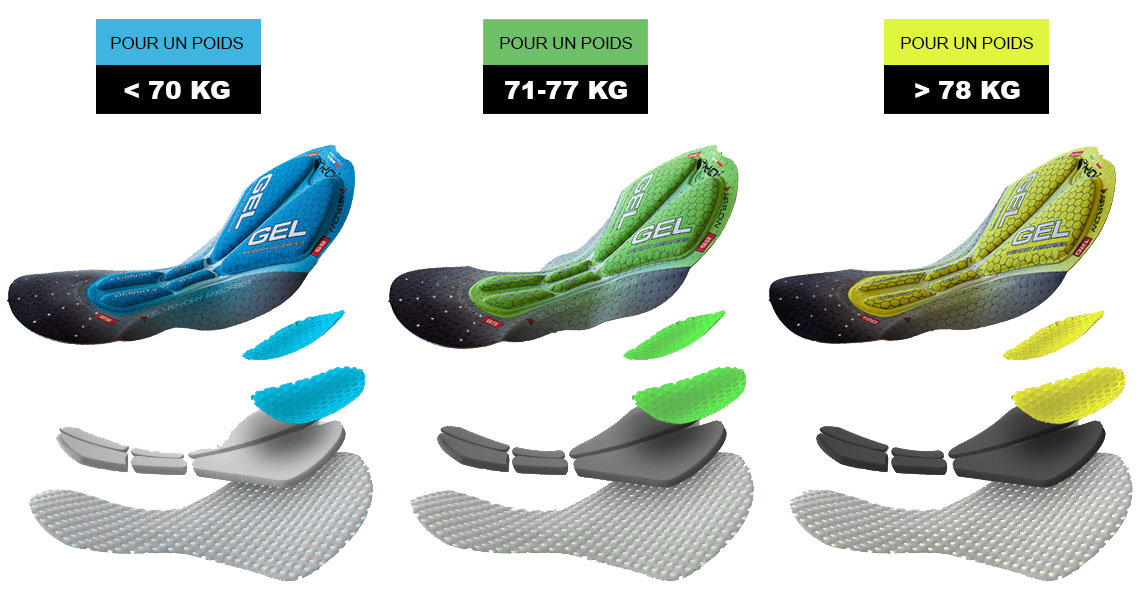 These bib shorts provide the perfect seat due to the anatomy-mapping shape-memory concept
You'll be sitting comfortably as from the first ride wearing these bib shorts because not only does the gel anatomy-map and adapt to your posterior and saddle but will also spread the rider's weight across the pressure points optimising blood flow.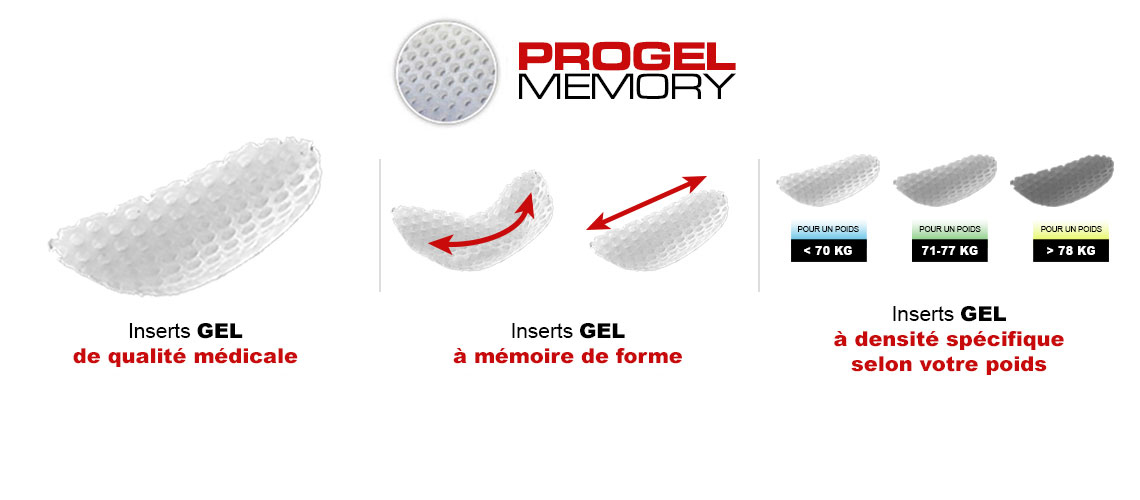 The GEL inserts are of surgical-quality:
Our gel inserts, by their exclusive to EKOI manufacture, neither crease, nor harden and retain their initial comfort characteristics over the long- term.
The pad remains supple irrespective of the gel density:
and adapts to the pedal stroke and saddle shape.

The surface of the GEL MEMORY pads have been treated with a bactericide
for optimal hygiene even after several hours in the plate.
Moisture transfer and temperature regulating are the key words to describe these pads:
The micro perforations and the ventilation channels across the whole pad surface provide air flow and moisture wicking.


MADE IN ITALY :
Our MEMORY GEL pads have been specifically developed with Italian designers and they are manufactured in Italy because we at EKOI (are not alone to) acknowledge the unsurpassed quality of Italian workmanship
PRO GEL MEMORY
| | | | |
| --- | --- | --- | --- |
| | Weight | Max Size | |
| S | < 60 kg | until 1.75 m | |
| M | 61 - 70 kg | until 1.80 m | |
| L | 71 - 77 kg | until 1.85 m | |
| XL | 78 - 85 kg | until 1.90 m | |
| 2XL | 86 - 93 kg | until 1.95 m | |